Marking 11 years since the school's first graduation in 2012, Northwestern University in Qatar celebrated the graduation of the Class of 2023.
 
This year's ceremony began with Marwan M. Kraidy, dean and CEO of Northwestern Qatar, congratulating the graduating class on their achievements and highlighting the importance of imagination in the days after graduation. "The skills and knowledge you acquired at Northwestern Qatar will serve you well, but what will serve you even better is your imagination," said Kraidy. "Imagination spurs innovation and discovery; it enables us to envision new ways of being, of encountering the other, of knowing the world. Briefly stated, imagination is a catalyst for excellence."
 
Kraidy urged the Class of 2023 to center excellence in their journeys after graduation but to do so with humility. "Excellence, tafawwoq, shares the same root with horizon, or ufoq … but be careful, for another word with the same root is fawqiyya, or the feeling of superiority towards others, a human defect we should all strive to avoid, for gratitude and humility are prerequisites to excellence," said Kraidy. "You will tell new stories; you will create new things; you will imagine new worlds—always with excellence, always with humility."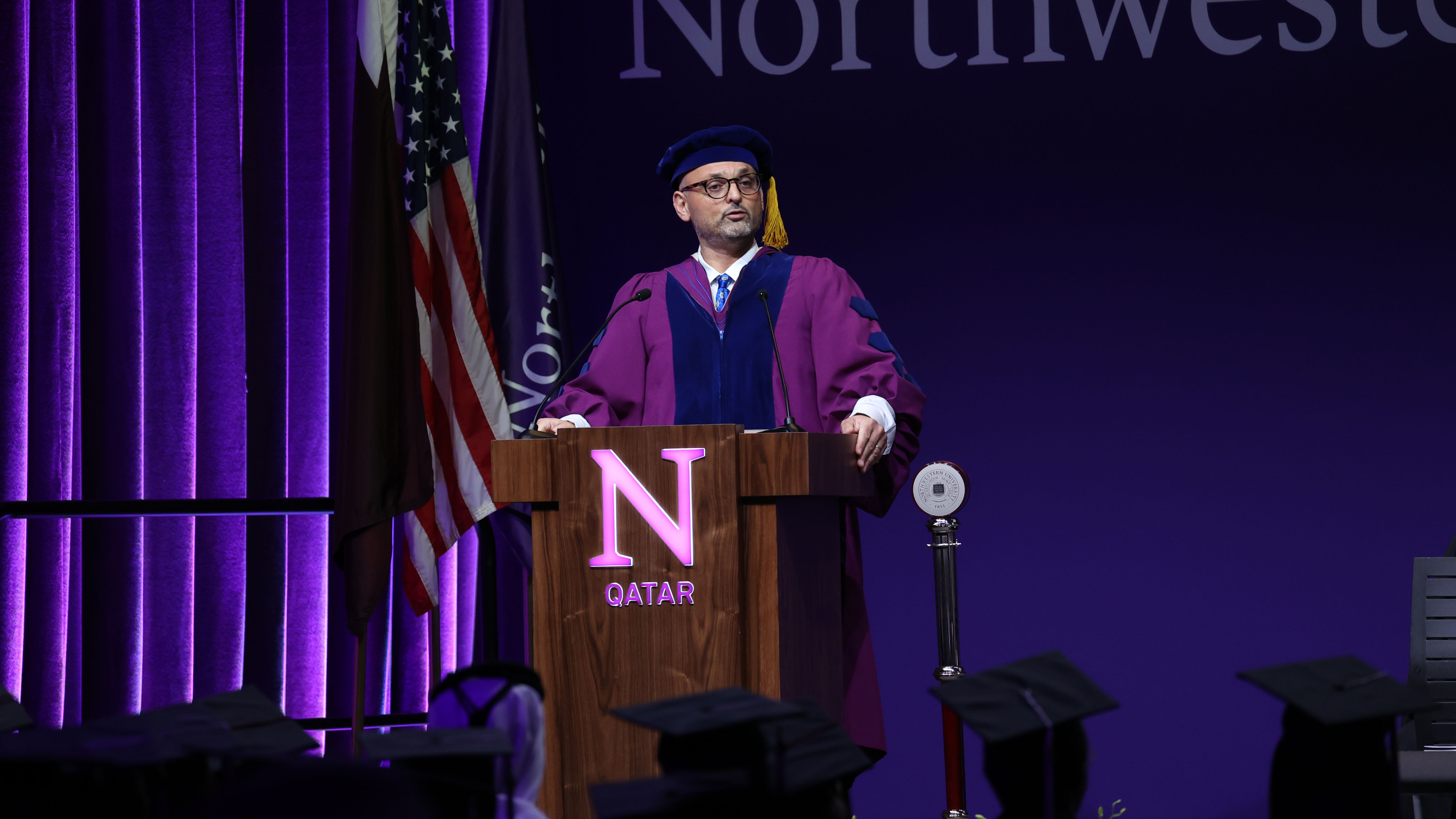 His Excellency Secretary General of the Supreme Committee for Delivery & Legacy, Hassan Al Thawadi, who addressed the graduating class as this year's graduation speaker, drew parallels between his work leading the 2022 FIFA World Cup in Qatar and their resilience as students on the way to graduation, underscoring the importance of finding passion and determination in achieving success.
 
"When I was your age, I did not know how exactly to help write history, but I knew I wanted to take part in that for myself, my country, and for the global community we are all a part of," said Al Thawadi. "Find your passion and let it drive you towards your goals and dreams. Let it take you to places you did not think were possible. Your strength and resilience will surprise you. Your creativity will amaze you. Your determination will inspire you and the world."
 
Al Thawadi went on to tell the Class of 2023 that, as journalism and communication graduates from the Global South, they are well-positioned to bring the world closer. "You represent the Global South. You represent the Arab world. You represent the Middle East. You have skills and tools that Northwestern offered and provided to you, but at the same time, you have the storytelling capabilities of our part of the world," said Al Thawadi. "You get storytelling. You lived it. You cannot be herded like many others because you saw firsthand what it means to have your story told, and you lived through many inaccurate portrayals done on your behalf."
 
As they embark on new chapters of their lives, Al Thawadi encouraged the graduates to use the storytelling skills they learned during their time at Northwestern Qatar to give voice to and counter misconceptions about the region. "As you walk out there, you have the ability now to tell our stories in different forms. You have the ability to tell our story and break down stereotypes and remove barriers to diversity, change, and positive coexistence. "Your perspective is a special and unique one [that is] worth sharing with the world. It is on you now to take the magic out into the world!"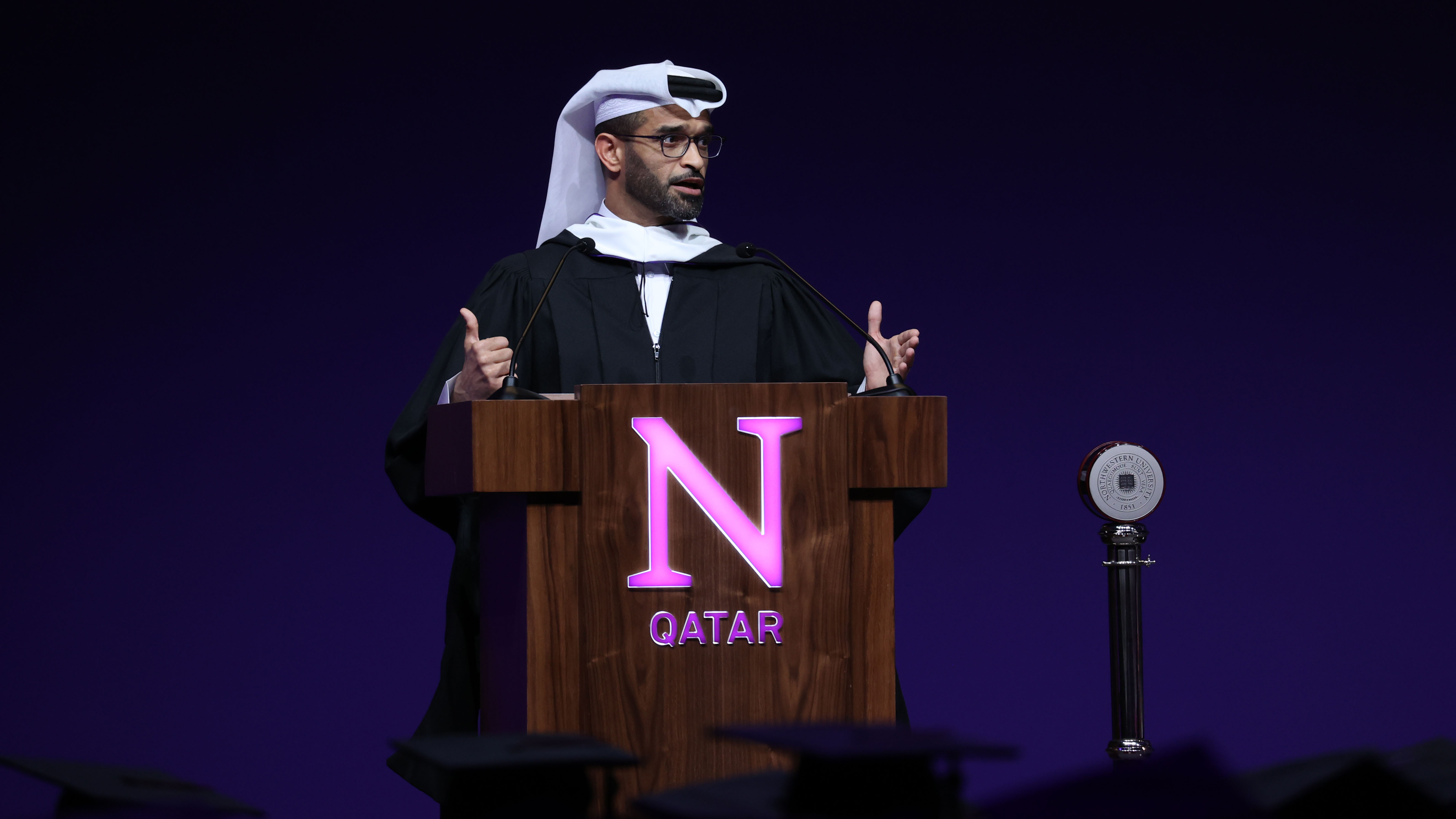 In addressing her fellow graduates, Aesha Hussein, the student speaker, encouraged them to use the skills they developed at Northwestern Qatar to create new opportunities and make a positive impact in the world. "Don't wait for an opportunity to come up; create your own opportunity," said Hussein. "We have the tools and the power to tell stories. Take those tools, challenge, and question what you're being told, go out there and tell stories, write, film, create, investigate."
 
This year's ceremony also featured the announcement of the Class of 2023 awards, recognizing members of the graduating class who have received awards for their academic distinction and participation in student life. Xingyu Qin received the Dean's Award, Zeest Marrium was the recipient of the Communication Award, Fatma Oueslati of the Journalism and Strategic Communication Award, Khadija Ahmad received the Liberal Arts Award, and Jehad Nael AlHallaq the Student Leadership Award.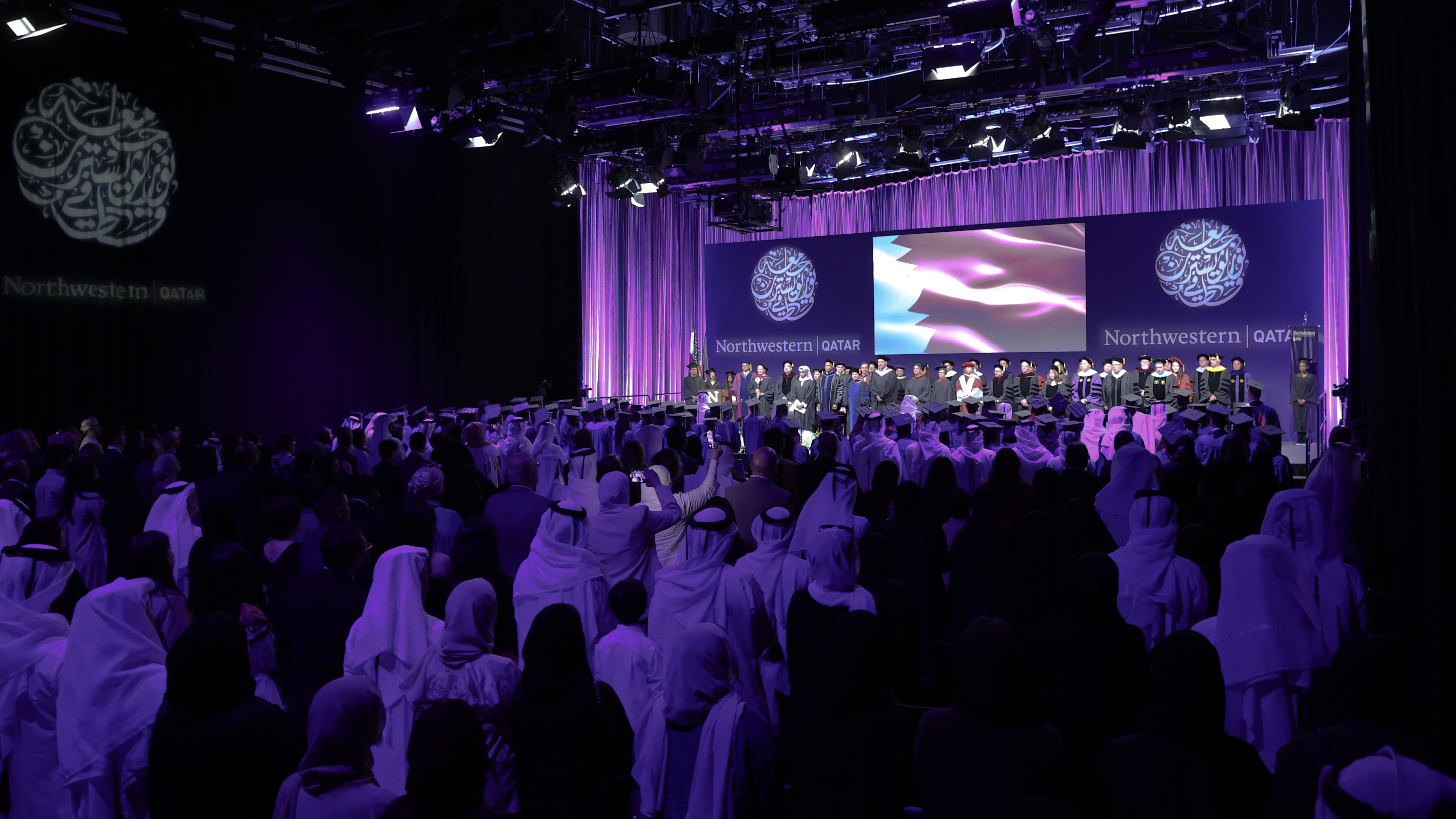 The Class of 2023 graduates join Northwestern's alumni global network of more than 250,000 alumni, carrying on their Northwestern education as they embark on their careers in media and communication and continue their research and studies in some of the most prestigious graduate schools worldwide.
To watch full ceremony, click here.