The Media Majlis at Northwestern University in Qatar presents the first major exhibition that explores the story of football and its symbiotic relationship with the world of media. Unpacking the social and political effects of football and its intrinsic relationship with the media,
Is it a beautiful game?
is open to the public at Northwestern Qatar's university museum. 
Interactive installations allow audiences to discover the multiple ways media and football interact on and off the football pitch, with digital content that touches on the complex intricacies of relationships. Audiences can examine the game from the perspectives of the fan, the player, and the media.

 
Jack Thomas Taylor, a curator at the Media Majlis, highlights the significance of this exhibition, saying it brings together more than 280 pieces of physical and digital content that are either licensed, loaned, or created from local and international organizations to provide an inclusive and critical overview of the world's most popular sport.
 
"Is it a beautiful game? isn't just any exhibition. Firstly, it's a question, and secondly, it's a provocation that aims to inspire, instigate, and encourage conversations about football's beautiful and not-so-beautiful aspects. Its purpose is to animate matters of concern rather than matters of fact to bring tacit, implicit, and explicit knowledge together across multiple touchpoints. This exhibition exemplifies the power of evidence-based storytelling that allows audiences to contemplate the often-undiscussed aspects of two of the world's largest industries—football and media. This un-ordinary exhibition encourages audiences to explore the highs and lows, blemishes and polishes, the great and the greed, and the uprises and the downfalls of football and the media," said Taylor.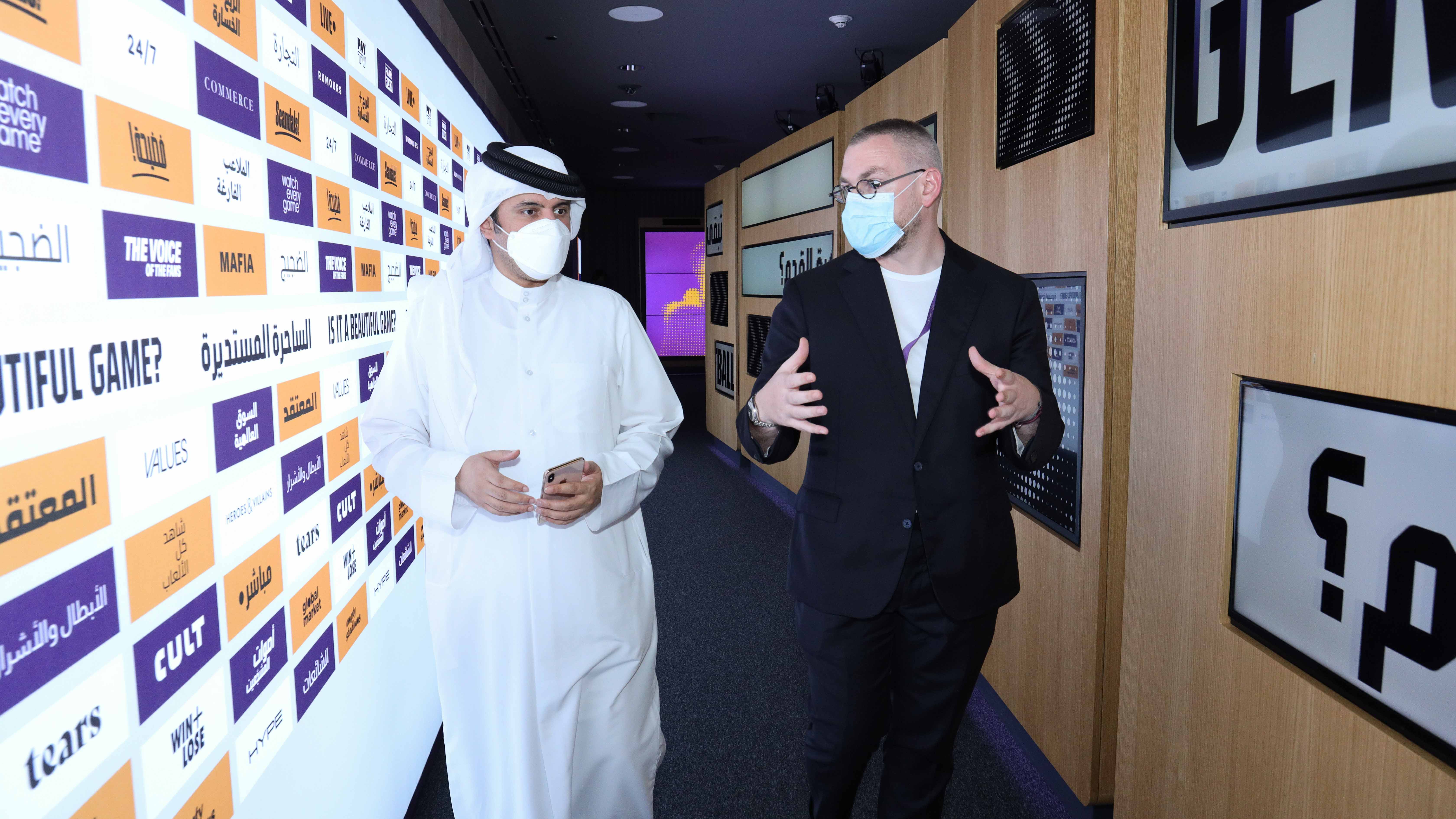 In an exclusive preview of the exhibition, Northwestern Qatar faculty, staff, students, local and international artists, curators, and guests from around Education City, came together to explore the various aspects of the exhibition.
"As the attention of football fans and world media shift to Qatar in anticipation of the 2022 World Cup,
Is it a beautiful game?
offers a unique look into the past, present, and the future of the game, as well as critical insights into the less discussed aspects of the so-called 'beautiful game,'" said Marwan M. Kraidy, dean and CEO of Northwestern Qatar. 
Francisco Marmolejo, president of higher education at the Qatar Foundation, joined Dean Kraidy and other university deans at the exhibition opening. He pointed out that "
Is it a beautiful game?
is an excellent interactive exhibition exploring the power of football and media," emphasizing that "[it is] a timely topic in connection with the upcoming
World Cup in Qatar."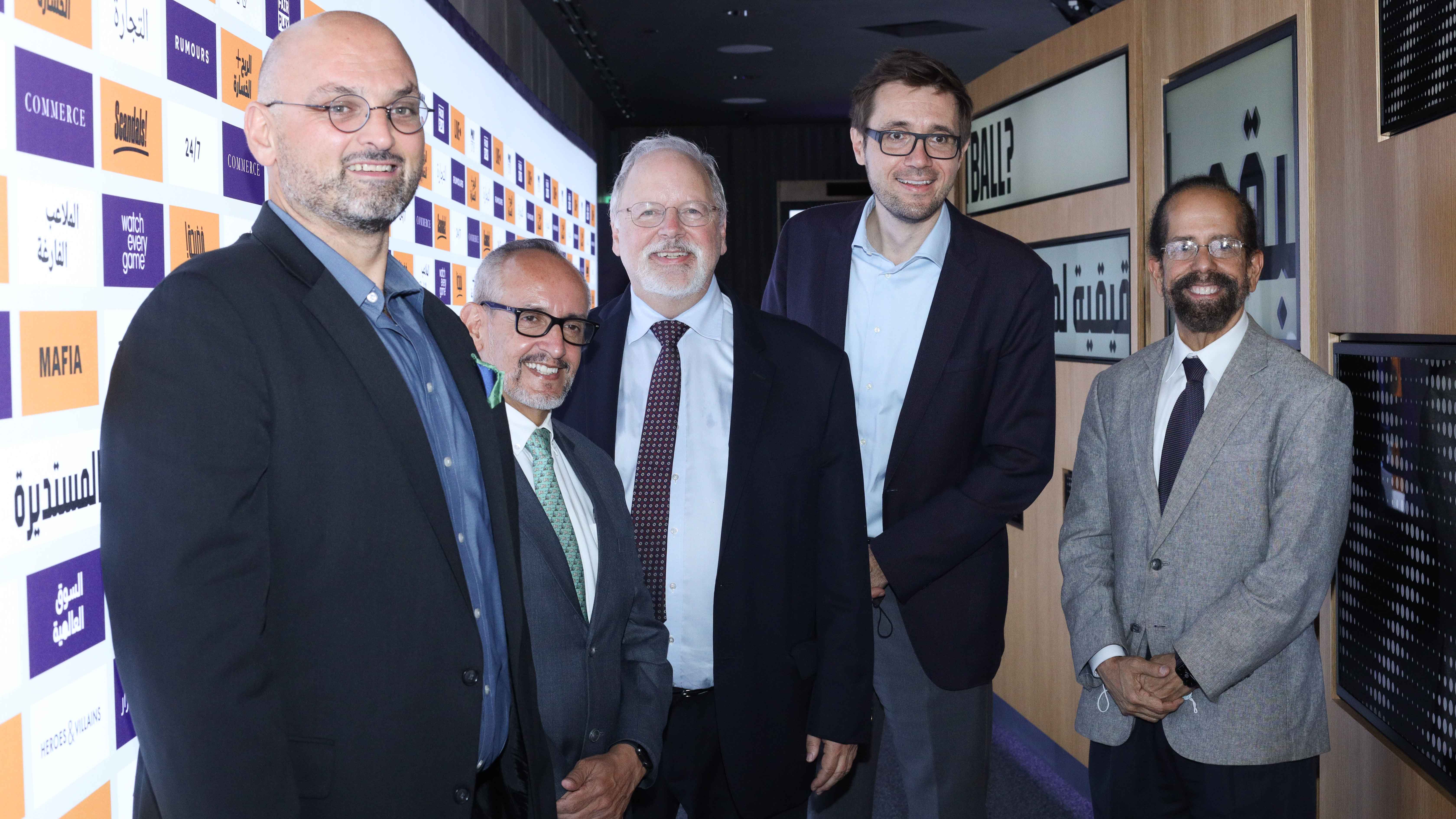 Qatari youth advocate Shaikha Ali Al-Marri is one of the many local and international researchers, football experts, and community members featured in the exhibition. Reflecting on the exhibition and its topics, she explained how it looks at less discussed aspects of the modern-day football industry, like women in sports and the role of culture and religion. "The exhibition helps us to look at football from various cultures, especially the Islamic and Arab cultures, in light of Western media and cultural hegemony," she said.
 
The exhibition is accompanied by several public programs, including discussions on greenwashing tactics in sports, a questioning of how real eSports are, inequality and discrimination in sports, and a special screening of The Workers Cup. This film documents the lives of guest workers who have built the infrastructure for the world's biggest sporting tournament.
 
In its inaugural program, The Media Majlis will host a public discussion focusing on greenwashing and environmental-led marketing and communication tactics on August 16, 2022. The event will feature Northwestern Qatar Professor Susan Dun and Talar Sahsuvaroglu, sustainability and environmental senior manager at the Supreme Committee for Delivery & Legacy, in a conversation moderated by Northwestern Qatar alumna and Doha News journalist Hazar Alkilani.
 
The Media Majlis is open Saturday to Wednesday from 10:00 a.m. to 5:00 p.m. The current exhibition will run until Saturday, November 12, 2022. To learn more about the museum and its programs, visit mediamajlis.northwestern.edu