Northwestern Qatar has announced the appointment of Zachary Wright as the school's new associate dean for faculty affairs.
"As a member of the Northwestern Qatar faculty, Professor Wright has been a dedicated and successful professor, a tireless mentor of both students and faculty, and a committed leader of curricular development and change," said Marwan M. Kraidy, dean and CEO of Northwestern Qatar. "We are fortunate to have in Professor Wright, a colleague whose dedication to scholarly and creative excellence to Northwestern Qatar and to its faculty will ensure his success as associate dean of faculty affairs."
As associate dean, Wright will have overall responsibility for all aspects of faculty affairs—including academic appointments, faculty recruitment, and faculty career development. Working with Dean Kraidy and Senior Associate Dean Kathleen Hewett-Smith, Wright will oversee the continued growth and success of Northwestern Qatar faculty across programs to
support the school's academic and research mission.
A faculty member at Northwestern Qatar since 2010, Wright is currently professor in residence in the Liberal Arts Program, where he teaches courses on Islam in Africa, modern Middle East history, African history, Islamic intellectual history, and Islam in America. In addition, he developed and chaired both the Middle East and Africana Studies minors and participated as a key member of the NU-Q Faculty Review, Reappointment and Promotion Committee.
In highlighting Wright's new role, Hewett-Smith said that the associate dean for faculty affairs is a key leader who will work collaboratively to enhance faculty life and performance, develop the learning environment, and create a vibrant academic culture. "Professor Wright has been an outstanding member of our faculty who is committed to its continued growth and success," Hewett-Smith said. "I'm confident that Professor Wright will be a valuable addition to NU-Q's leadership team and a great supporter of our faculty."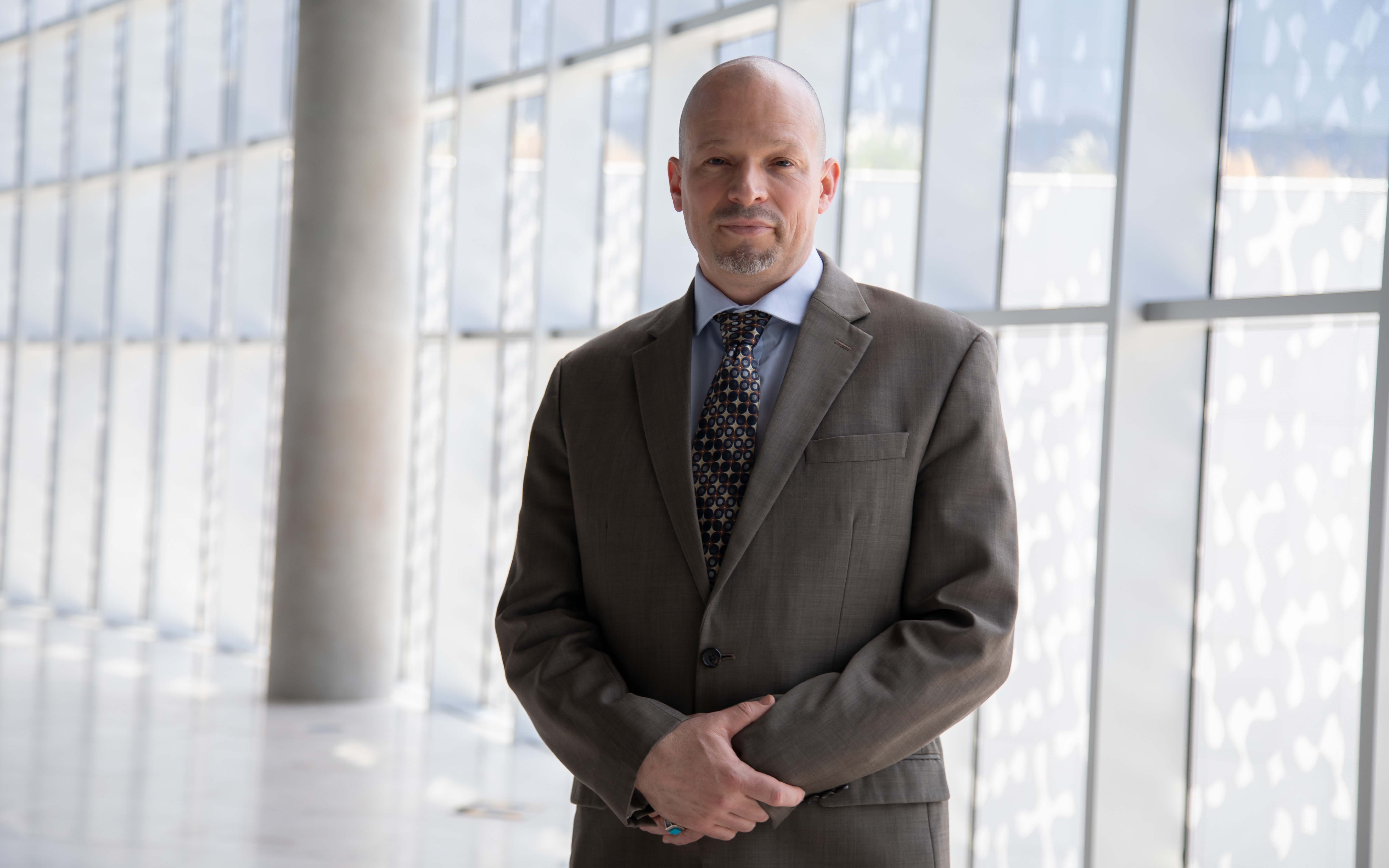 A scholar of African and Islamic studies, Wright's research examines various topics in Islamic intellectual history across the African continent, including Sufism and global networks of Islamic revival in North Africa, Muslim scholars as social and political intermediaries in medieval West Africa, and Islamic learning practices in the context of colonialism and decolonization in West Africa.
Wright has received numerous international awards and recognitions for his scholarly and research contributions. In 2019, he was the visiting scholar at Harvard Divinity School and Northwestern's Program of African Studies and was awarded Northwestern University's Excellence in Research Award. Most recently, he was elected to the International African Institute Council of Scholars at the University of London School of Oriental and African Studies.
"It is a privilege to have the opportunity to support the work of my colleagues," said Wright. "I look forward to supporting the Northwestern Qatar faculty across its academic programs to support the vision of Dean Kraidy and the goals and aspirations of faculty."
He is the author of several books, including Realizing Islam: the Tijaniyya in North Africa and the Eighteenth-Century Muslim World (University of North Carolina Press, 2020); Jihad of the Pen: the Sufi Literature of West Africa (American University in Cairo Press, 2018); and Living Knowledge in West African Islam (Brill, 2015).Wright's scholarly articles on the history of Islam and Africa have been published in journals such as Islamic Africa, International Journal of African Historical Studies, and Journal of Islamic Studies. He has also translated a number of West African Arabic texts into English, with publications such Removal of Confusion (Fons Vitae, 2010), Islam and Peace (Singapore, 2012), and Pearls from the Flood (Accra and Atlanta, 2015), reflecting the work of prominent Muslim scholars in Senegal.  
In addition to his work at Northwestern Qatar, Wright has served on several university-wide committees and programs as a member of the faculty advisory council of Northwestern's Buffett Institute for Global Studies and a faculty affiliate of Northwestern's Institute for the Study of Islamic Thought in Africa and the Middle East and North Africa program.
Wright received his PhD in history, with a focus on Africa, Middle East, and Islamic studies, from Northwestern University. He also holds a master's degree in Arabic studies/Middle East history from the American University of Cairo and a bachelor's degree in history (Africa emphasis) from Stanford University.