Northwestern Qatar celebrated the graduation of the Class of 2022 on the 10th anniversary of the graduation of its first class.
Northwestern Qatar Dean and CEO Marwan M. Kraidy congratulated the graduates for their commitment to contributing to a better world through their work. "The Class of 2022 has set new standards," said Kraidy. "You created a social media campaign promoting homemade masks in Pakistan, you founded a video and photography company here in Qatar—you already are researchers, filmmakers, and journalists telling stories, winning awards and educating the world on vital issues that have not received the attention they deserve."
Northwestern University President Morton Schapiro joined Kraidy in congratulating the graduates for their perseverance on their path to graduation. In a video message, Schapiro pointed out that their achievements are particularly noteworthy. "What you have achieved despite all the challenges of a global pandemic is truly astounding, and I know you are going to go out and make us proud as you change the world," said Schapiro. "We are so proud that you are going to wear the purple as Northwestern alumni."
Fatma Hassan Alremaihi, CEO of the Doha Film Institute, also addressed the graduating class as this year's graduation speaker. She told the Class of 2022 that, in the years after their graduation, "the lessons you learned here [at Northwestern Qatar] will be your biggest asset." Reflecting on the current state of the world, Alremaihi said, "all around us, there is as much joy and delight as there is sadness and strife," reminding the students of their responsibility to be compassionate storytellers as they graduate in a post-pandemic world.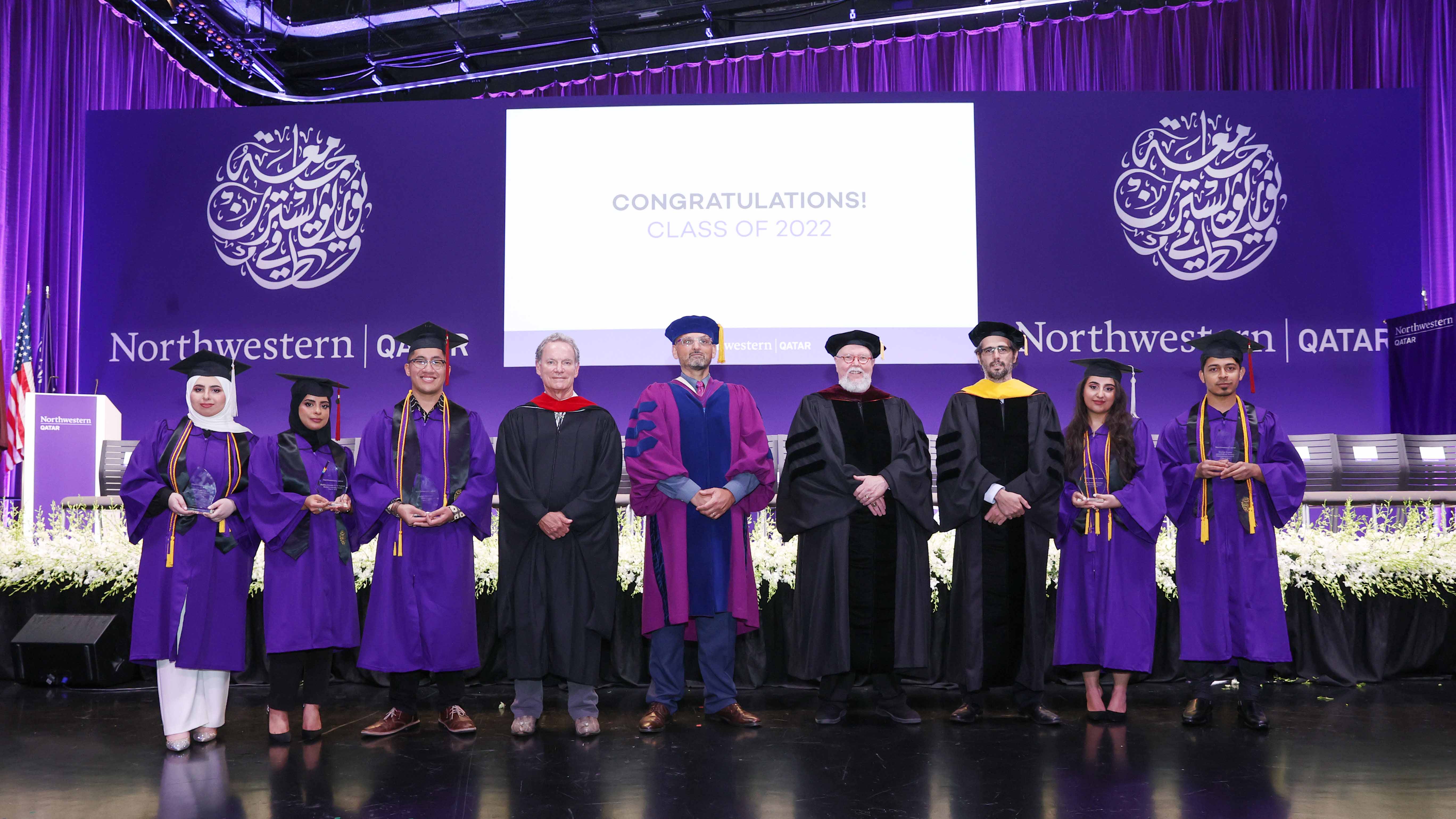 Alremaihi went on to remind the students of the power they have as storytellers to make a positive influence and counter narratives that are plagued with prejudice and misrepresentation of the oppressed. "You have the power to change that with your commitment to honest, ethical reporting in any medium that you choose to pursue," said Alremaihi. "Be forthright and unwavering in your principles … [for] our fundamental values serve as our North Star— a guiding light that ensures we are on the right track."
 
In addressing her fellow graduates, Nur Munawarah, the student speaker, lauded them for their resilience in facing the challenges on their path to graduation. "University life is not easy, and you made it through with the pandemic and the stress of online classes and quarantines," said Munawarah. "As much as I am proud of myself to be here and finishing up my degree, I hope that you, my friends from the Class of 2022, are proud of yourselves, too."
This year's ceremony also recognized members of the graduating class who have received awards for their academic distinction and participation in student life. Darrell Pinontoan received the Dean's Award, Elissa Mohamad Mefleh was the recipient of the Communication Award, Krishna Sharma of the Journalism and Strategic Communication Award, and Lujain Eyas Naif Assaf received the Liberal Arts Award, with Shaikha Ghanim H B Al-Kubaisi receiving the Student Leadership Award.
 
The Class of 2022 graduates join Northwestern's alumni global network of more than 250,000 alumni, carrying on their Northwestern education as they embark on their careers in media and communication and continue their research and studies in some of the most prestigious graduate schools worldwide. 
Click here to watch full ceremony.