An international reporting team from the Pulitzer Center on Crisis Reporting discussed their experience documenting the story of the "Spiderman of Sudan" who emerged during protests against a military coup in the country in 2021. 
 
At a Northwestern Qatar community screening of The 'Spider-Man' of Sudan: the real-life superhero of the protest movement, filmmakers and Pulitzer Center reporting fellows Phil Cox and Rafa Renas discussed their experience producing the film and examined how it gives a unique window into the protests. The screening was followed by a community discussion moderated by Craig LaMay, professor in residence and director of the Journalism and Strategic Communication Program.
 
The documentary follows an anonymous protester dressed as Spiderman as he takes to the streets of Sudan's capital Khartoum to join protesters resisting the military after a coup that ousted the civilian government in October 2021.
 
Cox, the director and cameraman, explained how he was in Sudan organizing workshops with local journalists when people began flooding the streets at the time of the coup. He met Renas, who was participating in the protests, and they decided to join forces and tell "a story that would take us somewhere deeper, not just news of people walking, shouting, [and] throwing things."
 
As the protests in Sudan gained momentum, and clashes with the security forces intensified, Cox said a protestor dressed as Spiderman appeared on social media leaping from billboards and scaling the tops of buildings while dodging teargas canisters.
 
"We saw there was this amazing mysterious person who became a social media trend and was doing something, but people didn't know who he was," said Cox. "His work with some of the poorest children in Khartoum has shown him to be a positive focus for the resistance, and that was quite special to us as filmmakers."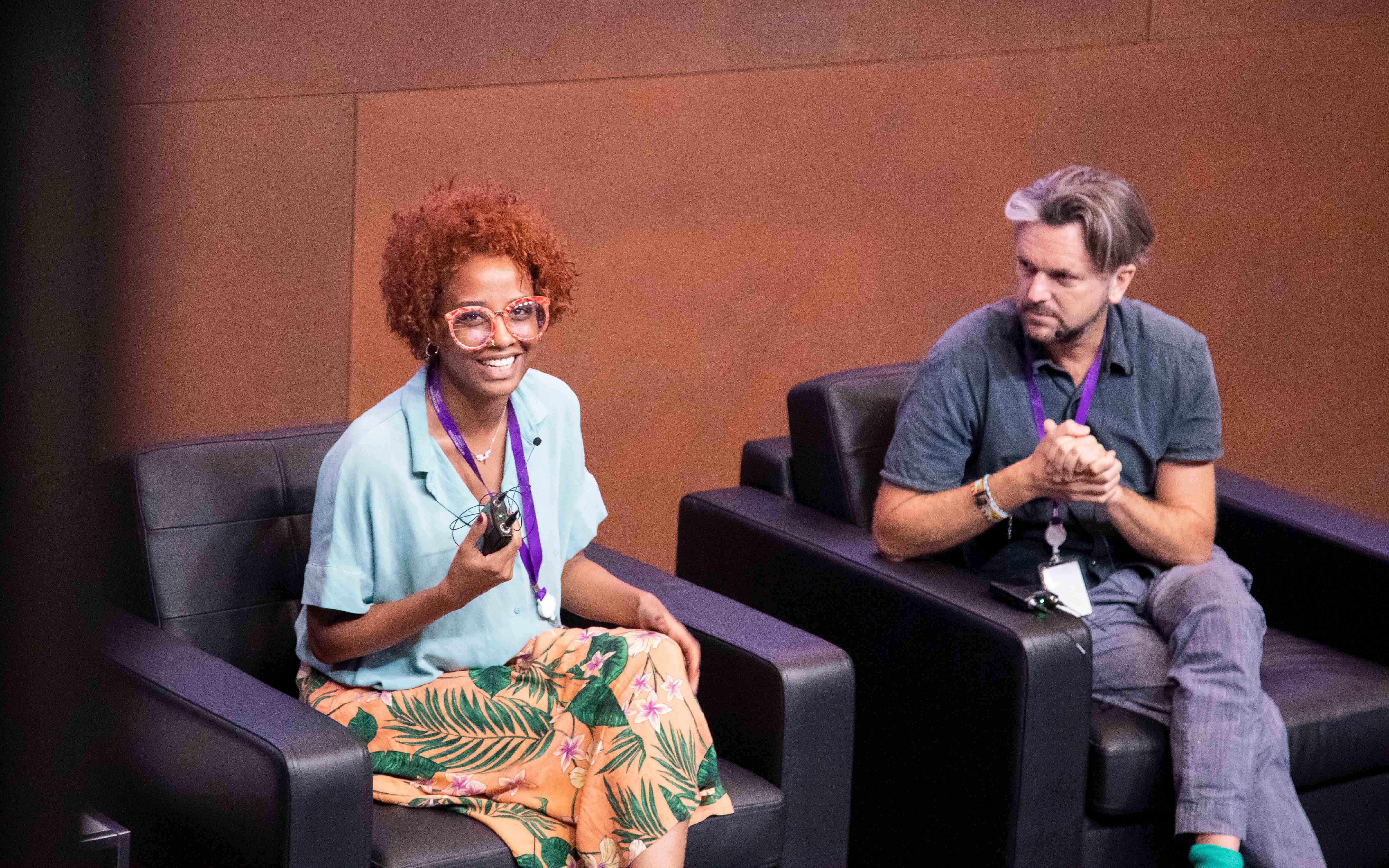 Determined to capture this story, Renas decided to find the mysterious protestor. "I was going to every protest every day just to find him," Renas said, "but somehow, I was always in the wrong place, and he was on the other side of the city. For me, it was about telling what is going on in my country and how to tell it, and how to get people to start to care, to listen, and to know."
 
Renas managed to find him, and "somehow, I managed to convince him I was just a protestor like him, and we met the next day, started talking, and slowly started building trust," she said.
 
They began the filming process, and despite the dangers on the ground and the challenges of the junta firing rubber bullets and tear gas canisters, Cox and Renas continued filming. "It was dangerous, but the audience needed to feel the street," said Cox. "That was his reality; the audience needed to feel part of the process."
 
Northwestern Qatar and the Pulitzer Center on Crisis Reporting have a long-standing partnership that includes annual visits from international reporters and filmmakers like Cox and Renas, as well as fellowships for students. Laiba Mubashar and Muhammad Wasay Mir are this year's Pulitzer Center fellows and are documenting the challenges facing survivors of acid attacks in Pakistan.
 
Sixteen Northwestern Qatar students have been awarded Pulitzer Center Fellowships through this partnership. Past projects have included a documentary on how a Yemeni refugee found love in South Korea and another on the marginalized community of scrap collectors working in Pakistan's informal waste disposal industry.