Northwestern University in Qatar graduated its first class in 2012 and the school is celebrating its alumni to mark this 10-year anniversary. Since its founding in 2008 in partnership with the Qatar Foundation, Northwestern Qatar has graduated more than 500 alumni who have become leaders and practitioners in media, journalism, government, business, and higher education.
"Northwestern opened its doors in Qatar with a mission to train the next generation of media and communication professionals in the region, and, after a decade of leading the way, our success is embodied in our alumni who are leading not only in media and communication but business, government, and higher education," said Marwan M. Kraidy, dean and CEO of Northwestern Qatar. "I am so proud of our alumni for making a difference wherever they are, by contributing to the production of knowledge, and crafting the narratives of events, people, and brands." 
To document alumni success, an
alumni-focused website
was launched to document alumni achievements. Diversity of thought, critical perspective, and unforgettable experiences are among the shared sentiments expressed by alumni reflecting on their Northwestern Qatar experience. With the majority of alumni employed, and close to one-third pursuing higher education, alumni also shared the effect that Northwestern Qatar had on their professional and personal lives. 
"The people I met at Northwestern Qatar made all the difference in my life. They pushed me, yes, they challenged me—but most importantly, they believed in me and made me believe in myself," said Dana Atrach '13, now an assistant professor at Northwestern Qatar. In keeping with the legacy, Atrach now pushes her students to achieve greatness, "I want them to believe that there's nothing they can't do. I want them to keep exploring until they find what makes them happy. I want them to break free from the pressures and expectations that are being thrown at them and to find their own voice and to go at their own pace," she added.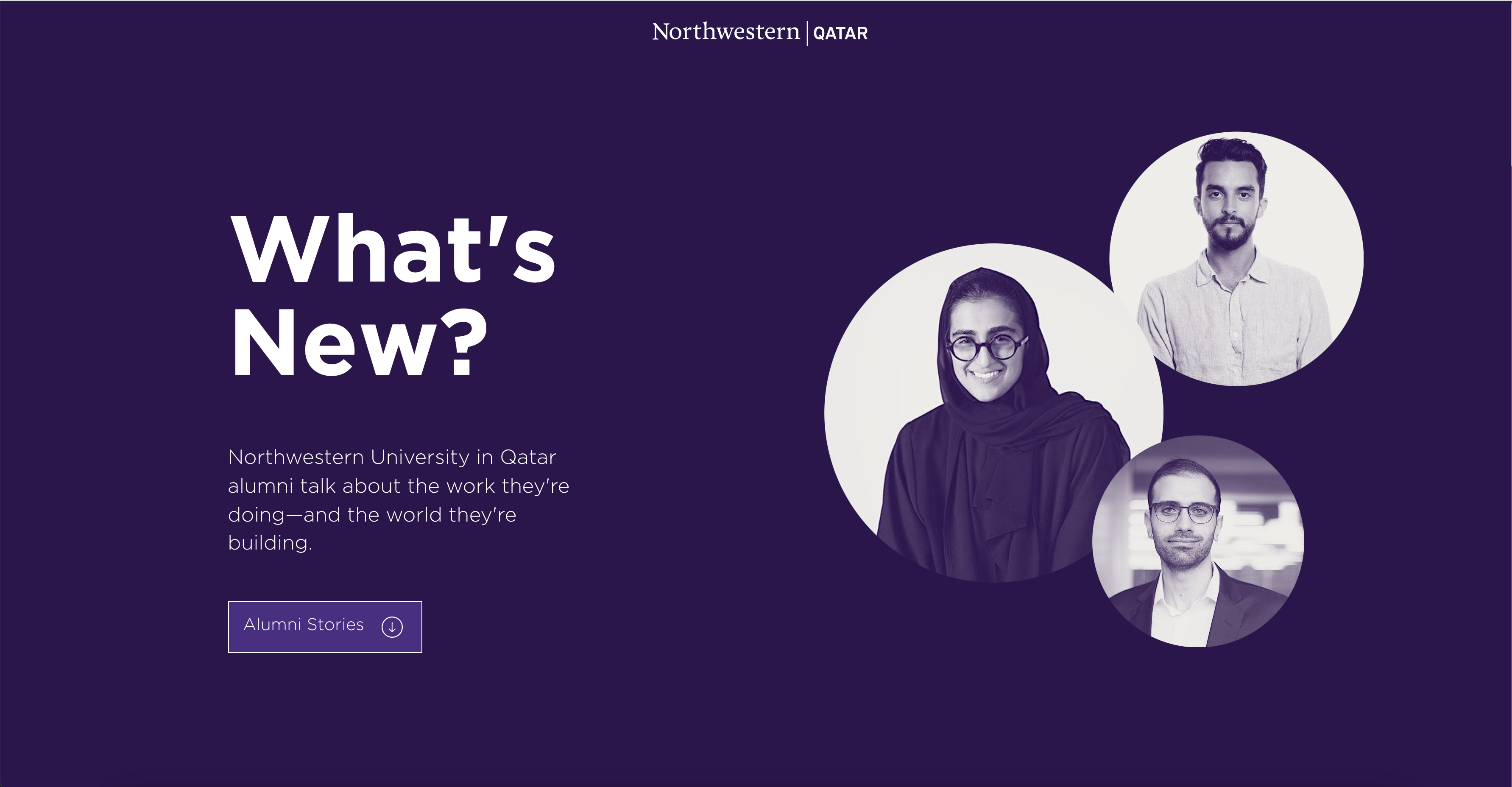 For Soud Al Boinin 16', the skills he acquired during his time at Northwestern Qatar are put into practice at his job as a marketing and communications manager at Qatar Development Bank. "I have to lead a team—which is a lot like leading a film crew at Northwestern Qatar. I have to think critically and solve problems in creative ways. And, I have to represent the bank as a spokesperson, on social media, at press conferences, on daily shows, and at formal presentations. Everything I learned to do in college—it matters here."
 
Reflecting on the impact Northwestern had on her personal and professional life, Zena Tahhan 15' said, "Northwestern Qatar sharpened my research, creative, and critical thinking skills. My professors pushed me to expand my horizon, deepen my analysis of complex social and political issues, and believe in myself—and they consistently supported me with the expertise, tools, and resources to do so." Now a Human Rights Researcher in Jerusalem, Tahhan added, "the foundation I obtained at Northwestern Qatar has been a reference point not just for my work but for my life."
 
In highlighting the important role alumni play as part of the vibrant Northwestern Qatar community, Alex Schultes, assistant dean for the student experience, said, "we strive to foster lifelong connections, exciting events, and rewarding networking opportunities for our graduates. Throughout this year, we look forward to reconnecting with alumni and expanding their career networks through new virtual initiatives like a renewed online alumni directory and a private LinkedIn alumni group." He added that this year's celebration will provide ways for alumni to advance their careers, share their passions and talents with other alumni and students, and find meaningful connections that enrich their personal and professional lives.
 
Northwestern Qatar's growing alumni network includes hundreds of alumni in leadership and creative roles in more than 21 countries. In the years after graduation, our alumni go on to work in media, government, and at top organizations around the world, while others pursue graduate degrees at Northwestern's campus in Evanston and other prestigious universities, such as Cambridge, Columbia, Harvard, Johns Hopkins, Oxford, and more.