Northwestern Qatar Professor Rana Kazkaz is joining the Buffett Institute for Global Affairs for a panel discussion and screening of her award-winning political thriller, The Translator.
 
Kazkaz, who is the Roberta Buffett Visiting Professor of International Studies at Northwestern, is spending the fall semester at the home campus in Evanston teaching two courses in the Program of Middle Eastern and North African Studies, cross-listed with the School of Communication.
 
Kazkaz's films have been recognized at leading film festivals around the world. The Translator follows Sami, a Syrian living in exile in Australia. Haunted by feelings of guilt for having abandoned his family, Sami recognizes his responsibility to his country and family and returns to help free his activist brother, who was arrested by the government.
 
The film has won several development awards, including the Arte Award at L'Atelier de la Cinefondation at the Cannes Film Festival (2017), the CNC Award at Meetings on the Bridge at the Istanbul Film Festival (2017), and a Tribeca Alumni Grant (2018).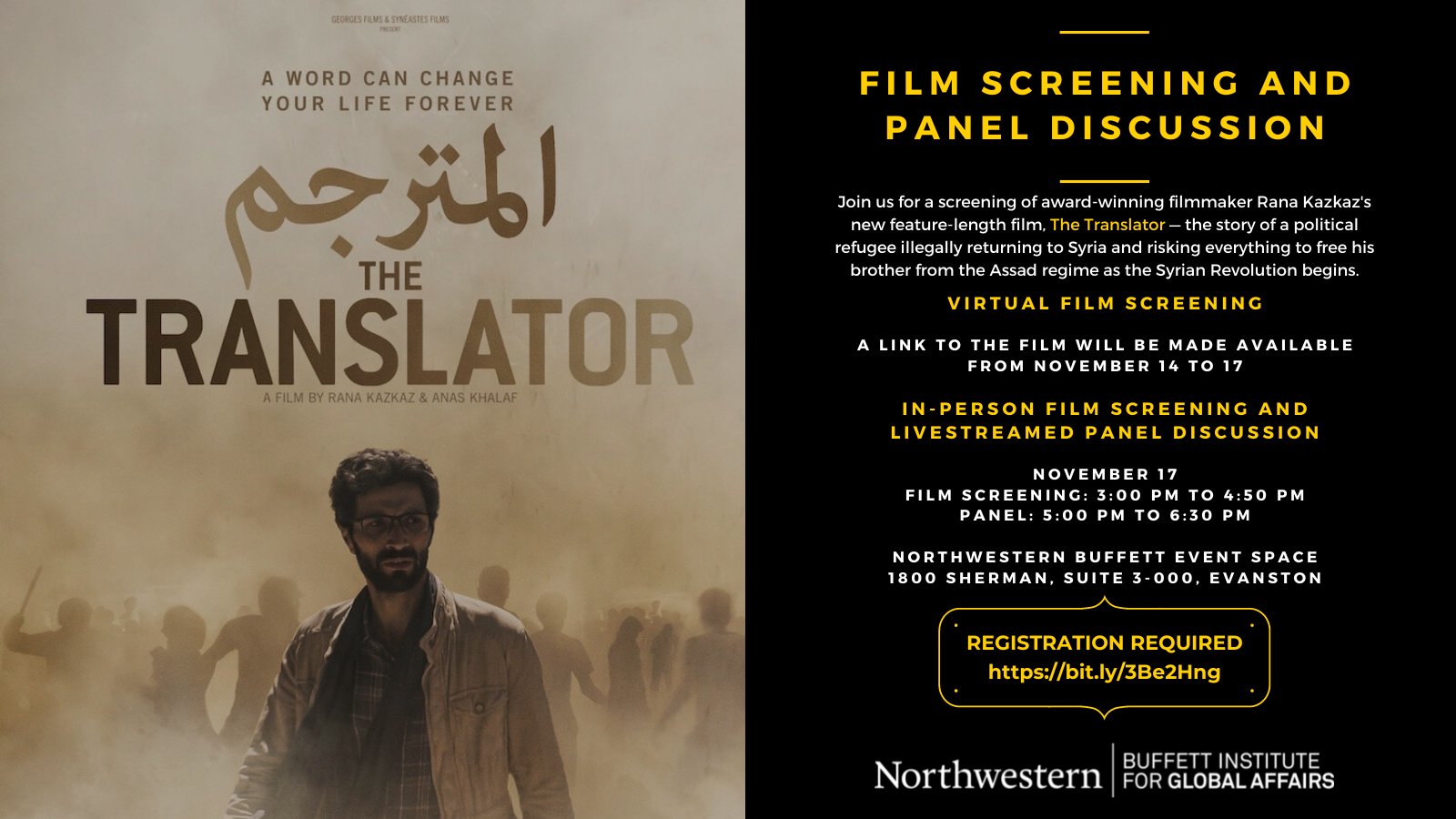 With a focus on Syrian stories, Kazkaz's producing, screenwriting, and directing portfolio includes several award-winning films, such as
Mare Nostrum
(2016), which has featured in over 100 international film festivals and won more than 40 awards,
Searching for the Translator
(2016),
Deaf Day
(2011), and
Kemo Sabe
(2007). 
The Buffett Institute's screening of
The Translator
will take place on Wednesday, November 17, 2021, and will also feature Kazkaz in a panel discussion on the film with Simon Adams, president, and chief executive officer of the Center for Victims of Torture; Zayd Dohrn, playwright, professor, and co-director of the MFA in Writing for Screen and Stage in the Department of Radio/Television/Film at Northwestern University; and Wendy Pearlman, professor of Political Science at Northwestern University. 
Click
here
to complete the online event registration form and receive a link to attend the online screening.