From a story of an entrepreneur bookseller in Jerusalem who stages Palestinian literary events to one of a doctor working in local Palestinian communities, Northwestern Qatar Professor Marda Dunsky presented stories of Palestinians engaged in creative and productive pursuits in their everyday lives at a recent campus lecture.
 
At a community event hosted by the Middle East Studies Committee, Dunsky discussed her latest book, Stories from Palestine: Narratives of Resilience, exploring aspects of everyday Palestinian life in the West Bank, Jerusalem, and the Gaza Strip.
 
In her talk, which was moderated by Professor Abraham Abusharif, Dunsky explained how the stories amplify perspectives and experiences of Palestinians beyond dominant mainstream media portrayals that often focus on their communities as being subsumed by oppression and violence.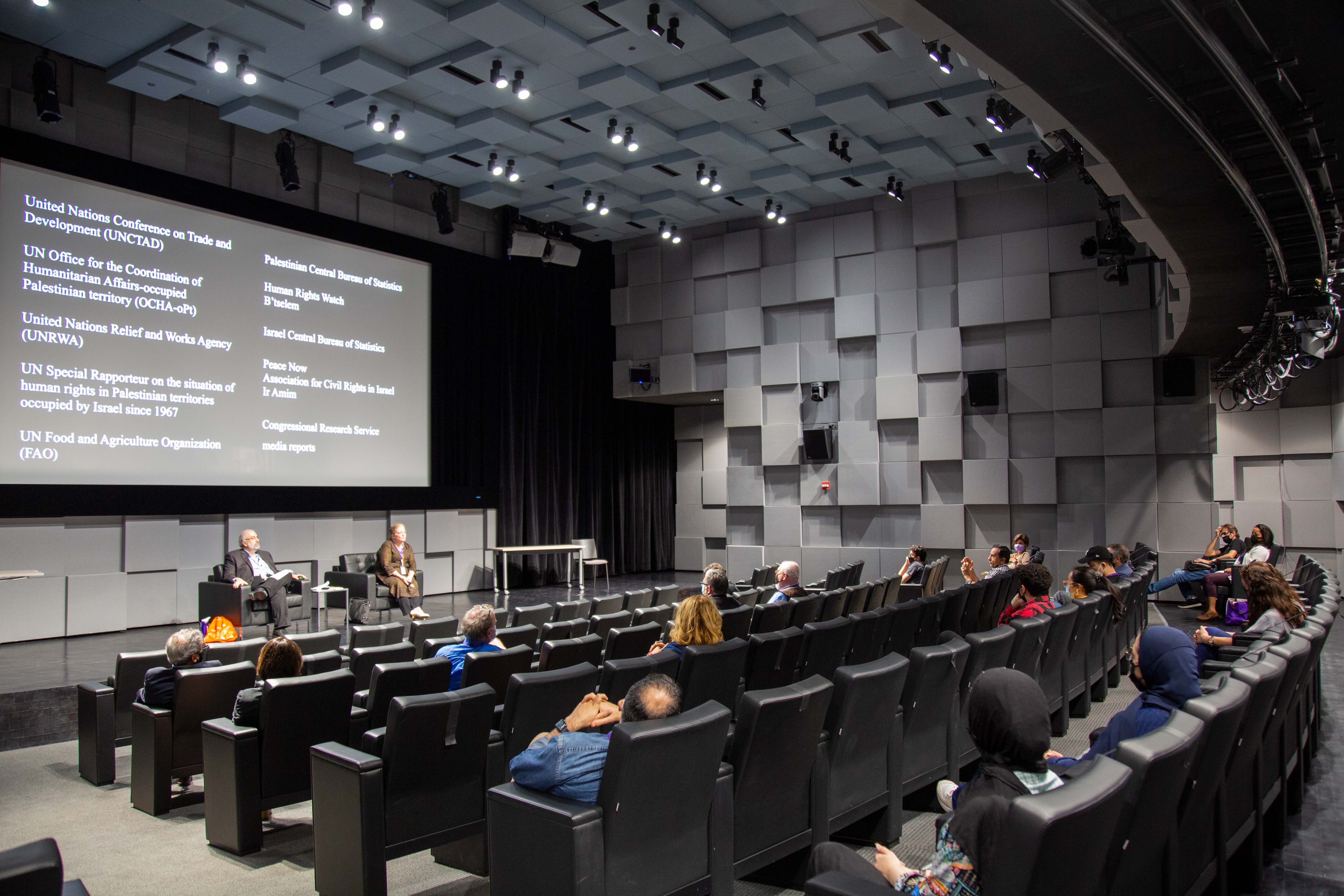 In the story of the Palestinian entrepreneur, Dunsky told the audience that after earning university degrees in the United Kingdom, he returned to Jerusalem to run a bookshop and stage literary events that reinforce Palestinian identity. "This [story] to me is the epitome of agency," Dunsky said. "That is another thing about the representation of Palestinians in the media that we do not often see, hear, or perceive: that they, like people everywhere, have agency, not just about their personal lives, but also about the direction of where their people and community may be going."
 
When asked about the purpose of the individual stories in her book, Dunsky said it is not presented as a collection of "happy stories from Palestine" but rather narratives that highlight the creativity and productivity of Palestinians despite their living under the difficult circumstances of Israeli occupation. Woven into the interviews she conducted, Dunsky said, are data and other information from secondary sources "to show that these are not stories happening only to individuals; they are happening to Palestinians across the board in their communities and as a people."
 
Dunsky, a print journalist and scholar, is also the author of Pens and Swords: How the American Mainstream Media Report the Israeli-Palestinian Conflict. As an assistant professor in residence in the school's Journalism and Strategic Communication Program, she teaches courses in journalism and storytelling across media and a seminar on narrative and journalistic empathy.