Northwestern Qatar joins with Northwestern's Medill School of Journalism, Media, Integrated Marketing Communications in celebrating the 100th anniversary of Medill. Northwestern Qatar has awarded degrees in journalism since 2008 with its nearly 200 journalism alumni joining 18,000 Medill graduates worldwide in leading successful careers in journalism, corporate communications, politics, social media, and law.
Commenting on this institutional milestone, Marwan M. Kraidy, dean and CEO of Northwestern Qatar, noted that by establishing a campus in Doha that included a journalism and strategic communication program, Northwestern positioned itself to contribute to the growth and future development of the media and communication industry in the Middle East and the Global South.
"Journalism is in deep crisis worldwide under the combined forces of politics, economics, and technology, and the Middle East is no exception," Kraidy said, "Northwestern Qatar expands the Medill tradition of training the best journalists in the making and raising awareness that independent media are important contributors to the rise and wellbeing of societies."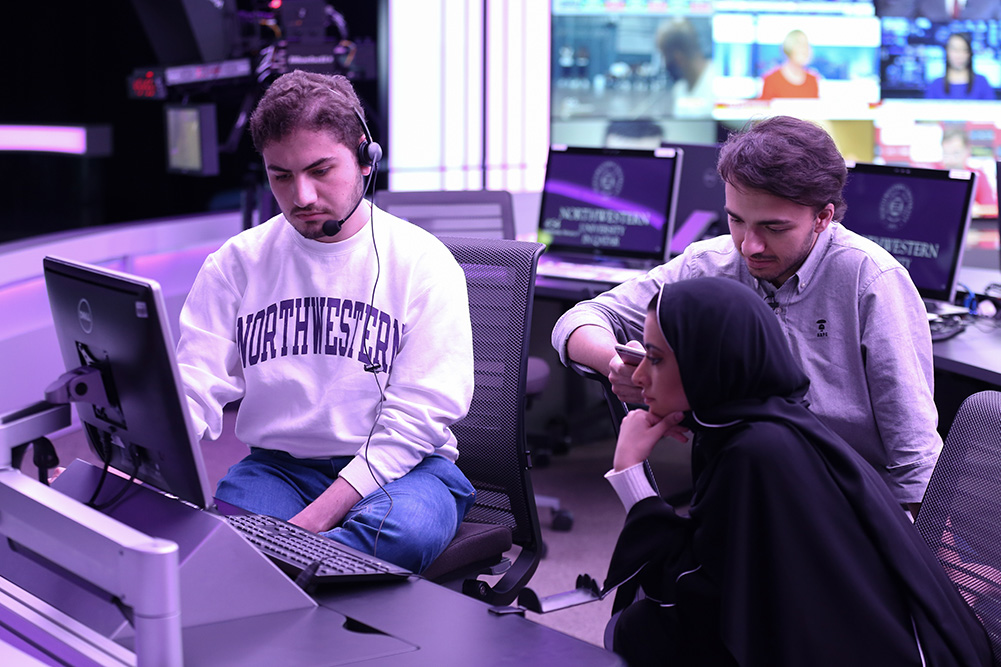 Mary Dedinsky, a double alumna and long-time faculty member of Northwestern Qatar and Medill, was recently inducted into Medill's Hall of Achievement. She is the first woman to be named managing editor of the Chicago Sun-Times and has been elected to the Chicago Journalism Hall of Fame. 
"A Northwestern journalism degree has never been more important, said Dedinsky, "You can do everything and anything with it because you learn how to think, to analyze, to ask questions, to be clear and accurate, how to write, how to talk, how to produce video or VR or AR or animation. It is a broad degree that can take you anywhere you want to go. The world is a scary place of misinformation/disinformation and that condition needs to be righted – a challenge that are our students are prepared and equipped to tackle."
Medill prides itself on its constant innovation, thought leadership, and hands-on learning programs, which include a 10-week residency where its students are placed at some of the world's top media organizations to gain real-world experience and work alongside professionals in the industry.
Inaara Gangji, a Northwestern Qatar student from Tanzania, said her undergraduate career afforded her opportunities to pursue her passion for telling stories on women's issues, social justice, and the Global South. So far, her work has appeared in USA TODAY, Al Jazeera, and Forbes Africa. Gangji is also the editor-in-chief of the student-run Daily Q and the recipient of a Mental Health fellowship by the Rosalynn Carter Center. "During my four years at Medill, I've had the opportunity to venture into the liberal arts and student organizations, travel, work and explore the field of journalism and leadership across the globe. It has both humbled me and given me the professional skills and tools, network, and confidence to be successful in whatever I decide to do next," she said.
Students enrolled in Northwestern journalism programs have often described it as a life-changing experience. Abdul Rahman Abid, a Northwestern Qatar student who grew up in Pakistan while the country was transitioning from an authoritarian regime to a democracy, said that his perspective on the media was shaped by the politics of his country – he understood the role of media in upholding justice, bringing greater accountability, and shaping the narrative – a theme that was reinforced throughout his academic journey. "I feel very grateful to have been indoctrinated with the principle, both inside and outside the classroom at Medill, that journalism is a public service, and as public servants, we owe our audience a great deal," he said.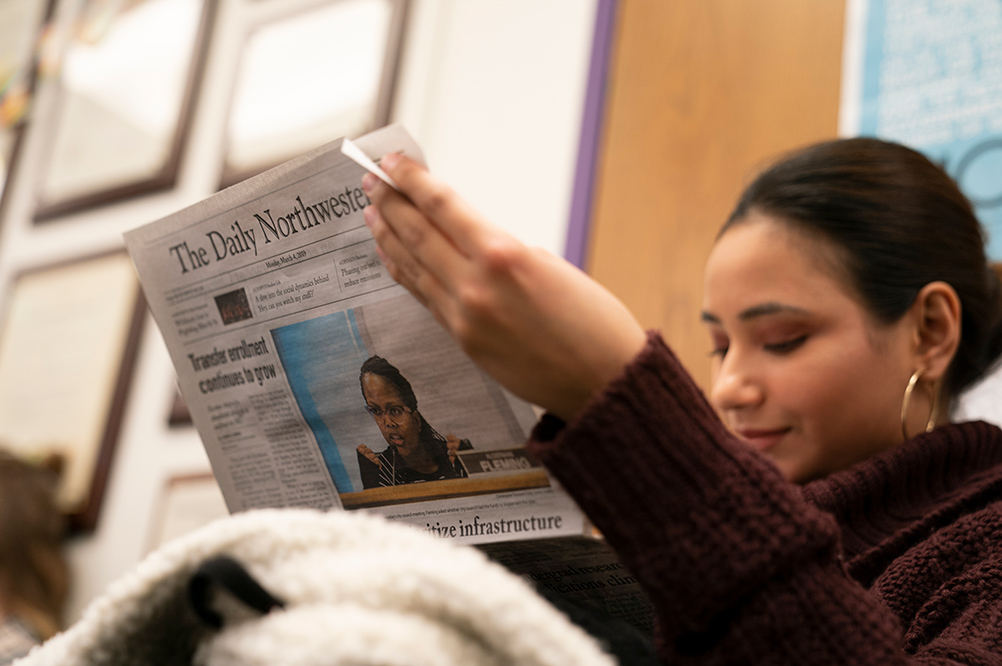 Almost a decade since graduating, Sidra Ayub, editor of Qatar Living, attributes her due diligence in journalism and the overall success of her career to her undergraduate experience. "Choosing to study at Northwestern was perhaps one of the best decisions I've ever made in my life." She added, "With a highly enriching academic experience, I picked up on some life-changing values that have helped me on a personal and professional level. One of the most important lessons I learned was to pay attention to detail – a skill that has been ingrained in me through my rigorous journalistic training. As an editor, being meticulous, has earned me the respect and trust of my colleagues." 
A similar sentiment was expressed by fellow alumna and Assistant Professor Christina Paschyn, who said, "Studying at Medill changed my life – It set me on the course to become an award-winning documentary filmmaker and a journalism instructor. The friends and colleagues I have made through Medill, during my undergrad and graduate studies there and later on as an alumna, are ones that I will treasure forever."
For Associate Professor Ibrahim Abusharif, an alumnus who was among the first cohort of professors to join Northwestern University in Qatar, the institution plays a pivotal role in educating the future generation of media leaders in the region. "My experience at Medill was a watershed moment for me in ways I still remember, with results I still pull water from. When Northwestern traveled to Qatar in 2008, the watershed effect traveled with it," he said. "Just as media narratives have become more transnational and more global than at any time in the past, the promise and charge of Medill in this new media ecology have likewise expanded. To a significant extent, the Doha campus epitomizes that expansion and continues to substantially enrich Northwestern's global footprint. Our students are poised to contribute to critical global discourses and shine light on underrepresented stories with informed empathy and a wide breadth of experience. That's the Northwestern effect—whether in Evanston-Chicago or in Doha. Congratulations to my alma mater!"