Shamim Chowdhury, TRT World's Asia correspondent told students at Northwestern Qatar, that with the rise of social media and alongside it, fake news, "the need for truth and journalistic integrity is more important now than ever before."
Chowdhury, a guest speaker in a journalism class at Northwestern Qatar, shared her story of starting as a young reporter at The Daily Express, in the U.K. and then transitioning to television news as the deputy editor of Al Jazeera English before joining the Turkish news channel TRT World, as their Asia correspondent. 
Throughout her career, Chowdhury reported on global issues and political affairs, including the annexation of Crimea in 2013, the Rohingya refugee crisis in 2017, and the Syrian Civil War since 2011. 
Chowdhury spoke to the Journalism in the Digital World class, taught by Northwestern Qatar, Professor Marcela Pizarro, and Professor Eddy Borges-Rey. During the class, the students asked her questions on political journalism, how to start in the industry, how to develop stories for broadcast versus print, what the safety and security precautions are for foreign correspondents, and how they can be ethical and fair in their reporting.
While explaining that climbing the career ladder in an industry as competitive and challenging as journalism takes time, she encouraged them to persevere. "With time you will grow, learn, and build character," she said. "Every single day has contributed to where I am now, and I wouldn't have it any other way." 
Working for a large media network means communicating with a general mass audience, Chowdhury explained. In today's heavily populated media landscape, it is very competitive and, she told them that they had to "create content that is engaging and convince readers and viewers that your story is important, interesting and relevant to them."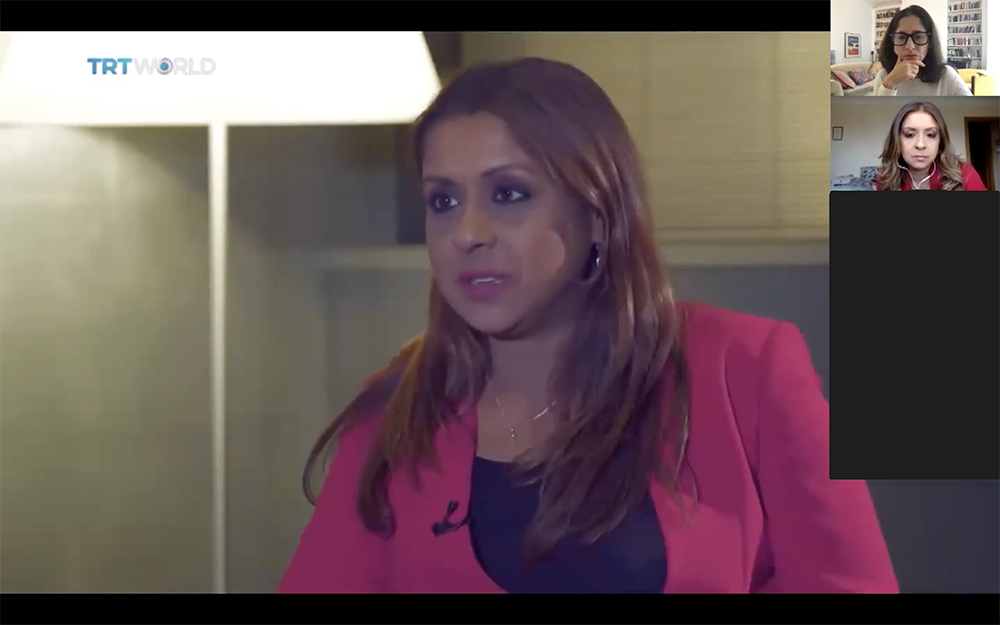 Of all the lessons she learned throughout her career in media, Chowdhury shared three that were invaluable to her – "know your audience and understand what matters to them, tell a good story, and be prepared for the risks involved in reporting on an unfolding crisis or in hostile environments." 
It was storytelling, however, that she said was essential - being able to identify the news angle and combine visuals with words to bring a story to life is key. "If you're working for a TV network, then your words must compliment your visuals, and if you're working in print then you need to use words to evoke your reader's imagination," she said. "Keep it simple and factual, stripped away from jargon…If you can tell a good story, your viewers and reader will be interested." 
Pizarro said that she often invites working journalists to her classes to give students a chance to hear directly from them what it takes to be successful. "We have an incredibly global cohort of students at NU-Q. Giving them exposure to prominent international journalists from a range of different backgrounds provides them with first-hand accounts of what their lives will be as future journalists and storytellers, helping them prepare for their professional careers," said Pizarro.