Students at Northwestern University in Qatar, a Qatar Foundation partner, have created a podcast, Qandid Qatar, which features interviews with leaders and opinion-makers in Qatar. 
Qandid Qatar is one of the two podcasts developed by students in one of Professor Spencer Striker's class, Digital Podcast Production. Striker says that the class is "a hands-on, experiential learning practicum, in which students form an interdisciplinary team—a kind of student-run podcast studio—consisting of such focus areas as audio post-production, art, social media promotion, web design, and project management." 
Striker noted that Qandid Qatar offers "in-depth conversations with Qatar-based VIPs/local celebrities," while Qatar in Quotes, the second podcast, focuses on "ordinary people with extraordinary stories," following the example set by the popular online photoblog Human of New York in presenting "an authentic portrait of the voices of the city." 
In both projects, students share the responsibilities of hosting, crewing, and producing individual episodes and have created and uploaded several interviews– including the stories of a Kenyan security guard in Education City who developed a career in art since coming to Doha; and the entrepreneurial journey of Khalifa Saleh Al Haroon, founder and CEO of the I Love Qatar Network. 
The most recent Qandid Qatar episode was an interview with Northwestern Qatar's dean, Marwan M. Kraidy, which can be heard here. In the interview, Kraidy reflected on his beginnings in the world of media production in Lebanon, and chronicled his transition to academia, describing his interdisciplinary background at the nexus of research, media, and politics. 
On his research interests in media, politics, and culture, Kraidy said, "half-jokingly," that what he specializes in is "scandal," explaining that what drives his work are questions such as: "why does an issue become controversial in society?" and "how does the controversy evolve?" Referring to his 2009 book, Reality Television and Arab Politics, he said that "a controversy is never just a controversy" but rather "a map to understand the social and political tensions that exist in society."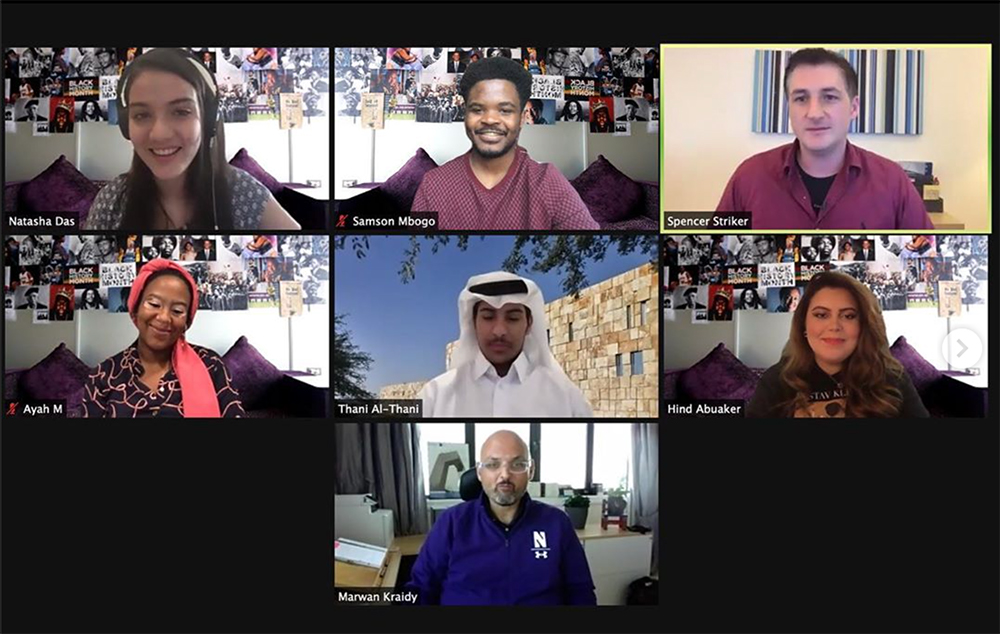 During the episode, Kraidy was also asked about the importance of communication skills in the twenty-first century, to which he replied that while the field is very relevant today, "the problem now is not getting access to information but figuring out what kind of information is actually information."
Citing dangerous incidents of fake news, including the emergence of fictional personalities during the Arab Spring and "an entire cottage industry" in the U.S. dedicated to promoting the idea that school shootings are not real, Kraidy said that communication students must be well-versed in the liberal arts – in courses such as anthropology, literature, and political science – to "tune your mind to detect when something is wrong – to understand somebody is trying to sell you a lie."
Kraidy also highlighted Northwestern Qatar's unique position as "an embedded institution" – in the U.S., in Qatar, in the Gulf, and in the Arab world – and the opportunities that come with that and warned against exaggerating the changes brought by the digital revolution.
"The digital means let us express knowledge and communicate it much more broadly…much faster," Kraidy said, emphasizing that this does not mean that technology is changing everything and that we should be wary of overexaggerating its impact. "We are humans; we will absorb new technology, we will bend it to our needs, so you have to start with people."
The student team behind the Qandid Qatar episode with Kraidy include Natasha Das, Hind Abuaker, and Thani Al Thani as hosts; Samson Mbogo as producer; Ayah Mohamedain as sound designer, recordist, and editor; Arya Mainali as project manager; and Ahmed Jassim and Thani Al Thani, who were responsible for the artwork. 
By the end of the semester, Striker said, both podcasts "will have about a dozen, high-quality episodes produced per podcast published to Apple Podcasts, Google Podcasts, Spotify, and YouTube." The class has also created a new website, QatarPodcasts.com which, Striker added, "will serve as a platform through which we can develop new podcast series with different concepts."