Literary expression and the power of storytelling were the themes discussed in a virtual conversation with Jokha Alharthi, author of the award-winning novel Celestial Bodies, which was Northwestern Qatar's One Book selection.
Alharthi's novel tells the story of three generations of an Omani family over a century and illustrates how Oman has changed and developed from a traditional society in the late 19th century into an oil-rich modern country that is multi-cultural and diverse.
According to Alharthi, she wrote the novel "to celebrate Omani culture" and to "break stereotypes about women in the Gulf region." She noted that she was able to do this through her writing because literature invites readers to engage in conversations and ideas that are thought-provoking and new, through the voices and experiences of imagined characters who are inspired by reality.
The prevalent themes of liberation and freedom expressed throughout the book, she said, are inspired by experiences she read about and witnessed throughout her life. "Freedom is not just one notion – it doesn't have a universal definition. I enjoy observing how people respond to it – it is an essential pillar in society, especially one that is trying to be modern, but still trying to maintain its own traditions and culture, which is not a very easy task to do."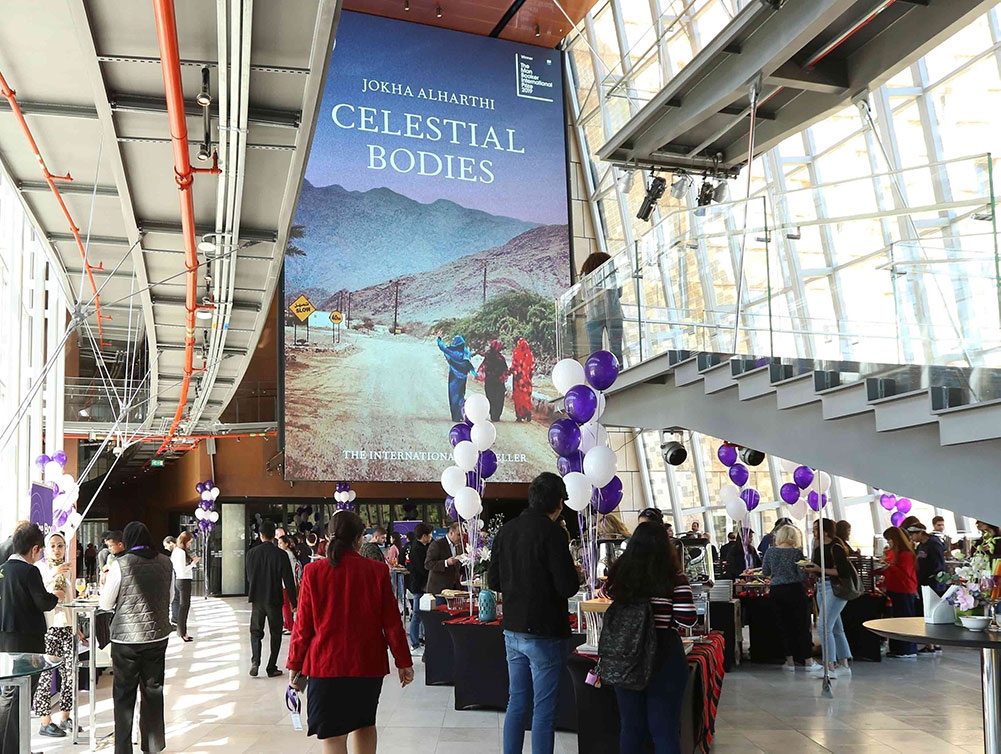 While completing her doctorate at the University of Edinburgh in Scotland, Alharthi said she was inspired by the life she left behind in Oman – the storytelling culture she lived with her grandmother, the lessons in poetry and Arabic literature she learned from her grandfather and uncle, and the longing for the warmth and closeness she felt in her hometown. 
"All the things that I wanted to feel connected with came to me in isolation and that's when I wanted to write…," she said. "My novel kept me balanced and kept my pieces together – it, kind of, saved me."
Alharthi's novel received critical praise and recognition but was also criticized for its liberal approach to controversial topics in Omani culture, particularly on social media. "I had to learn to detach myself from negative opinions of my work," she said, "Freedom in writing is very important to me – I would never be true to my story or write about something I believe in without learning to let go. It is very important to be brave when it comes to writing…and, to be open to criticism."
As part of Northwestern Qatar's One Book program, Alharthi also participated in a question and answer session with students where she provided advice for the students – many of whom are young writers and aspiring authors.
"Don't try to confine yourself in a small room while writing," she said. "Be inspired by reading. I became a writer by reading and expanding my knowledge." She told students to read books on subjects that go beyond their usual choice, from history to philosophy and science, and to "read plenty of literature from other cultures." She added, "be open and meet as many people as possible, they are your best source of inspiration." 
Celestial Bodies was translated to English by Marilyn Booth. In 2019, it became the first novel written in Arabic to be awarded the Man Booker International Prize. Alharthi has published 10 books, including novels, short stories, children's books, and academic studies. She is an associate professor at Sultan Qaboos University in Muscat, Oman.