Three new books by Northwestern Qatar Professor Jairo Lugo-Ocando that explore journalistic practices, ideologies, and the effect political influence has on agenda-setting in the newsroom – specifically in the Global South – have been published with one serving as a focus for a Northwestern webinar. 
His first book, Foreign Aid and Journalism in the Global South: A Mouthpiece for Truth, which was explored during a webinar "Multiple News Grammars or One Universal Journalism?" examines how world powers influence and shape journalistic practices to push political ideologies and propaganda in the Global South.
The webinar, co-hosted with the University of Salamanca, featured international reporters and academics who discussed journalism as a universal phenomenon while focusing on the challenges that journalists in the Global South face in an evolving media and political landscape. 
The panelists included Dima Khatib, managing director of AJ+; Exequiades Chirinos, CNN en Español; and Patrick O. Malaolu, CEO of Rockcity FM, Nigeria. The session was chaired by Professor Shakuntala Rao, State University of New York, Plattsburgh.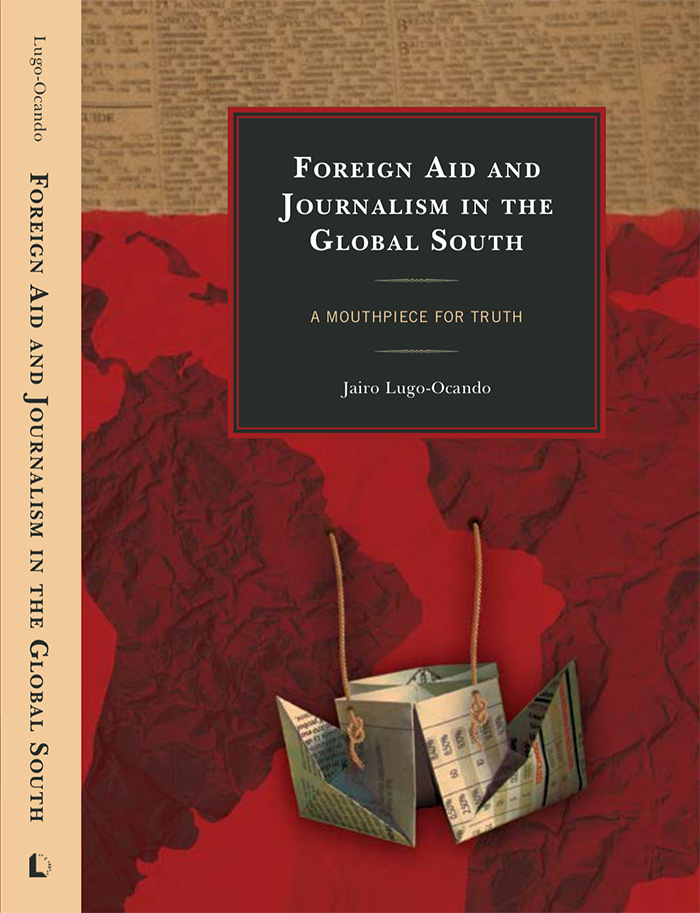 During the webinar, Lugo-Ocando explained how by having control over the media, world powers can infiltrate local communities to shape the public's opinion and promote ideas that align with their political or economic agendas.
"During the Cold War, foreign aid was used to push for the convergence of values and practices that promote a universal way of producing news – one that reflected notions of objectivity and impartiality that mirror the liberal democracy and free-market ideology present in the West," explained Lugo-Ocando, "and, still today, financial aid is used to define news agendas and promote political ideologies in developing countries."
Other topics addressed throughout the webinar included the role of digital and social media in shaping a new age of journalism, the importance of localizing global issues for specific audiences, and the notion of objective versus truthful reporting.
The News Media in Puerto Rico: Journalism in Colonial Settings and in Times of Crises, which Lugo-Ocando co-authored with University of Leeds Professor Federico Subervi-Vélez and investigative journalist Sandra Rodríguez-Cotto, is a study on the role of the news media in society within the context of colonial relations between the United States and Puerto Rico. 
"Since a hurricane struck Puerto Rico in 2017, it has become crystal clear that the people of the island are treated almost as colonial subjects. Particularly, given how the current U.S. president referred to inhabitants and the reluctance to acknowledge the suffering, the level of destruction, and even the real numbers of deaths. However, Puerto Rico has been considered and treated as a colony for a long time not only by this administration but many before it. Washington officials have systematically failed to engage with the island in equal terms," Lugo-Ocando said.
Finally, his book Statistics and the Quest for Quality Journalism: A Study in Quantitative Reporting, co-authored with Professor Alessandro Martinisi of Breda University of Applied Science in the Netherlands, examines how statistics are incorporated in the news and the way they not only provide context and meaning to the stories but also award quality and legitimacy to the messages. 
"In our study," Lugo-Ocando said, "we examined the current media landscape and the abilities and skills that reporters need if they want to provide comprehensive and critical coverage of news while using statistics and data. What we found was that the use of numeric data is at times a complex and problematic effort in the newsroom, one that certainly needs a better understanding and more critical assessment."
Before entering academia, Lugo-Ocando served as the news editor-in-chief of Venezuela's Dairio La Verdad and worked as a journalist and freelance writer for several news organizations in Venezuela, Peru, Colombia, and the U.S. He earned his PhD from the University of Sussex, U.K., and a master's from Lancaster University in media studies and international relations.