Alumni from Northwestern Qatar shared advice and stories with students on how they transitioned from university to a professional career.
The alumni panel, hosted by Northwestern Qatar's Career Services office, featured Abdulla Fahad Kamal, '18; Maryam G. Al-Thani, '16; Mohamed Noorudeen, '14; and Shereena Qazi, '12.
Kamal, who works as a production services coordinator at beIN Sports emphasized that the most important traits as a professional are patience and flexibility. "Everyone has a different kind of work-flow, and people need to be able to adapt to all of them," said Kamal. 
Qazi, an online journalist for Al Jazeera English who covers news in South Asia, with a focus on Afghanistan – her home country, credits the resources, staff, and faculty at Northwestern Qatar in preparing her for a professional career after she graduated. "How to network, how to communicate with your employer, and all those workshops offered at NU-Q are important for your professional career," said Qazi.
One student asked Qazi how she was able to network for a job as a journalist in Qatar. According to Qazi, she knew she had an advantage in speaking the local language in Afghanistan – so she took a leap and flew there to network. After spending time in Afghanistan, Qazi met journalists and other valuable contacts and eventually found a job with Al Jazeera English covering the region.
Having a combination of being assertive and calm, were traits that Qazi said she found important to have professionally. "Being persistent, knowing how to be persistent but not annoying, is crucial," said Qazi.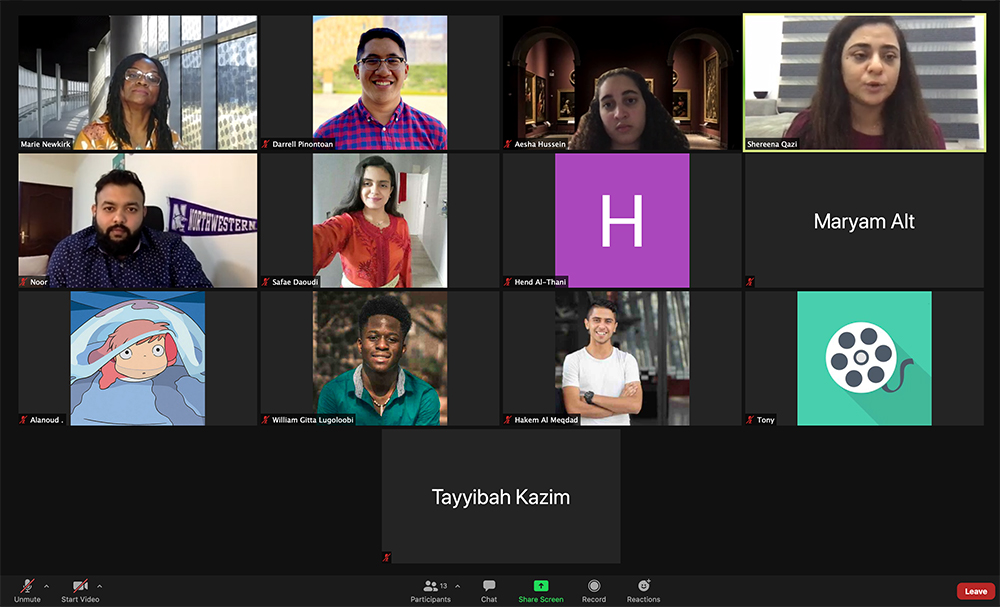 Noorudeen works as the marketing PR manager at Qatar Living where he started as a content writer and was promoted to senior editor before holding his current position. Noorudeen was an active member of the Northwestern Qatar community as a student, co-founding the men's soccer team among various other clubs he was a part of. "The quality of education gave me the skills I needed to work," said Noorudeen. Echoing what his fellow graduates said, Noorudeen stressed the importance of networking while at Northwestern Qatar and making use of opportunities like clubs and workshops. 
Noorudeen also encouraged the students to reach out to organizations where they would like to work and talk to people who work at those companies. "Try to get out there and talk to people personally, and that way you have a better way of getting in," said Noorudeen.
Al-Thani, a researcher in marketing and communications at Qatar Olympic Committee (QOC) said that "enthusiasm goes a long way and that's what I've noticed a lot of employers look for."
Al-Thani's current responsibilities at QOC include researching social media content, working on media bidding processes, and working on the Asian Games bid for Qatar. 
Al-Thani pointed out the importance of starting early and getting work experience while a student. Proactivity, good time management, and good management skills, in general, were skills that Al-Thani said helped her succeed. "There are so many opportunities out there for you. You either wait for them, create them, or go out of your way to make sure those opportunities gravitate to you," said Al-Thani.
A concern to students graduating during the Covid-19 pandemic is the availability of job opportunities. Qazi, however, thinks that students should not let Covid "stop you from looking for jobs, there are still people out there getting jobs, offering jobs. and moving up in their careers."