Larissa Buchholz has spent the last academic year as a visiting professor at Northwestern Qatar, teaching, working on research projects, and taking part in everything Qatar has to offer on art research, exhibitions, and celebrations.
Buchholz, an assistant professor at the School of Communication on the Evanston campus with a courtesy appointment at the Weinberg College of Arts & Sciences, was drawn to the Qatar campus to pursue several research projects, which focus on cultural production and art markets in a global context.
The first of these projects involved completing a book manuscript, The Global Rules of Art, which "traces how artists from non-Western regions become globally successful."
With the help of students, she also worked on a second project "mapping the structures, networks and flows in the gallery market," explaining that these pertain to private galleries, not their public, non-profit counterparts.
Describing this project, Buchholz noted how globalization in cultural markets is usually associated with large-scale transnational corporations. Despite this, she said, it is still possible to observe what she defines as a "networked, bottom-up globalization" among smaller cultural enterprises, like art galleries, which challenges the perception that they are "more locally confined."
Her final and most important research, and the reason why she came to Qatar, is a project on art collectors that takes Qatar as a case study and is guided by one central question: "What makes art collectors in various world regions interested in and engaged with contemporary art?" By shifting the spotlight away from mediators and artists and toward consumers, the project "compares different moments in the rise of new art patrons and collectors" in emerging marketplaces like China, some parts of Latin America, and the Middle East. Discussing some of the outcomes from this project, Buchholz explained that her findings question Western media portrayals of art buyers in the Middle East as being driven primarily by "status and new money."
By interacting and immersing herself in the local context, she learned instead that many communities in Qatar do not have a concept of contemporary art as a marker of status; some even consider it questionable to spend a lot of money on it. Rather than seeking validation from global art centers, their collections are infused with "real intrinsic passion" and a desire to use art as a medium for exploring "questions of identity or tradition in relation to the contemporary era."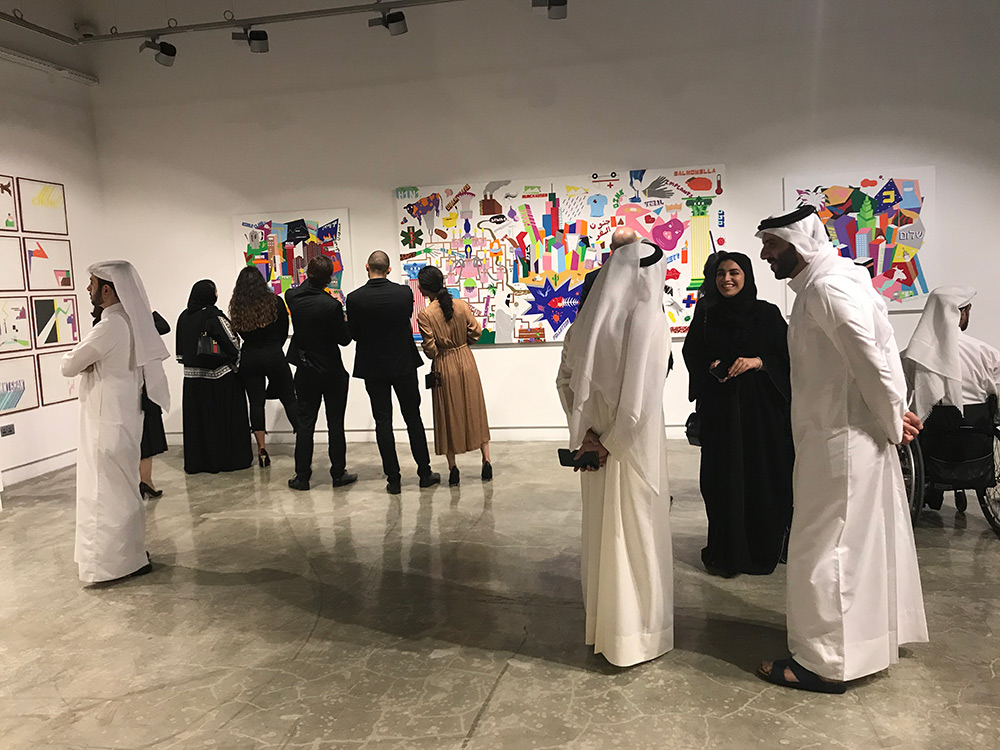 While her research drew her to Qatar, Buchholz emphasized that the highlight of the year was working with her students, whom she describes as "sweet, respectful, driven, curious, and very eager to learn," adding that many of them supported her research by contributing their time and effort in large-scale data collection and analysis.
Rumeysa  Koc, a student who worked with Buchholz in some of these projects, said  "I was very honored to have the opportunity to work with Professor Larissa," noting that it allowed her to apply the skills she learned in the 'Construction of Value' and 'Globalization of Culture' courses that she took with Buchholz. "I am excited to see the end product of her research."
 Hadice Koc, who has taken three courses with Buchholz during her time in Qatar also stated "I truly appreciate how she views teaching as an opportunity to learn from the students," noticing each time that she "cares a lot about whether her students are learning and engaging with the material, which is evident from her sincere efforts to focus the class on the students' reflections and questions about the readings." 
Buchholz, who spent her youth in East Germany, says her interest in global issues in the arts and in cultural matters developed from growing up in a place where traveling was heavily restricted. "After the Berlin Wall fell, I became very interested in traveling around the world, and that really nurtured my interest in how cultures relate and communicate and how new cultural configurations are formed," she said.
Tracing these transnational patterns eventually led Buchholz to Qatar. As her appointment comes to an end, she says, "My experience at Northwestern Qatar has been enormously enriching. I learned so much in so many ways, and I'm very glad that I came."