Fire, a primary element that has shaped the physical environment for human civilization, is also a political idiom used by extremist groups to elicit an emotional response, disseminate aggressive messages, and divide communities. That premise is based on research from Northwestern Qatar Dean and CEO Marwan M. Kraidy.
Kraidy's research is part of an Andrew Carnegie Fellow endowed book on war machines in the digital age, focusing on how "Islamic State" white power groups alike harness the symbolism of fire and global communication platforms to spread global hostility and insecurity. 
Speaking at the Al Maerifa Seminar Series at Texas A&M in Qatar, Kraidy, explained that while researching the Arab uprisings in 2010-11, particularly the self-immolation of the Tunisian street vendor, Mohamed Bouazizi, which triggered a revolution in that country, he became interested in fire as a medium of expression in politics.
In his session - The Torch and the Hearth: The Universe of Meaning of Extremism - Kraidy divided fire into three realms: pyrotechnology, where fire is in its primitive form; pyropolitics, where fire is a political medium that echoes extremist-identarian movements; and pyropoesis, where fire is used to create meanings and influence thought through imagery and words.
Kraidy is elaborating the concept of pyropoesis based on the notion of "poesis comes from literary studies which is about how meaning is created… how do you use language, metaphors, linguistic, and visual images to create meaning."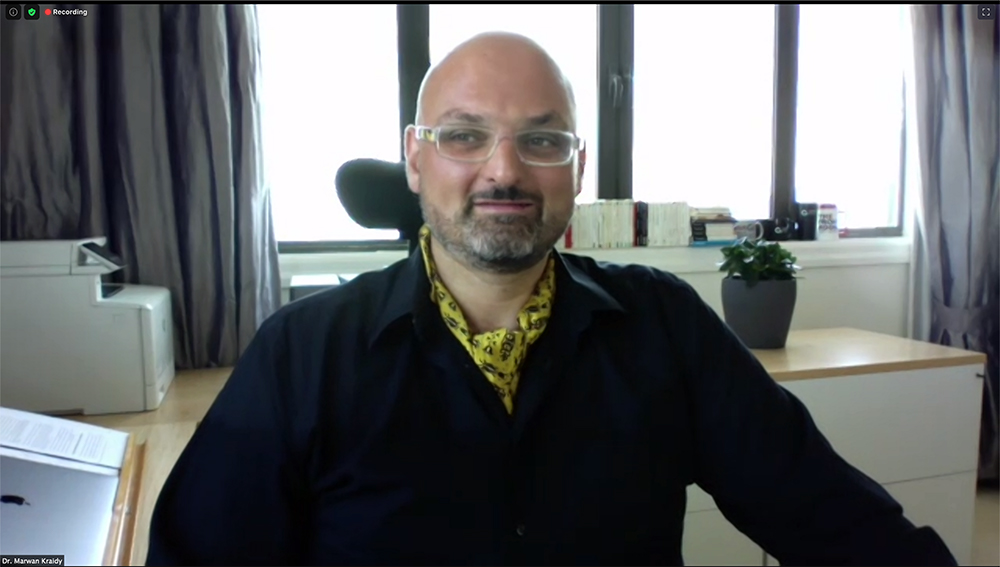 Providing an interdisciplinary analysis of extremist media content, Kraidy pointed to similarities between different extremist groups' communication techniques, most notably their strategic use of social media to "affectively communicate," using fiery imagery and words that "elicit a certain set of emotions that allow [their] political messages to resonate."
"Fire is interlinked with emotion," Kraidy explained, "… an image [that uses fire] affects us so deeply that we are willing to consider whatever message it is carrying." Kraidy also found that media coverage amplified and intensified the use of fire in communication by using words like "horrific," or "blood-curdling."
Kraidy went on to explain that within the use of fire in extremist imagery, he identified different types of images: a projectilic image, which can be as powerful as a weapon in "mimicking fast, lethal, penetrative objects that overwhelm and subdue us" and create psychic damage; and a prophylactic image, which is an "image-as-a-cure, expressing protection wellness, togetherness, and belonging."
According to Kraidy, extremist groups use projectilic images "to recode emotions, to shift pleasure to pain, to shift fun to fear, love to hate." An example he used is how "ISIS redefined the pleasure of watching satellite television into fear of alien images, through focusing on the satellite as an object, a portal of otherness that brings foreign ideas that are dangerous to anyone who is watching it."
"If we look at the world around us today… fire is all over the place," said Kraidy referring to current affairs. "Fire, explosion, people burning, forests burning, houses being cleared. So, there is something to this notion of pyropolitics that combines political turbulence with actual physical and climate instability." 
Kraidy, a leading authority on Arab media, has published 13 books and edited volumes, authored 130 essays and chapters, and has won more than 50 awards for teaching and scholarship, including the Andrew Carnegie Fellowship, one of the most prestigious prizes in the social sciences and humanities. Kraidy is known for his contribution to the pedagogy of global communication through keynotes and lectures worldwide and has advised universities, civil society organizations, museums, foundations, and governments.