A group of Northwestern University in Qatar student ambassadors traveled to Northwestern's U.S. campus to spend some time with fellow students and learn more about the student experience on the Evanston campus. 
The trip was part of NU-Q's Ambassador Program, which offers a select group of students opportunities and activities that help to shape their leadership skills. Ambassadors work closely with the dean and engage with VIP guests, develop leadership skills, and serve as ambassadors to the Northwestern Qatar student experience.
One of this year's ambassadors, Abdulla Al Qahtani, was a member of the Model United Nations in high school and when he heard about the ambassadors' program at Northwestern Qatar, he was attracted to its focus on developing leadership skills. "I've always liked these leadership opportunities," he said, adding that he also enjoys "being a role model because I like to do good deeds and visit places I haven't been to."
While in Evanston, Al Qahtani, who was shown around campus by an Evanston political science major, Tom Abers, was invited to put his leadership skills on display during an Arabic language class where he led a conversation with the Evanston students on regional issues and helped them practice their Arabic.
"I didn't think I would be discussing Middle Eastern politics and culture with students in Evanston, but it was enlightening to meet students who were interested in the region and its complexities. I hope I was able to bring something new to the table," Al Qahtani said.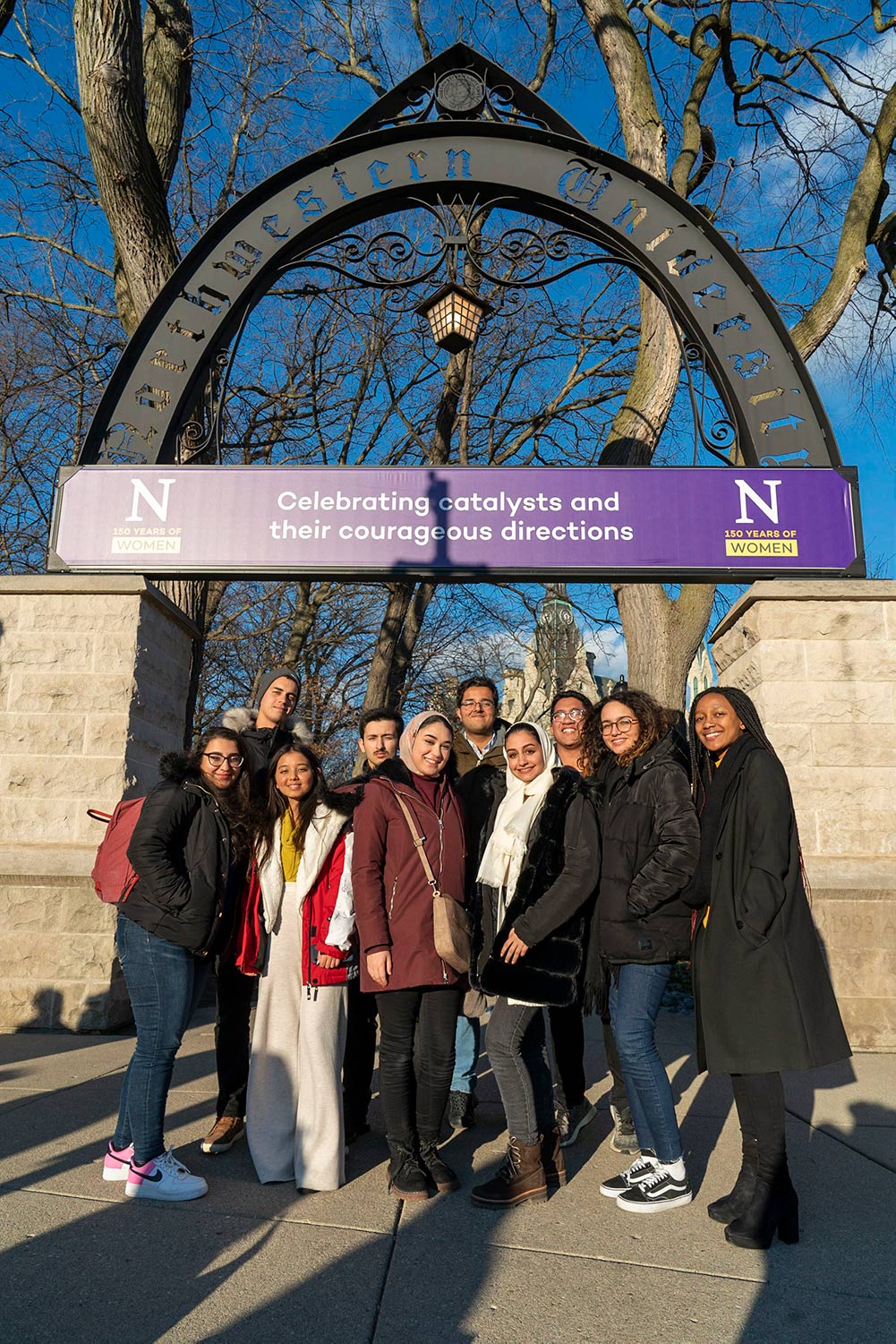 Journalism students Nadege Bizimungu and Roja Pande were paired with a sociology student, Vanessa Garcia, and a fellow journalism major, Katie Song, which opened doors for them with the student newspaper The Daily Northwestern. 
Bizimungu and Pande are both reporters for The Daily Q, Northwestern Qatar's student-run newspaper, and having the opportunity to observe how the students run the newspaper was a highlight of their trip. "The reporters at The Daily do a lot of great work, and I left feeling very inspired by the amazing work they do," Pande said. 
For Bizimungu, the visit also learned about the different challenges they face while reporting the news. "It was interesting to compare our different perspectives on what it means to be a journalist," she said.
Evanston student Rawan Ibrahim, who is majoring in neuroscience, introduced Elissa Mefleh to an area of study that was very new to her – and took her on a tour of a retina lab where students study eye disorders and diseases. "I was super excited to visit the lab," said Mefleh. "Northwestern has top-notch research facilities," and I wanted to learn about "a field I don't major in or have experience with."
Northwestern Qatar's Student Ambassadors program is a three-year commitment for students beginning in their sophomore year. The Evanston Ambassadors Experience trip takes place annually for the newest class of student ambassadors.