A research grant to teach how infectious diseases spread and how they can be contained through a mobile gaming platform has been awarded to two Northwestern University in Qatar (NU-Q) professors. Professors Anto Mohsin and Spencer Striker, are developing the app through a grant awarded by Hamad Bin Khalifa University (HBKU).
The app – Dr. Sara: Disease Detective – will have players exploring an unraveling pandemic through a character-driven simulation, where a character could be a disease detective. As you play the game you learn more about the science of epidemiology, contact tracing, and the complex world of contagion. According to Mohsin and Spencer, the game will also offer a suspenseful adventure that includes a narrative, puzzles, and an interesting way to understand the challenges of disease control.
Mohsin, whose research focuses on science and technology studies, said that they hope the game will accomplish several things including, "stimulating an interest in science, technology, medicine, public health, and other related fields." 
As teachers and gamers, both professors encourage the interdisciplinary relationship between learning and playing. Spencer, an expert in digital media design, said the project will connect gaming technology to a learning experience.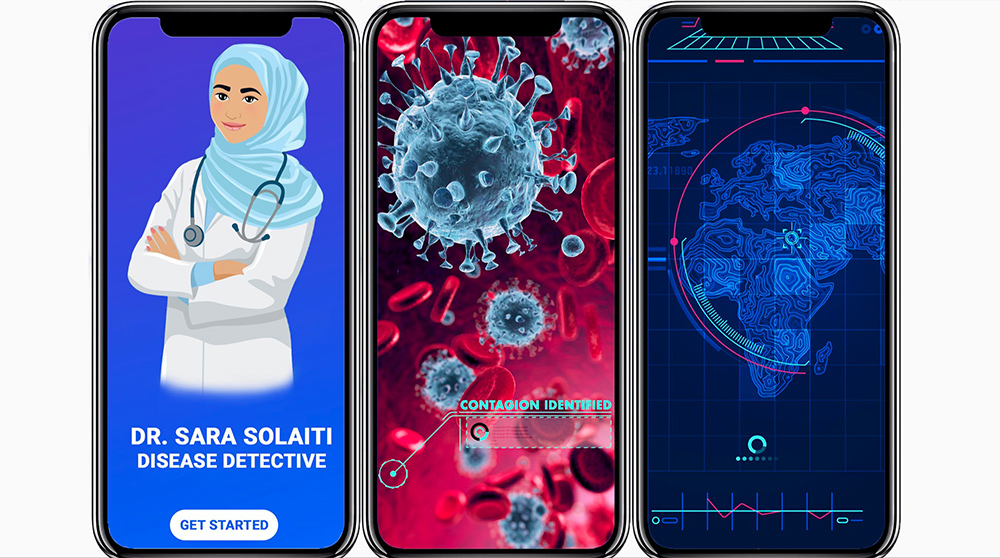 "Great curricular design and great game design have a lot in common," he said, "Game-based learning incorporates interactivity, immersion, meaningful choices, and emergent, unpredictable outcomes via exploration—which encourages the most important goal of all education: curiosity and drive for lifelong learning." 
With research and development already underway, Professors Mohsin and Spencer are working alongside immunologist, Ali Sultan, of Weill Cornell Medicine-Qatar and HBKU, with additional support from the Hamad Medical Corporation. 
The game's demo is expected to be ready for trial in December 2020.
Mohsin is an expert in public understanding and engagement in science and promoting science literacy. He is the recipient of two QNRF grants and has been exploring scientific culture in Qatar since 2016. Mohsin received his Ph.D. in science and technology studies from Cornell University. 
Striker is an expert in digital media production and design, and creator of an award-winning next gen, digital book "History Adventures, World of Characters," which is available for download in more than 50 countries. He is the founding creative director of Galxyz, a Silicon Valley games and learning startup, and the recipient of four Webby Awards. Striker holds a Ph.D. in digital media from the University of Wisconsin at Madison, and a Master's in new media production and design from Indiana University at Bloomington.