NU-Q Reaches Out to Incoming Class
June 08, 2020
Global restrictions imposed by the Covid-19 did not stop Northwestern University in Qatar's admissions team from moving forward with programming for the Class of 2024.
The incoming freshmen – expected to be the largest and most diverse at NU-Q – were faced with travel and event restrictions that forced the cancelation of NU-Q's annual preview event. To ensure that the students were provided with the information usually shared at the event, NU-Q's admissions team rolled out online programming that included a series of webinars.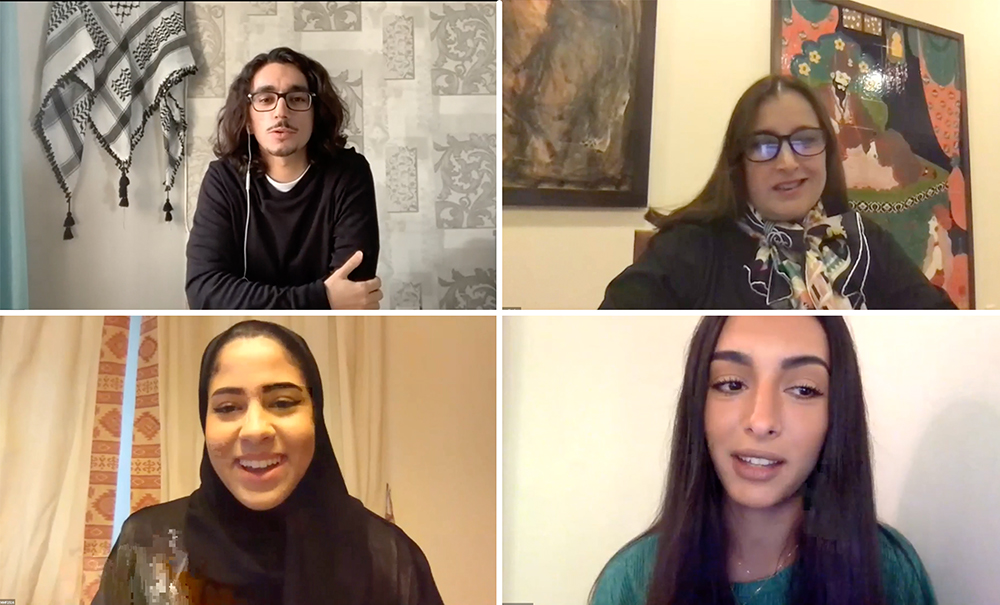 "We've adapted our programs for a virtual audience to strengthen our sense of community and ensure our incoming class receives a well-rounded introduction to NU-Q, no matter where they are in the world," said Alex Schultes, director of admissions. "Technology has enabled us to bridge the physical gap by giving us the platform needed to host engaging and interactive weekly events that highlight perspectives from alumni, current students, and faculty."
The webinars, Qahwa Chats, were live discussions with NU-Q students, faculty, and alumni. Each webinar included one presenter who shared their experiences at NU-Q and answered questions from the admitted students.
Alessandra El Chanti, who graduated from NU-Q last year and is now a graduate student at Northwestern in Evanston, talked about the school's academic programming and extracurricular activities, which include internships, and how they prepare students for life after university.
"You will learn skills that you will apply as a professional in the industry," she said.  "Go in with an open mind, and make sure you get out of your comfort zone – that's where you will learn the most." 
A fellow alumnus, Abdulla Al-Hor, who is working as a news presenter at Qatar Radio, added that in addition to media and communication courses, students are also offered an array of classes in the liberal arts which he said allowed him to "learn more about topics ranging from history and political science to mobile reporting and philosophy." 
Following up on the extracurricular activities offered at NU-Q, which vary from chess and basketball to music clubs and a student-run news website, The Daily Q, a current student, Mariam Farid, encouraged them to get involved in student clubs and activities "where you will meet so many amazing people and learn new things that will really make your experience at NU-Q unique."
Recent graduate Mariam Al-Dubhani, a Yemeni filmmaker who reports on life in her war-torn country, encouraged them to use their Northwestern education to be an agent of change. "Through media and film, you can bring change to the narrative on the region and give voice to the voiceless by bringing people's unique stories to the global stage," she said.
Rana Kazkaz, an assistant professor at NU-Q and an award-winning filmmaker, told the students that at NU-Q they will be able to find their unique "cinematic voice." "The world of filmmaking is a world I know a lot about," she said, "and something I try to offer my students a glimpse into, especially those of you who are interested in becoming professional filmmakers."
Despite the unusual circumstances, incoming students are keeping a positive mindset as they prepare for the start of a new chapter of their lives. Fardous Ali, a member of the Class of 2024 from Somaliland, found the webinars "helpful and provided answers to my questions. I also had the chance to watch some of the host's documentaries, which was fascinating and gave me an insight on what to expect from NU-Q."
The webinars were attended by students from around the world – including Great Britain, Colombia, South Africa, and Uzbekistan.