Ann Woodworth – who has been a member of the Northwestern University community for more than four decades, first as a student, then as a professor teaching acting, mime, and movement on the Evanston and Qatar campuses – is now shifting gears and preparing for retirement where she will focus on a new book along with other projects. 
"I'd like to continue developing theater projects similar to the ones I've created at NU-Q," she said. "I have a specific interest in the life and work of my favorite playwright, Anton Chekhov, and look forward to collaborating with some equally Chekhov-obsessed theater colleagues and former students."
Woodworth's first encounter with Northwestern was, surprisingly, not a positive one. After applying for admission as an undergraduate, she was not accepted. A few years later she reapplied as a transfer student and was accepted. She also received her master's degree from Northwestern before embarking on a teaching career that has lasted 40 years and taken her from Evanston to Doha.
"For me, no doubt, my most meaningful professional accomplishment is a teaching career in which I have had the privilege to work with hundreds of globally-diverse, exceptionally intelligent, unbelievably talented, and fascinating students around the world," she said.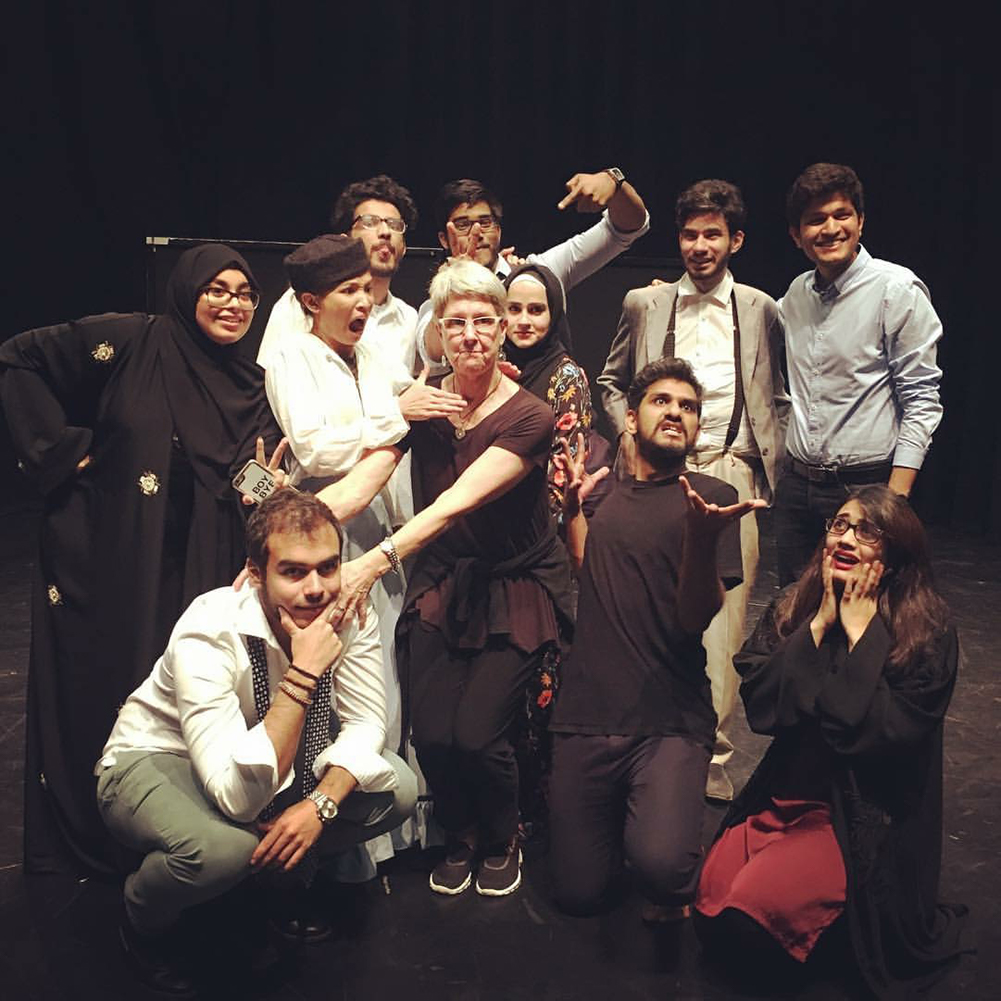 "My most meaningful professional accomplishment is a teaching career in which I have had the privilege to work with hundreds of globally-diverse, exceptionally intelligent, unbelievably talented, and fascinating students around the world."
- Ann Woodworth, associate professor at NU-Q
During her career at Northwestern, Woodworth has been the recipient of numerous teaching awards, including the Charles Deering McCormick Professorship for Teaching Excellence. And this comes as no surprise after discussing her with her students and faculty. Everyone comes back to the same thing – what an amazing teacher she is. Her long-time colleague Professor Scott Curtis says that her "legendary status as a teacher followed her to Qatar."
And when NU-Q's acting Dean Craig LaMay was asked about Woodworth he immediately noted her teaching. "She is revered and loved by her students. She is irreplaceable as a teacher and mentor. She is cool – in the way people my age mean that word, with respect," LaMay said.
And it is not just the academic side of teaching, students talk about the influence she has had on their lives. The U.S. star Stephen Colbert was one of her students in Evanston and at a Northwestern School of Communication alumni event in 2018, which he hosted, he gave her a shout-out as one of his mentors saying that she "completely changed my life at Northwestern."
A former NU-Q student Nouf Al Sulaiti echoes that sentiment. "She is the kind of person that you'll never stop learning from. She's an acting professor but you learn much more than that – the things you learn in her classes are life lessons that truly stay with you forever."
For Woodworth these relationships have been mutual, noting that over her 40-year career, Northwestern has "shaped my life through the relationships I've developed with numerous talented, intellectually stimulating individuals. They were the primary influence on the direction I chose in building my career as an acting teacher and theater artist."
In addition to teaching, Woodworth has also worked professionally as an actress, director, and teaching consultant, conducting numerous presentations of her workshop The Classroom as Stage. She has worked with the Teatro Cadafe and La Compania Nacional in Caracas, Venezuela, and the British/American Drama Academy in England, where she taught for seven summers with English artists such as Ben Kingsley, Jeremy Irons, Vanessa Redgrave, and Alan Rickman, as well as members of the Berliner Ensemble and the Moscow Art Theatre. 
In 1989, Woodworth established a directing collaboration with movement director Dawn Mora, integrating movement techniques and original musical composition into a physical approach to classical texts, including Medea, Iphigenia in Aulis, Hecuba, Hamlet, King Lear, Uncle Vanya, and The Seagull. 
In the late '70s, while working towards her master's degree, Woodworth was offered a unique opportunity to study privately with Professor Emeritus Alvina Krause, a master teacher who, she said, "built Northwestern's acting program in the late 1930s-40s."
During that time, Woodworth and her colleagues co-founded the Pennsylvania-based Bloomsburg Theatre Ensemble in 1977, which remains "an established, pretty prominent regional theatre that received a Tony Award by the New York Tony committee for regional theatres," she said.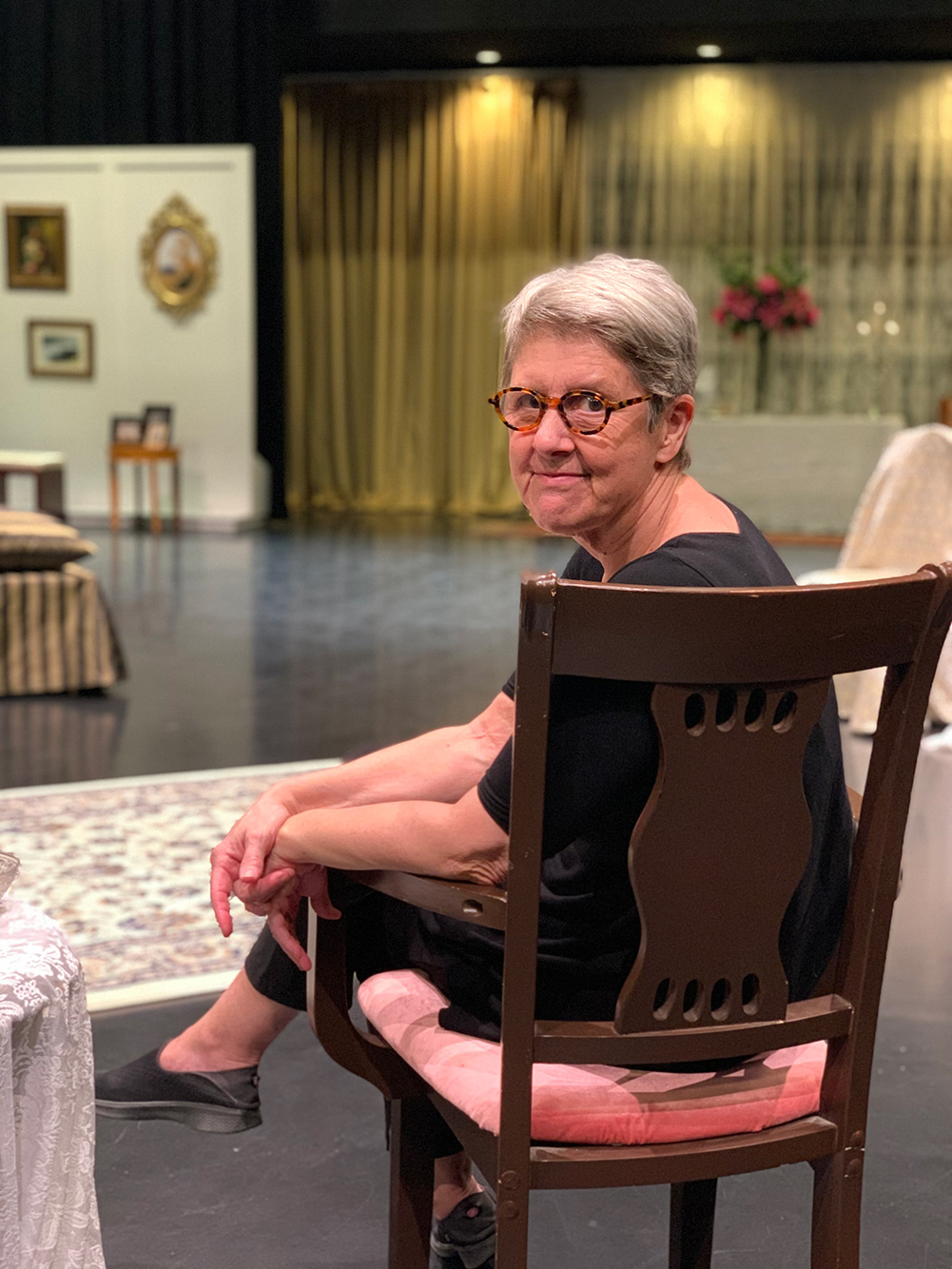 The last few weeks of her final semester at Northwestern have challenged Woodworth to do something she's never done before, to adapt and direct a theatrical performance virtually.
She and her students were preparing for a production of Anton Chekov's 1904 play "The Cherry Orchard" when the COVID-19 virus closed the building – and the Black Box Theater where the play for scheduled to be performed. 
The play – about a Russian aristocratic family who is on the brink of losing their estate to powerful historic forces at the turn of the 20th century – in many ways reflected what was happening in Doha.
"Unexpectedly, the play became a reality," Woodworth said. Woodworth and her students rose to the challenge and produced the play on YouTube.
Former student Dana Atrach would not be surprised by Ann's ability to pivot. "Ann always challenged us to dig deeper, to ask ourselves the hard questions, to not settle for anything less than what she saw in us - even when we didn't see it ourselves. The work that always came out of any Ann Woodworth class was always so inspiring because it's rooted in what's real," Atrach said. 
For Woodworth, it was a fitting end to an illustrious career.
"I can't think of a more perfect chunk to the end of my career and I'm grateful to have met and worked with so many distinguished, talented, brilliant intellectuals and to have taught very bright and ambitious students. I am exceedingly grateful for the excellent education and rewarding career I experienced at Northwestern."