Since the outbreak of the novel Coronavirus (COVID-19), and as a direct result of it, NU-Q joined a global effort to suspend in-class instruction indefinitely and take education to the virtual realm, charting new territory for faculty, staff, and students.
"It isn't ideal because I'm the type of person who likes having structure, which is harder to follow with online learning," said Kayan Khraisheh, a sophomore in the Communication Program. "I also feel like being on campus makes me much more productive than I am at home. I typically associate home with rest, so it is harder to motivate myself to work there," she added.
Several international students at NU-Q have also relocated to their home countries to ease the pressure of pursuing their studies in isolation, such as freshman Lena Al-Homoud. "It is all happening too fast, so I am still trying to process the situation. I think it helps that I'm currently back home in Jordan with my family," she said. 
Shakir Hussain, Learning Engineer in the Information Technology department, who provides support for instructional design and technology tools at NU-Q, said: "For a lot of our faculty, this transition has been a conversation with students on how the situation will continue for the remainder of the semester. We continue to work with faculty, primarily on fulfilling the learning objectives identified at the beginning of the course, and modifying them as required."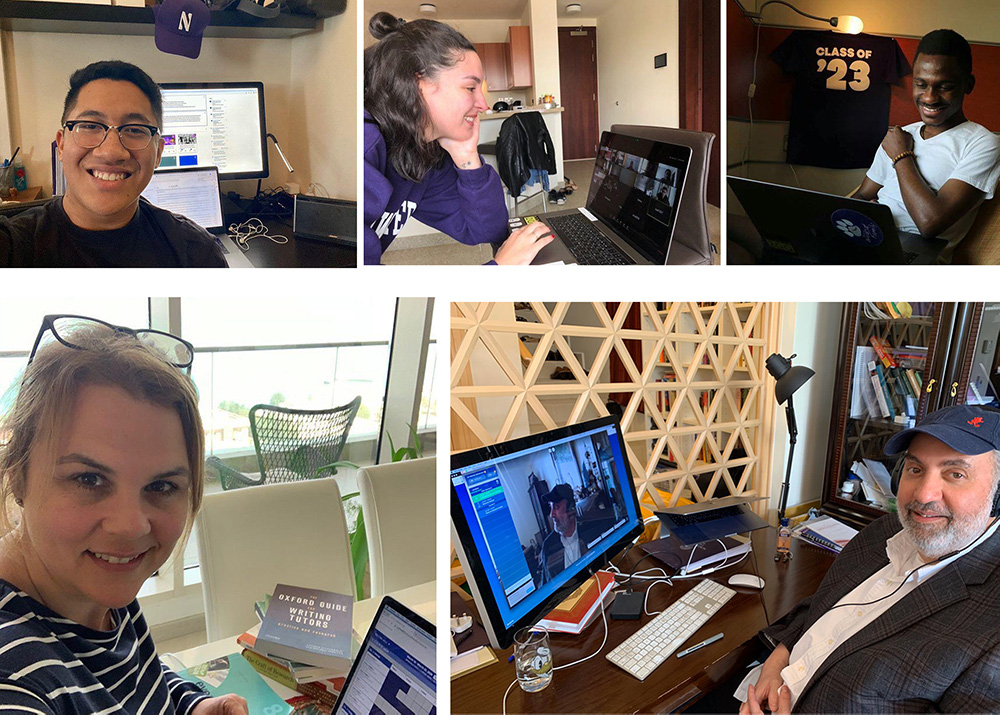 Over the years, NU-Q faculty have increasingly looked to online methods for organizing and conducting classes, relying on Canvas – Northwestern's Learning Management System (LMS) – to manage courses, communicate with students remotely, and experiment with instructional technology.
"However, it is important to note that what we are dealing with right now is not necessarily online or distance learning. Rather, our faculty are engaged in teaching remotely during a disruption," Hussain clarified. "While there certainly are overlaps, online/distance learning is a vastly different paradigm with different pedagogical and design principles that requires a significant amount of work before and while classes are taught, and involves close collaboration between the instructor and instructional designers."
Due to the unique nature of the current situation, NU-Q, following conversations about instructional continuity that started after heavy rains closed the campus for two days in 2018, relied on an emergency strategy put together swiftly through collaboration between the Dean's Office, the Health, Safety, Security, Environment unit, and NU-Q's partners in Evanston.
"We used resources that the teams in Evanston and other universities around the world had been developing in preparation for potential disruption, and shared specific practices with faculty that would allow for a quick, smooth, and effective transition to remote teaching," Hussain said.
 The result was better communication between students and faculty, and a shared interest in overcoming the gap created by distance and a new way of delivering and consuming material. "The professors have been very accommodating by extending deadlines, adapting assignments to the new situation and making themselves constantly available if we need help," Khraisheh said. 
"The university has also been regularly checking on us and providing the needed support, especially when we were transitioning to online learning. I appreciate the effort everyone is putting in to make this works, and to ensure our learning continues. Hopefully, the situation gets better, and we return to campus to study and work with each other as usual," Al-Homoud added. 
For Darrell Pinontoan, a journalism sophomore who is still in Qatar, the situation is also an opportunity to reflect on the lessons learned from this experience. "I think these challenging times have taught us how important community is and shown us the strength of ours," Pinontoan said. "We as a community have been able to come together to ensure the continuity of our education and show how much we care for each other's health and wellness."