Media Experts Discuss Industry Trends at NU-Q Forum
November 07, 2019
The implications of new media and technologies, including the impact of 5G on day-to-day communication and the challenges of combating disinformation and fake news, were among the topics at the most recent Qatar Media Industries Forum.
The forum – Media on the Rise in Qatar: 2020 Trends and Beyond – which is organized by Northwestern University in Qatar (NU-Q) featured Hayfa Al Abdulla, innovation director of Qatar Science and Technology Park; Fatima Al Kuwari, executive director of marketing, Ooredoo; Steve Morris, managing partner, Portland Communications; and Eddy Borges-Rey, associate professor at NU-Q as moderator.
In his opening remarks, Everette E. Dennis, dean and CEO of NU-Q praised the newly-established Qatar Media City noting the opportunities it will create in the local media industry and how its work dovetails with the goals of the Qatar Media Industries Forum.  "In hosting these forums," Dennis said, "NU-Q provides an opportunity for media professionals and those interested in the media industry in Qatar to learn more about upcoming media trends and innovations. Qatar Media City is a natural partner for us as we move forward."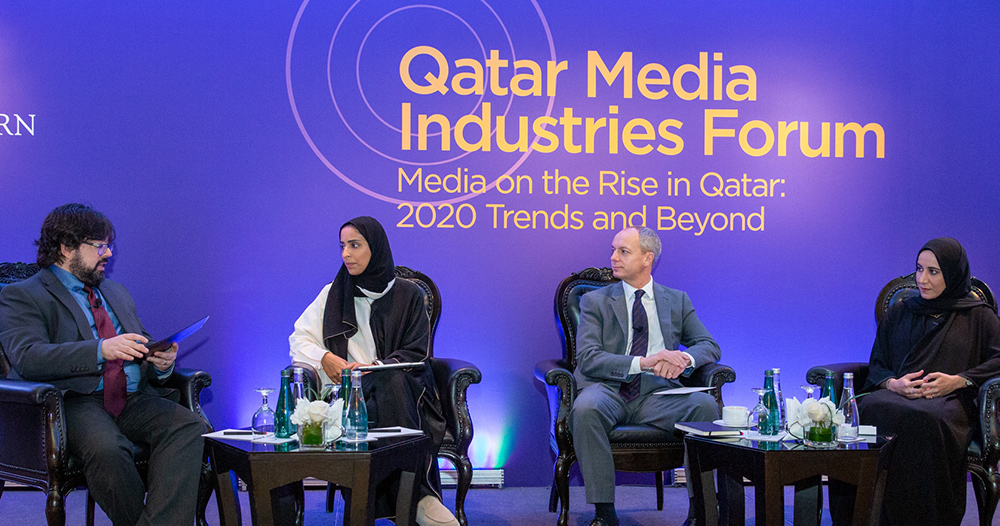 Commenting on the role of emerging trends in the industry, Al Kuwari pointed out that "technology is the backbone for any industry. It is the key foundation and success factor for the media ecosystem. In Qatar, we are leading the world in terms of network developments, the future and readiness to adapt to technology landscapes." She added that "the newly established Qatar Media City will elevate readiness in Qatar."
Concurring with Al-Kuwari, Morris said, "Qatar is at the forefront of technology, it is a pioneering time to be here. But news organizations are threatened by the rise in media across the region and world and we are increasingly witnessing a rise in government regulation across media platforms." He added, "Traditionally, platform regulation is not a role for governments but now they are increasingly changing the rules as the platforms themselves are not willing to do so."
On the issue of media regulation, Al Kuwari commented that "it is an important area to explore, whether on a national level or within the media industry itself. Different arms should work together to ensure that people are ethically aware of the uses of technology." Al Abdulla added that there are questions to be asked about "who should be controlled, and to what extent? This is for government regulators and ethical committees to play a part and regulate how people use media."
How technology can be used to curate a fan's experience throughout the 2022 FIFA World Cup Qatar was also part of the discussion. Al Abdulla said, "there is an increase in start-ups working to create more interactive experiences using augmented reality and virtual reality, and it is important that the media industry is receptive to testing out new technology."
Al Kuwari affirmed that Qatar "will be ready for the adoption of technology primarily driven by 5G networks. There is a lot of potential to enhance the fan experience through analytical data, augmented data, and growing media landscapes. All this will be supported by 5G."
Morris said that the success of the recent tournament held in Russia was because "the power of a fan's positive experience was stronger than the narrative news organizations were trying to tell. The editorial tone of the 2018 World Cup was essentially shifted due to individuals sharing their experiences. The same will happen in 2022, where individuals will effectively be reporters when visiting Qatar. 
Established in 2012 by NU-Q, QMIF is a unique platform that brings together industry leaders and professionals to engage in debates and discussions on a variety of topics within the realm of media and communications. The forum is part of the university's effort to provide thought leadership opportunities, educate future media and communications leaders in Qatar and the Middle East and produce ground-breaking research on industry trends and media consumption in the region. Previous editions of QMIF have tackled issues related to the international media coverage of the Qatar blockade, sports media and Qatar's future, media consumption in the Arab World, mapping Qatar's media market and the demand to meet regional content.