NU-Q Alumni Win Awards at Ajyal Film Festival
November 24, 2019
A short narrative film on self-acceptance and friendship and a documentary about the aftermath of the Yemeni war, both directed by NU-Q alumni, received awards during the 2019 Ajyal Youth Film Festival. In total, 23 films by NU-Q students and alumni were featured under the festival's short film program, with the majority of them debuting during the flagship "Made in Qatar" segment.
"From Ajyal to Cannes, NU-Q students and alumni reconvene every year to offer the world unique visual commentaries on pressing social affairs and to test the limits of creative storytelling techniques," said Everette E. Dennis, dean and CEO of NU-Q. "We are proud of all of the work that they do and that more than half the "Made in Qatar" films this year were by the NU-Q community."
The Best Documentary Award was awarded to Mariam Al-Dhubhani for her film "In the Middle," which examines the consequences of war by following a Yemeni soldier on tour. The film highlights the struggles and hardships endured by youth in Yemen who are being forced to forfeit their dreams and education to fulfill their duties in the military and survive the turmoil.
Al-Dhubhani '18 is a Yemeni-Russian journalist and filmmaker. Her first short film "We are the Peace" received an award in Yemen's inaugural film festival in 2011. Last year, her film "Just Another Memory," which was her directorial debut, also won the Best Documentary Award at the 2018 Ajyal festival.
"I aim to tell a different narrative from Yemen by Yemenis, focusing on more than what is seen in the news," said Al-Dhubhani. "It is crucial to share the challenges in telling stories from conflict areas, which adds layers and value to the film as well."
"Beit Byoot," a film directed by Mayar Hamdan '15, that is set in a dystopian dollhouse, received the Special Jury Award. The film discusses the themes of friendship and fitting in. Hamdan is currently getting an MFA at CalArts, focusing on art, film and new technologies.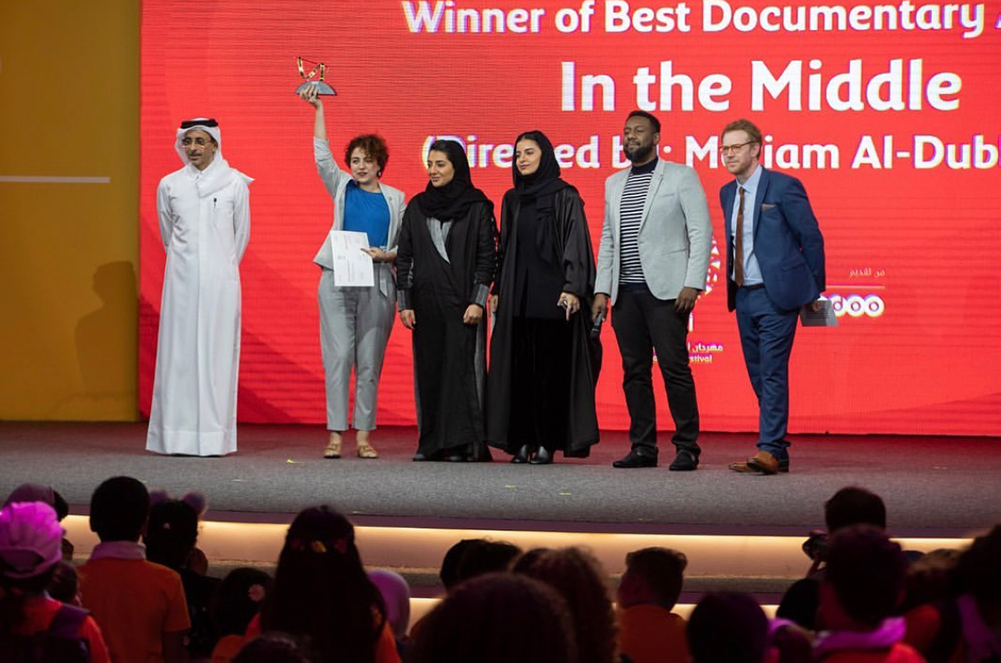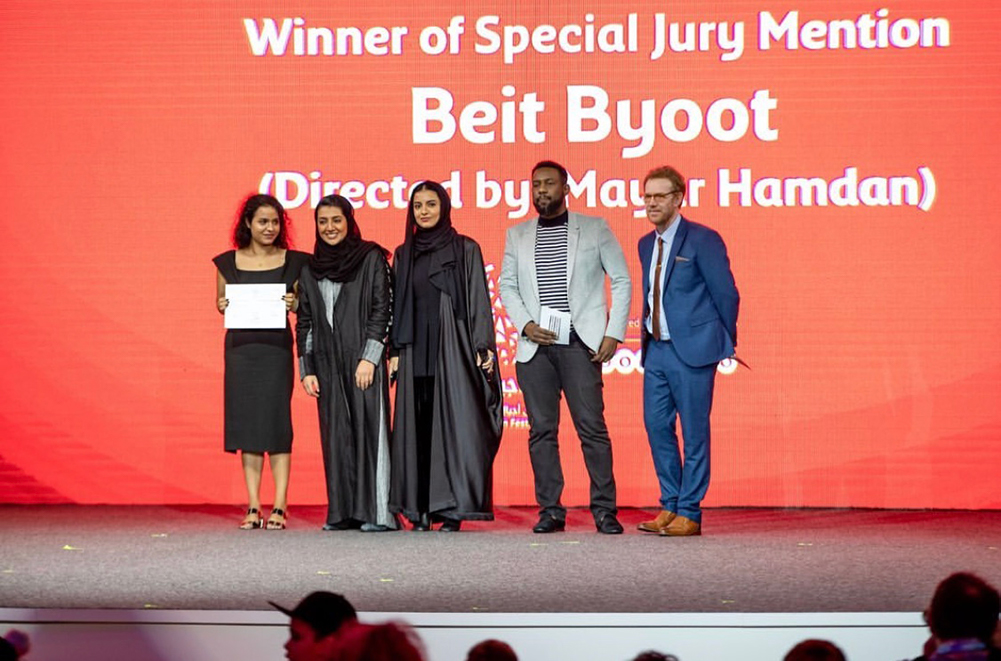 The film festival also featured the screening of films that are designed to accommodate people with special needs. Rawan Al Nassiri '18, who co-produced "Treasures of the Past," with Nada Bedair '18 said, "Our film featured Arabic audio description, sign-language interpreting, and enriched subtitles in both Arabic and English to be inclusive of all viewers. This is not only a representation of the growth of cinema in the country but also represents something bigger, the power of a collective—something film cannot come to fruition without."
More than 20 NU-Q students and alumni participated in the festival with short narratives or documentary projects, and in various capacities, such as producer, co-producer, and director. The students included Tony El Ghazal, Maha Essid, Awad Abdelrahman, Wijdan Al-Khateeb, Sahar Al Kabash, and Md Razi Islam; and alumni were Jassim Al Romaihi, Ayah Awartani, Sana Al Ansari, Mayar Hamdan, Yassine Ouaharani, Lubna Mohsin, Mariam Al Dhubhani, A.J. Al Thani, Dhabya Al Muhannadi, Aisha Al Muhannadi, Nada Bedair, Alessandra El Chanti, Amal Al Muftah, Rawan Al Nassiri, Jemina Legaspi, Maysam Al-Ani, Farida Zahran, Vibhav Gautam, and Fouad Hassan.
Rana Kazkaz, an NU-Q professor and award-winning filmmaker, noted the success of her students. "What's remarkable is that not only are NU-Q students making their mark on the local film industry, as evidenced by the large number of films by our current students and alumni selected for this year's Ajyal Film Festival, they are also screening their films in some of the most prominent festivals around the world," she said. "I would not be surprised to see that in 5-10 years, alumni of NU-Q will be some of the most prolific and sought-after visual storytellers in the world."
Below is the list of films by NU-Q students and alumni that were shown at the festival–the themes of the films ranged from the power of music to the challenges of mandatory military service, and from life under oppressive regimes to art in times of economic crises.
Paper Kite
Directed by: Nada Bedair
Produced by: Md Razi Islam and Sahar Elkabbash
Ghassan's Green Door
Directed by: Lubna Mohsin and Munera AlDosari
Revive the Lira's Glory
Directed by: Alessandra El Chanti
Desert Bounty
Directed by: Yassine Ouahrani
Produced by: Fouad Hassan
Batch 10
Directed by: Sana Al-Ansari
Produced by: Abdulla Kamal
Ana Bas
Directed by: Ayah Awartani and Tony El Ghazal
Beit Byoot (Special Jury Mention)
Directed by: Mayar Hamdan
Produced by: Ghouna Jaber
Maha'mel (Ships)
Directed by: Dhabya Al-Muhannadi
Tick Tock
Directed by: Awad Karrar
Produced by: Wijdan Al Khateeb
The Artist: Yacoub Missi
Directed by: Tony El Ghazal
In the Middle (Best Documentary Award)
Directed by: Mariam Al-Dhubhani
Produced by: Noor Abu Na'ba and Mohammed Al Jaberi
Refuge
Directed by: Maha Essid
Produced by: Wijdan Al Khateeb
The Black Veil
Directed by: A.J. Al-Thani
Produced by: Vibhav Gautam
Treasures of the Past
Directed by: Rawan Al-Nassiri and Nada Bedair
Sh'hab
Directed by: Amal Al Muftah
Produced by: Basil Oweis
Smicha
Directed by: Amal Al Muftah
Makh'bz
Directed by: Aisha Al Muhannadi
Where are you right Meow?
Directed by: Maysam Al Ani
Produced by: Saif Al Solaiti
Youth
Directed by: Farida Zahran
Produced by: Leah Chen Baker
Amer
Directed by: Jassim Al Romaihi
Produced by: Ben Robinson
Kashta
Directed by: A.J. Al-Thani
Produced by: Jamie Sordia
The Palm Tree
Directed by: Jassim Al Romaihi
Falling Leaves (Best Narrative Award)
Directed by: Dmitri Yuri
Produced by: Jemina Legaspi