In response to the threat posed by the spread of disinformation in societies worldwide, NU-Q recently hosted a series of writing sessions for journalism students and faculty members to advance factual, research-based communication. Led by Rami Khouri, a syndicated journalist and member of NU-Q's Joint Advisory Board, the sessions included a masterclass and two writing workshops tailored to students and faculty alike.
Khouri, a global voice with decades of experience in virtually every facet of the media business in the Middle East, addressed the global need to harness existing research knowledge and make verified facts available to decision-makers through the process of identifying influential journalism and adopting fact-based messaging techniques.
During the "Masterclass in Narrative Non-Fiction," which was attended by NU-Q journalism students, Khouri outlined the various aspects of narrative journalism, which he defined as stories made more descriptive through the experience of a subject.
This form of writing, which engages the senses of the reader, Khouri noted, creates impactful stories that strike a balance between emotions and facts and "adds perspective to real-world conflicts."
In his "Opinion Editorials Writing Workshop," which was also designed for students, Khouri explained how op-eds predicated on facts can appeal to public sentiment. "As the name implies, the critical element of an op-ed is the 'op' or opinion," Khouri told the students. "You have to have a strong opinion; you're not just describing, reminiscing or feeling good about something, you have to have a strong opinion about some topic."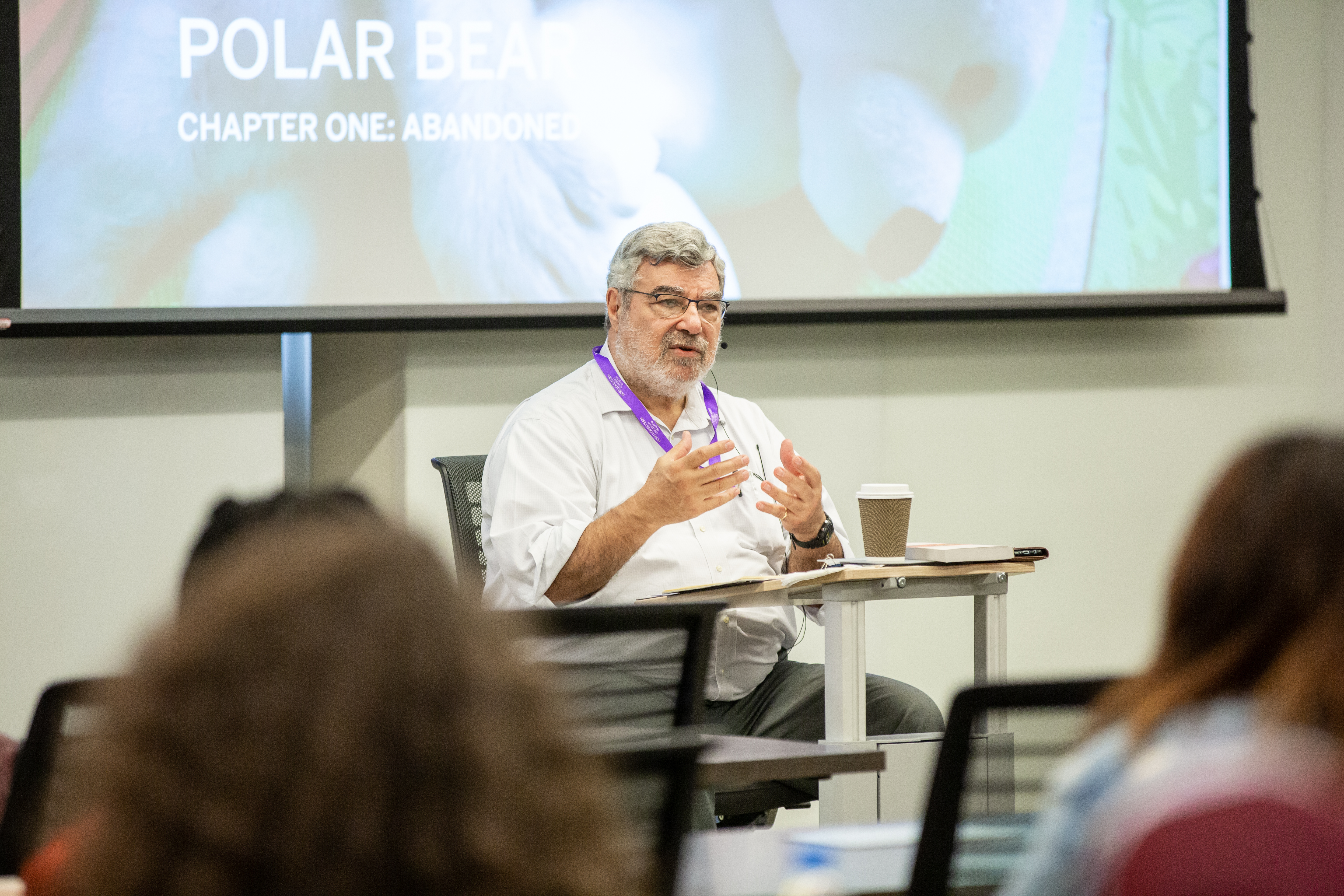 The faculty-oriented session of the same workshop, "Opinion Editorials Writing and Effective Media Communication," focused on how academics can communicate effectively with a non-academic audience at a time when media professionals, policymakers and the general public can benefit from the substantiated knowledge disseminated by universities. 
Through a combination of case studies and simulation exercises, NU-Q faculty learned useful strategies related to the processes of selecting the most relevant media outlets for collaboration, pitching op-ed ideas to editors, and differentiating between the quality of the data that can be used to back up their proposal.  
Khouri is the former director, and now senior fellow of the Issam Fares Institute for Public Policy and International Affairs at the American University of Beirut. He also currently sits as a senior fellow, Middle East Initiative, in the John F. Kennedy School of Government at Harvard University. Previously, he was editor of The Daily Star newspaper in Lebanon, and editor-in-chief of The Jordan Times. Khouri has written for many leading international publications, including the Financial Times, The Boston Globe, and The Washington Post.