Record Number of NU-Q Students Recognized For Academic Distinction
November 13, 2019
A luncheon in honor of students named to the Dean's List recognized more than 100 students for academic achievement.
To earn a place on the Dean's List students in the Communications Program need to demonstrate a 3.75 GPA and students in the Journalism and Strategic Communication Program are required to achieve a 3.7 GPA.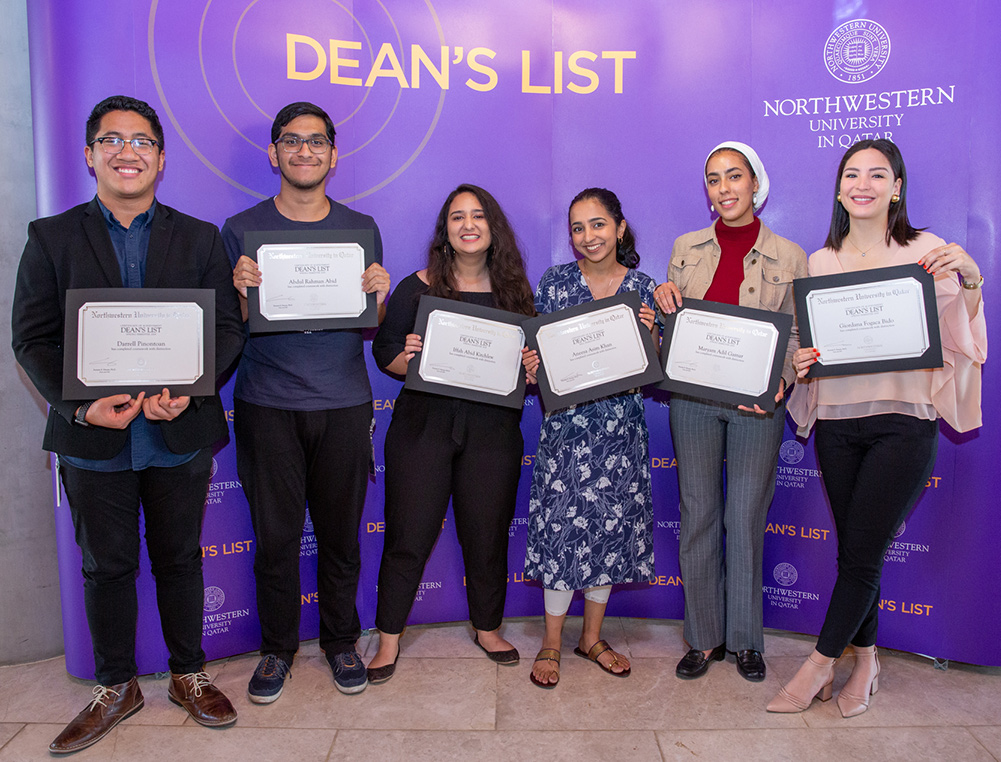 Communication Program
Mohamed Khalifa Al-Thani, Ahmad Abdelfattah Abudayeh, Afra Ali N A Al-Kaabi, Hissa Ghazi A H Al-Mannai, Meriam Abdessadok, Abdulla Fahad A E Kamal, Dana Sami Hammad Abu Shanab, Abdulla Yousef S Y Al-Hor, Hassan Mohammed H A Al-Jahni, Bothayna Talal S S Al-Mohammadi, Noof Abdulaziz A T Al-Subaie, Sana Mahdi Reda Ansari, Nada ElSaid Mohamed Aziz Bedair, Asmaa Benkermi, Alessandra El Chanti, Noura Khalid Omer Ibrahim, Younes Mourad Mana, Lubna Mazin M K Mohsin, Syed Muhammad Erzum Naqvi, Amina Niksic, Noor Ahmed M A Own, Muktar Omokayode Sanni, Noof Fahad Q. A. Al-Thani, Meshaal Ahmad M I Al-Derbasti, AlJohara Mohamed A. A. Al-Thani, Achira Bhattacharyya, Jawaher Mohammed K. E. Al-Khater, Noor Ali M A Al-Maadeed, Muhammad Humam, Abdulrahman Abdulaziz J J Al-Thani, Kholoud Ali A A Al-Mohannadi, Ameera (Sami Moh'd) Sa'di Al-Said, Ibrahim Abdulrazzq H M Al-Emadi, Hadice Tahire Koc, Ayza Sheikh, Ge Gao, Sahar Ahmed ElKabash, Jawaher Ali M A Al-Majid, Maha Essid, Maryam Jassim Y M Al-Suwaidi, Shaikha Salman Mohamed Abdulla Almoawda, Aimen Ahmed Jan, Rui Xin Oh, Reem Ali M. A. Al-Maadeed, Juyoung Choi, Marielle Aguelo Cortel, Eldana Saleh Yousef Saleh Yousef Hassan, Alreem Ali A A Al Khater, Abdulla Nasser F M Al-Mana, Tony El Ghazal, Noora Rashid Al-Khalifa, Maryam Ahmed Al-Kubaisi, Njoud Mohammed K M Al-Mana, Xiruo Chen, Abdulla Mohammed N A Al-Qadi, Rumeysa Cihan Koc, Noor Abdulrazak A M Al-Meer, Mayyassa Hisham Gaddas, Ghada Essa H E AlMannai, Amal Barakat, Hatim Rachdi, Giordana Fogaca Bido, Temesgen Mesfin Tewolde, Kayan Marwan Khraisheh, Lujain Eyas Naif Assaf, Mekdelawit Desta Worku, Farina Amir, Afnan Yusri Anwer Tag, Sida Lai, Cade Finn Aguda, Bisrat Atalay Tasew, Dalal Garai, Elissa Mohamad Mefleh, Yingyin Chen, Dana Janice-Siham Dimachkie, Ena Palaska, Regina Hossfeldt Gonzalez, Natasha Sarah Das, Bishal Sharma, and Aneesa Asim Khan.
Journalism and Strategic Communications Program
Albandari Mohd KH N Al-Kuwari, Lolwa Faleh N. A. Al-Thani, Nawal Faisal M O Aqeel, Hissa Nasser M H Al-Hitmi, Haya Ibrahim Al-Mannai, Racha El Ouarradi, Rania Fareed Mohamed A Hassan, Asmahan Ibrahim Faten Qarjouli, Mariam Abdulwasea Hamood Al-Dhubhani, Hissa Mohammed A A Al-Mannai, Malek Al Manaa, Hazar Taher Kilani, Sana Zehra Hussain, Sarah Shaath, Fareehan Salah Zaki Moustafa Elgakhlab, Menatalla Mohamed Mahmoud Elsayed Ibrahim, Salwa Monzer Hassan Sadek, Maryam Abdulla I. H. Al-Badr, Aldana Khalid A I Al-Jaidah, Razan Ghadban, Hanmin Kim, Rahma Hussam Mohamed Hassan ElDeeb, Inaara Nizarali Fazal Gangji, Danna Mohamad Takriti, Zhouwei Zai, Muhammad Saad Ejaz, Shaikha Sultan AlDosari, Yahya Ahmed Salem, Nada Ahmed Yousef Qaddourah, Kaltham Abdullah S A Al-Kuwari, Maryam Adil Gamar, Roja Pande, Yanet Solomon Chernet, Darrell Pinontoan, Shaikha Ghanim H B Al-Kubaisi, Xiahanqing Wu, Nadege Mutima Bizimungu, Abdul Rahman Abid, Krishna Sharma, and Nathenael Gemechu.