Fellowships Awarded to NU-Q Faculty
September 29, 2019
Faculty and staff from Northwestern University in Qatar (NU-Q) participated in three prestigious fellowship programs over the summer, pursuing research across a spectrum of topics in media, history, and science.
Zachary Wright, associate professor in residence, was a visiting faculty at the Harvard Divinity School, working on his book manuscript, "Islamic Realization and Sainthood in Eighteenth-Century North Africa;" Pamela Erskine-Loftus, director of The Media Majlis at NU-Q, was a fellow at the renowned Getty Leadership Institute (GLI), the world's premier learning and thought leadership network for museum leaders; and Anto Mohsin, assistant professor in residence, joined 16 other international participants in California for the inaugural Huntington residential summer institute in the history of science, technology, and medicine.
"In receiving these honored fellowships, our faculty and staff once again demonstrate their exceptional capacity for high caliber work in competitive settings," said Everette E. Dennis, dean and CEO. "Study opportunities like these invariably stimulate scholarly and professional output from already productive and talented people. I'm proud of them all."
At Harvard, Wright availed himself of the opportunity to pursue several other projects supported by the resources and culture of collaboration at the world-renowned institution.
These exchanges resulted in research on Islamic Education in Africa with Harvard Professor Ousmane Kane, and the translation of the seventeenth-century Timbuktu manuscript 'Tarikh Ibn Mukhtar' with University of Illinois professor Mauro Nobili, who spent a week with Wright at Harvard.
Summing up his experience, Wright said: "Nothing can substitute for personal interaction between members of an academic community. Face-to-face interchanges are the most reliable way to keep learning and to ensure that one's work is received in broader circles."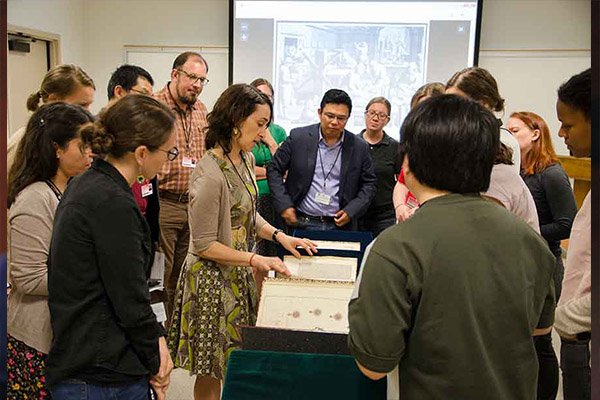 Erskine-Loftus participated in the GLI2019 program, which targeted senior-level museum executives. Fellows in the 36-member cohort included museum directors, CEOs, CFOs, vice presidents, and deputy directors.
Participants received support in developing leadership skills, devising strategic solutions to pressing institutional challenges and tackling issues of diversity and new technology impacting the museum field at large.
Reflecting on her experience, Erskine-Loftus said: "It was terrific to learn from the rest of my cohort, coming from a range of types, sizes, and locations of museums, and to have time to consider and discuss highly pertinent aspects of museum leadership, and how collectively we can advance the field."
Mohsin's Huntington Library research fellowship aimed at providing participants a visual experience of historical sources guided by the library's material collections, curators, and guest speakers.
Led by Janet Browne, Aramont professor of the history of science at Harvard University, the group used a diverse range of library materials to explore an array of topics, such as the process of situating printed materials within their social context and using them as grounds for historical thinking. 
"Overall it was a very meaningful experience for me," Mohsin said. "I learned not just about Huntington Library's rich collections in the history of science, technology, and medicine, but also how to think about and use those collections in a potential research project. The well thought out structure of the summer institute (seminars in the morning and exploring archives in the afternoon) maximized our time there."