NU-Q Class of 2023 – Largest and Most Diverse
September 03, 2019
Northwestern University in Qatar (NU-Q) is welcoming its largest and most diverse class with 123 incoming students. The class increases NU-Q's student body to nearly 400 students.
Members of the new freshman class, in addition to Qatar, represent more than 30 nationalities, with six new countries added to NU-Q's student body – Armenia, Lithuania, Tajikistan, Uganda, Venezuela, and Zambia. Among this group of new students are an aspiring writer and poet from Zambia, a Chinese student who wants to be a novelist, a professional cyclist from Syria, and a second Olympic hopeful. Some 50 class members are Qatari citizens.
"This diverse incoming class is a reflection of everything we represent at NU-Q, and they've come here for all the right reasons," said Everette E. Dennis, dean and CEO. "Their dreams and aspirations, along with their already impressive backgrounds, will contribute significantly to our commitment to educate the next generation of media and communication leaders."  
The freshmen students "understand that NU-Q is a media-centric school immersed in the liberal arts, where a rich general education is the foundation for everyone," the Dean said. "This is an exceptional class of individuals with strong academic records, creative instincts, and leadership experience."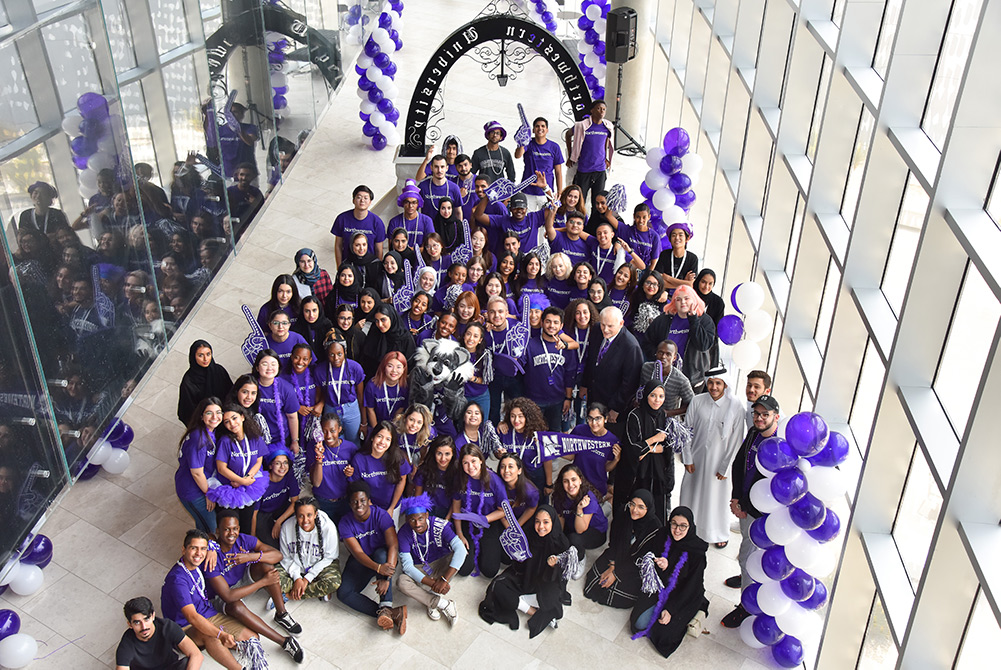 Now in its 12th year of operation in Education City, NU-Q's graduates are found in top media companies, other institutions that value communication expertise and practice, as well as diverse fields that include, business, law, healthcare and others.
Newly admitted Qatari student and pianist Mohammed Al Khulaifi said he chose NU-Q because he wanted "to pursue my passions and find a way to combine music and filmmaking to bring stories to life."
Chinese student Peiwen Zou expressed her excitement at living and learning in Qatar for the next four years. Zou said: "I'm so excited to be part of the Class of 2023, I've already spoken to a few professors, and everyone is very welcoming. I am so keen to meet them in class, to learn more about Middle Eastern history, explore Doha and the culture of Qatar."
The new class began the academic year with a week-long orientation where they became familiar with NU-Q and the Education City campus and learned more about the programs and extracurricular activities offered by NU-Q.
As undergraduates, they will have the opportunity to pursue both personal and professional development activities. In addition to the more than 25 different university clubs and activities, students can also apply for research grants to investigate topics of interest or learn a new language and travel around the world on service learning, leadership, and media networking trips.
Lina El-Hmoud, a Jordanian freshman, said: "I am very excited for the next four years to be spent at NU-Q, it is such a prestigious and wonderful educational institution. An educational haven is what I'd like to call it. I want to spend my time here learning more about Qatar, to finish strong academically, and use the resources available at NU-Q to eventually return to my home country and make a positive impact there and beyond."
NU-Q prepares its students to think analytically and critically about the information they consume and create. In their time at the school, they learn from scholars and media experts on the theory and implementation of creative content, news, and research. NU-Q students are at the forefront of media evolution and innovation with access to an abundance of academic resources, editing suites, production studios, equipment, a fully-automated newsroom, and a two-story dedicated library.