Media/Communication Experts Join NU-Q's Faculty
September 01, 2019
A new director of NU-Q's Liberal Arts Program along with seven additional faculty – specializing in fields that include digital media, cinematography, filmmaking, and communication – are joining Northwestern University in Qatar (NU-Q) this year.
The newly-appointed professors bring a combination of experience and scholarship from some of the top media operations and educational institutions around the world, including Northwestern's School of Communication, New York Film Academy, Al Jazeera Network, Harvard University, and Sejong University in South Korea, among others. Together, they add a new level of knowledge and mastery on contemporary media and communication, both in theory and in practice.
"These new members of our faculty bring distinguished expertise and experience that enhances our capacity for instruction and research in media and communication," said Everette E. Dennis, dean and CEO. "Students – along with the whole community – benefits from this expertise in digital media design, filmmaking and cinematography, as well as entrepreneurship and transmedia."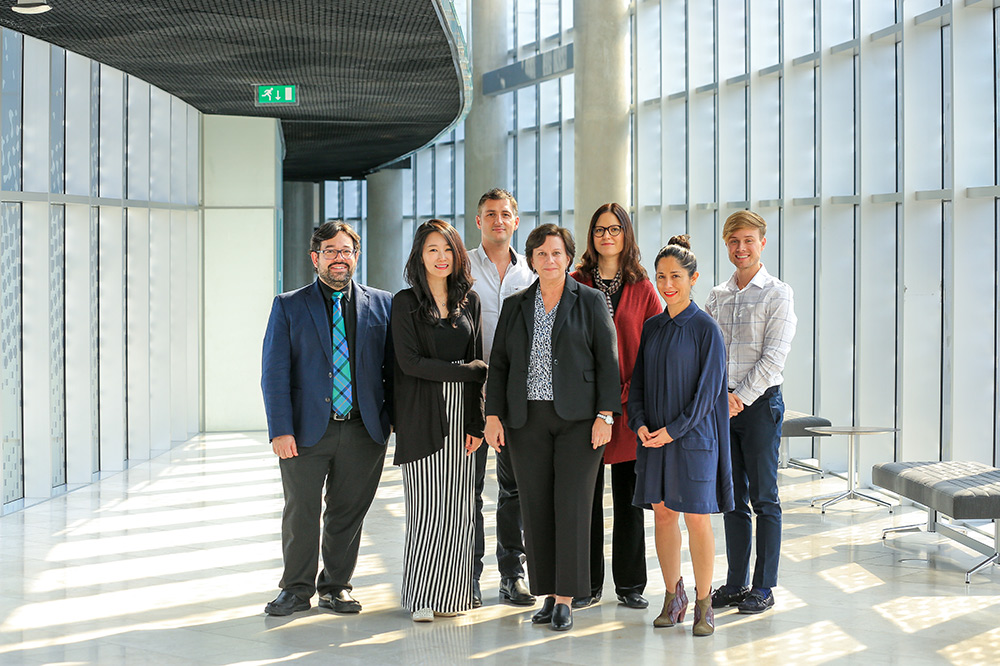 Kathleen M. Hewett-Smith joins as the director of the Liberal Arts Program and professor in residence. In her new role, Hewett-Smith will oversee the development of the program to include new courses and learning opportunities, while also teaching classes in literature. She has an extensive record of leadership in the liberal arts and international education in the United States and abroad. Hewett-Smith is also trained as a medievalist in English literature and has expertise in South Asian literature and culture.
Hewett-Smith began her career in at the University of Richmond, Virginia, moving to New York's Bard College as associate dean of international studies and professor of literature. She later served as associate director of the Institute for International Education and International Partnerships Manager at Bard College. More recently, she served as the founding dean of arts, humanities and social sciences at the Asian University for Women in Bangladesh, and was later appointed as head of the English department at the American University of Sharjah.  
The two faculty members joining the Journalism and Strategic Communication program are Eddy Borges-Rey as associate professor in residence, and Marcela Pizarro as assistant professor of journalism in residence.
Borges-Rey joins is a specialist in digital journalism and emerging media. He earned his PhD from the University of Malaga, Spain, and brings extensive international research and teaching experience with work as a journalist, broadcast producer, and public relations practitioner.  
Pizarro is a respected journalist and former producer/director of Al Jazeera Network's media and culture show, "The Listening Post." Pizarro has a PhD in Latin American and Cultural History from the University of London, a master's in Spanish and Latin American Studies from University College London, and a bachelor's in Fine Arts from the University of Nottingham. 
Meanwhile, joining in the Communication program are S. Venus Jin, professor in residence; Larissa Buchholz, assistant professor; Anka Malatynska, assistant professor in residence; Spencer Striker, associate professor in residence; and João Queiroga, assistant professor in residence.
Specializing in digital media studies, Jin will be teaching courses in new/emerging media, entrepreneurship and research communication methods. She received her PhD and MA degrees in communication from the University of Southern California's Annenberg School for Communication. She also has extensive research and teaching experience at Sejong University, South Korea; as well as Boston College, and Emerson College.
Bucholz is a tenure-track faculty member from Northwestern's School of Communication, Evanston, and will teach courses in communications. She earned her PhD from Columbia University and was a junior fellow at Harvard University.
Students enrolled in the Communication program will be offered a larger variety of cinematography and directing classes due to new professors in those fields. Malatynska will teach cinematography and directing. She earned her MFA from the American Film Institute, and taught at Northern Arizona University, as well as the American Film Institute.
With a focus on digital media and design, Striker who specializes in contemporary media will teach courses that discuss the production and design of interactive media, transmedia, entrepreneurship, game media and social media. Striker has a master's degree in digital media and design from Indiana University and two BA degrees in Radio-TV-Film and history from the University of Texas at Austin.
Finally, Queiroga will teach courses in documentary media production. He earned his MFA from Northwestern University, and has several years teaching experience at New York Film Academy, and spent a semester teaching courses at NU-Q in 2017.
The new faculty join a cadre of media, communication, and liberal arts professionals to teach the nearly 400 undergraduate students enrolled at NU-Q. This year saw the highest number of new courses added to the curriculum, including a number of executive masterclasses and an all-new master's program in Sports Administration.