'VR' and the Power of Immersive Storytelling Discussed at NU-Q
April 18, 2019
A wave of new immersive storytelling tools, including Virtual Reality (VR), Augmented Reality (AR), and 360-degree videos, was the center of a discussion at NU-Q with Navid and Vassiliki Khonsari, co-founders of the NYC-based iNK Stories.
The founders of iNK Stories, which is an award-winning studio that focuses on immersive storytelling in the VR/Gaming landscape, spent several days at NU-Q to discuss the impact of this technology on storytelling and how it creates new ways of engaging with content and experiences.
"Our students have had the opportunity to learn from two innovators of the digital age on how augmented and virtual reality are becoming an integral part of media and communication and how they can use these tools in their academic and professional careers," said Everette E. Dennis, dean and CEO.
The iNK Stories co-founders explained how VR, AR, and 360-degree storytelling often interplay, but are also very different in the purposes that they serve. "Different forms and tools allow for different points of entry and different levels of immersion," said Vassiliki Khonsari. "While 360-degree stories allow audiences to view a certain environment, they cannot interact with it or create change in the same way they can through VR." He added that AR, unlike VR, does not take users to an entirely new dimension, but adds a level of digital interactivity to the world around them.
"The thing about VR is that it has the capacity to create a 'sandbox world,' where the linear one-way story is no longer the only option," explained Navid Khonsari. "VR gives audiences a new level of freedom where they can take control and make their own decisions by choosing to follow different story paths, and that sense of freedom and independence is what makes VR so unique."
Vassiliki Khonsari explained how VR can have long-lasting effects on people who experience it, using their latest project, HERO, as an example. HERO uses animation as well as props and a staged set-up to recreate a moment in a small Syrian town when a bomb explodes.
Some of the participants told them that the experience was more shocking and effective than any of the news or articles they had seen. "VR technology and storytelling can incite empathy and challenge stereotypes in a way that has never been done before because it is a sensory-activated immersive way of engaging with content that makes it very real," Navid Khonsari said.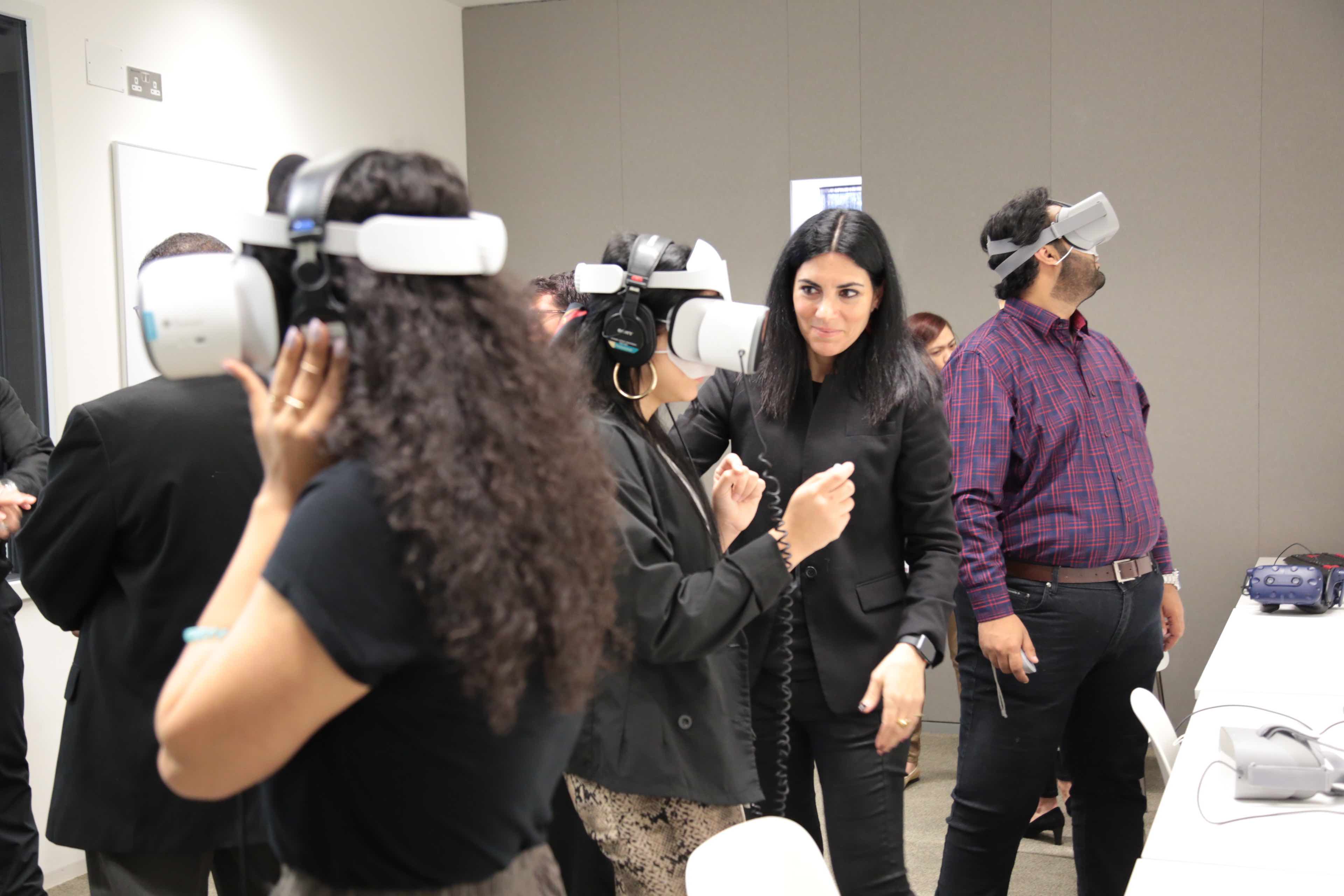 During their visit, they also stopped by NU-Q's Media Innovation Lab – a space where students use the technology discussed by the Khonsaris to create original concepts and solutions to address challenges in the media world. Students were able to view some of the iNK Stories projects using VR headsets and discuss the create process and development with the guests.
Navid Khonsari, is an award-winning creative director, whose extensive portfolio includes the development of the cinematic look and feel for globally-known video games like Grand Theft Auto, Max Payne, The Warriors, Midnight Club, 1979 Revolution: Black Friday, among others.
In addition to her role as co-founder and director at iNK Stories, Vassiliki Khonsari is a visual anthropologist and documentary producer. Her work has been broadcasted in more than 20 countries on Netflix, ESPN, Sundance Channel, Discovery, TLC, MTV.