New books from NU-Q faculty
April 17, 2019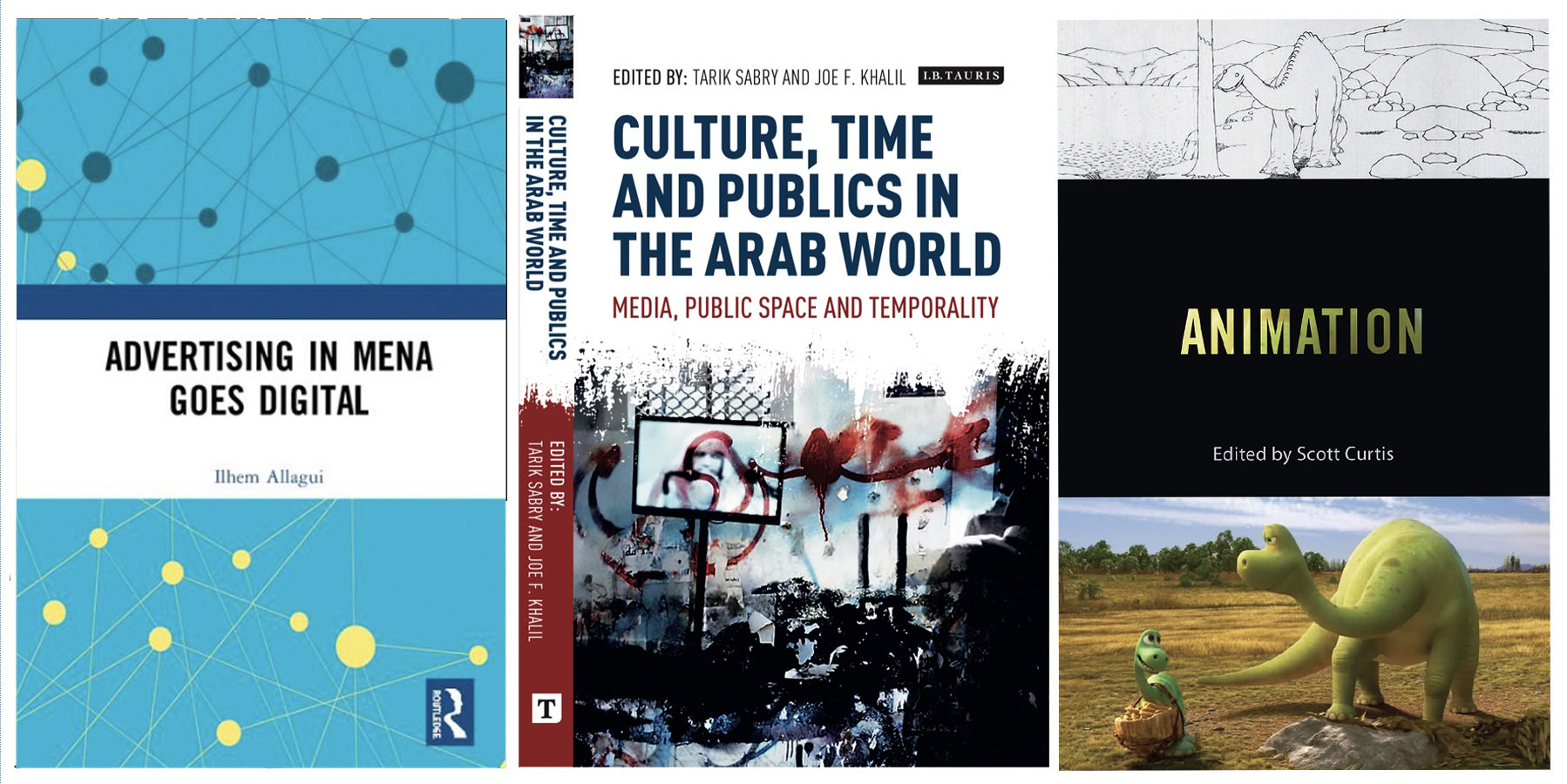 Media issues in the Middle East – including the digitization of regional advertising and understanding the media and culture in the region, along with and a study of the evolution of American animation are the subjects of three new books that have been written and edited by NU-Q faculty.
"These books document a transformative and dynamic period in the media, particularly the Middle East. As a leading media and communication school in the region, it is imperative for our faculty, and students alike, engage in intellectual inquiry and contribute to literature and research on these topics and beyond," said Everette E. Dennis, dean and CEO.
Ilhem Allagui, associate professor in residence at NU-Q, has authored Advertising in MENA Goes Digital. The book explores the evolution of advertising practices as agencies adopt a more digitalized approach and steer away from more traditional outreach efforts to social media and the web. Her book analyzes case studies on marketing in the pan-Arab market – both regional and global brands – including Procter & Gamble, Olay, Vimto, and MTV Arabia.
"With the political and societal changes that have been happening so fast around us, it is interesting to explore how digital activism and media consumption has influenced global and regional marketing strategies to make the content more localized and to understand what advertising giants are doing to reach their audiences through these new channels," said Allagui.
"The book explores the ways communication technologies, social media and mobile have shaped marketing communication solutions created for local and global brands."
- Ilhem Allagui, associate professor in residence
Joe Khalil, NU-Q associate professor in residence and expert on Arab television and programming, is a co-editor of Culture, Time and Publics in the Arab World: Media, Public Space and Temporality, which provides readers with a new way of exploring and understanding Arab culture and society through the analysis of real-life occurrences that shape Arab societal structures and experiences.
"We took a different approach by focusing on time and public spaces and everyday practices to study both culture and media. For example, the book covers Ramadan series viewing in a public café, checkpoint crossing, satellite television in rural areas, public art in revolutionary times, Arab rappers, philosophers and poets. It offers a fascinating dive into modern Arab cultures," he said.
Animation, which was edited by NU-Q associate professor in residence Scott Curtis, features a collection of essays that provide a succinct history of animation from its beginnings to the present day. Written for educational purposes, the essays draw upon both archival research and the current literature, as well as close analysis of key films, to sketch the evolution and transformation of American animation over time.
"Imagining animation history as a series of problems and solutions common to the craft no matter which technology or technique has been used—such as the problem of image standardization—the anthology attempts to go beyond most animation historiography by highlighting patterns in the way American animation has been made, marketed, and understood," explained Curtis.
As one of the largest research universities in the world, faculty at NU-Q contribute scholarly research in their areas of expertise. At NU-Q this has resulted in both institutional and individual research. The books just released join with other projects in several mediums that explore and analyze the media scene regionally and globally.