Provost delegation visit addresses University's global mission
February 17, 2019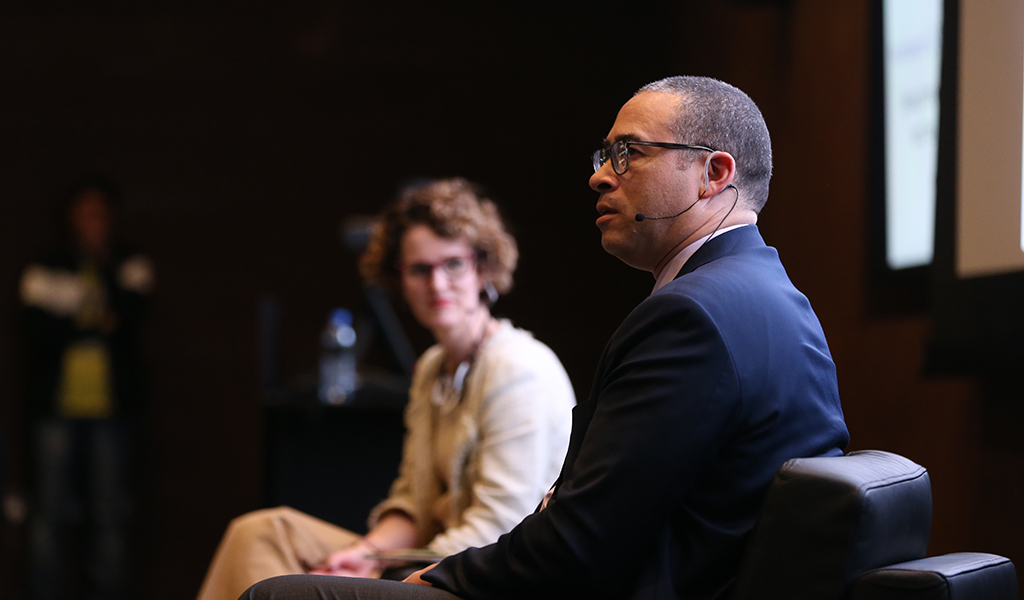 Northwestern University Provost Jonathan Holloway returned to NU-Q to address the community and discuss the University's administrative strategies and goals. Leading the discussion alongside Holloway was Annelise Riles, associate provost for global affairs and executive director of the Buffett Institute for Global Studies, who spoke about a dynamic new vision for the University's global engagement. 
At the University, Riles enhances Northwestern's reputation for cutting-edge, interdisciplinary programs and research on globally relevant topics. She shared her determination to "catalyze new ideas that will define our time" through partnerships between various Northwestern hubs, including the Qatar campus. "The message I want to give you is that I consider NU-Q to be one of the jewels in Northwestern's crown," she said, outlining a plan that will link global partners around common research themes or challenges. 
Riles shared the Buffett Institute's new online form, Meridian 180, that facilitates international dialogue and allows participants to work together to generate new ways of thinking about critical global issues. Members come from around the world and represent a wide range of disciplines, expertise, and professional domains. Meridian 180's current topic, "Democracy and Truth," prompts participants to reflect upon different notions of truth and the ways in which they influence, undermine, and strengthen democracy around the world.
"We're in the business of training leaders and leaders today have to be globally aware. "
- Annelise Riles, associate provost for global affairs, Northwestern University
In addition to international scholarship and research collaborations, Northwestern's global engagement strategy emphasizes student leadership development and diversity. "We're in the business of training leaders and leaders today have to be globally aware," said Riles. "Our graduates interact with people who are from different places and those who don't share their values, and they're going to have to work with them in a collaborative, pragmatic way."
Holloway added, "We know that if you get a bunch of people together who look the same, come from the same place and same background, and who tackle the same problems, they may come up with answers. But we know that introducing different variables – whether that's gender, sexuality, faith, politics, regions of the world – and mix all these up together, you will get better answers."
Holloway and Riles are visiting NU-Q as part of a larger Evanston delegation that includes Jabbar Bennett, associate provost and chief diversity officer; Andrea Conklin Bueschel, associate provost for strategy and policy; Celina Flowers, assistant provost for faculty; Baron Reed, president and faculty senate; Miriam Sherin, associate provost for undergraduate education; Sara Tully, director of study abroad office; and Sarah Wake, associate vice president, office of equity.