Bennett and Wake discuss University policies on equity, diversity, and discrimination
February 28, 2019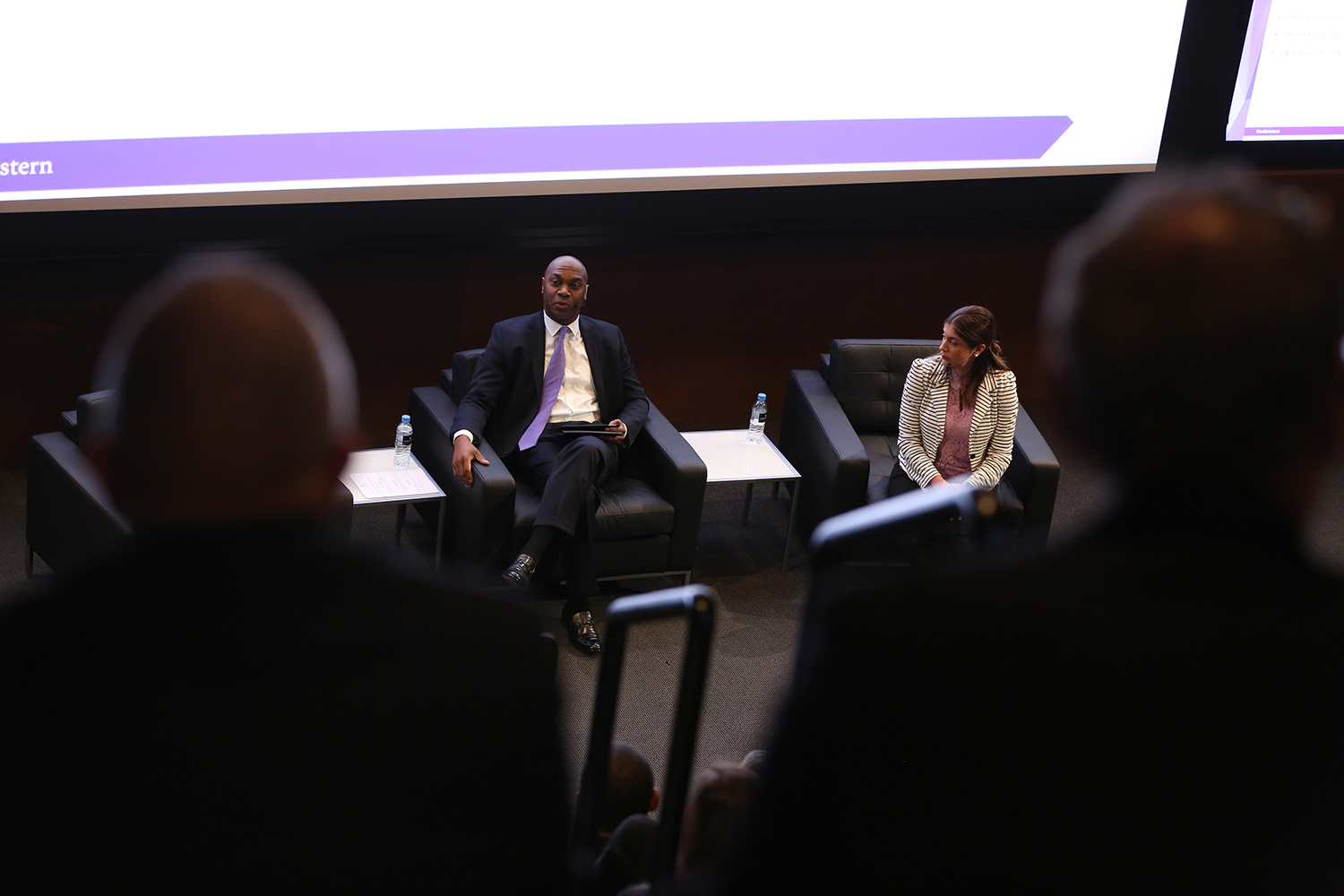 As part of the Provost Delegation visit to NU-Q, Jabbar Bennett, associate provost and chief diversity officer, and Sarah Wake, associate general counsel and associate vice president for equity, shared ongoing efforts at Northwestern to create and sustain a diverse, inclusive, and welcoming environment for all. 
Specifically, Bennett shared the University's vision to promote fairness and justice among various minority groups. "We serve as a catalyst to bring attention to certain issues and collaborate with students, faculty, staff, alumni, and community to address them," he said.
Convening with departments across campus, Bennett's team identifies and addresses areas of growth. This has resulted in accomplishments such the Black Student Experience Task Force Report, which explores and addresses the satisfaction of today's African American/Black undergraduate students at Northwestern University, and the launch of a veteran support initiative. 
In 2018-19, a year-long task force is focused on supporting an "emerging and often invisible population" in its gender-queer, non-binary, and transgender students, faculty, and staff. This work includes reassessing common spaces such as bathrooms, residence halls, and other gendered spaces on campus. "We're also looking at pronoun usage, training of faculty, counselling, and other forms of support," Bennet said.
Wake oversees the University's response to reports of discrimination and harassment. Her department supports students, faculty, staff, and applicants who may have been affected by these behaviors on the basis of the race, color, religion, national origin, sex, pregnancy, sexual orientation, gender identity, gender expression, parental status, marital status, age, disability, citizenship status, veteran status, and genetic information.
She defined how the office responds to reports of this nature and protect individuals. "We address patterns of behaviors that might be occurring on campus and assess how we need to be thinking differently about education and outreach in various departments," Wake said.
On a daily basis Wake's team provides training, outreach, and advice to students, faculty, staff who have any questions about a process or those who express concerns about the on-campus environment. "We want to know if something's happening on campus so we can take steps to address them," she added, urging community members to report any behaviors that are not compliant with Northwestern's policies.
The meeting also outlined the University's Accessible NU resource which promotes a fully inclusive and accessible academic experience for all students, free from physical and attitudinal barriers, ensuring accessibility to all University programs.
Bennett and Wake were part of this year's provost delegation to NU-Q, which included Jonathan Holloway, provost; Annelise Riles, associate provost for global affairs and executive director of the Buffett Institute for Global Studies; Andrea Conklin Bueschel, associate provost for strategy and policy; Celina Flowers, assistant provost for faculty; Baron Reed, president of the faculty senate; Miriam Sherin, associate provost for undergraduate education; and Sara Tully, director of the study abroad office.