Research Week highlights undergraduate experiences
September 26, 2018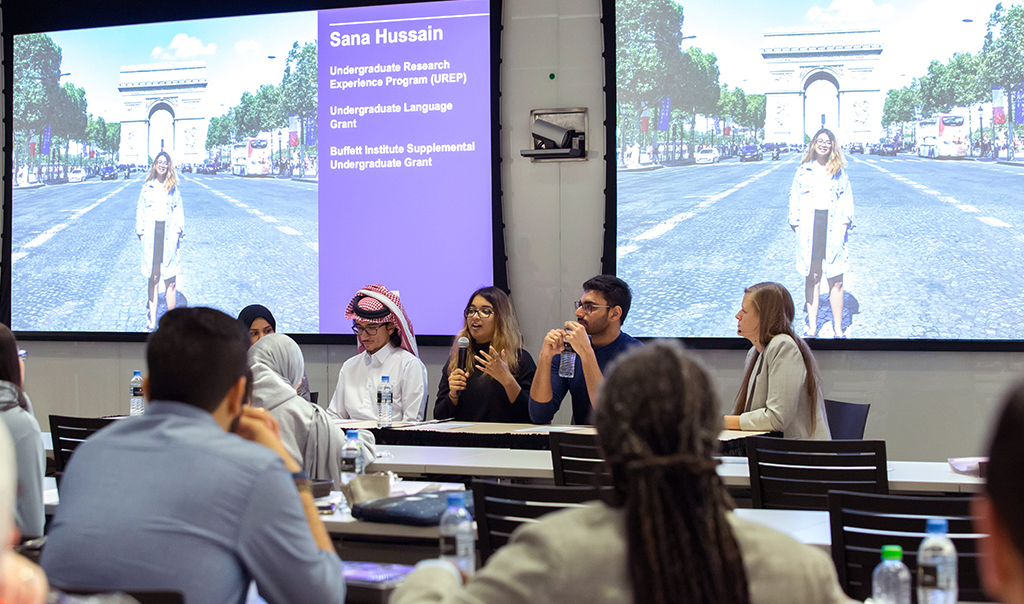 While all students at Northwestern University in Qatar (NU-Q) encounter research through coursework, Research Week in September highlights various independent undergraduate research activities at NU-Q.  
In a panel discussion with three students, Class of 2018 alumna Ibtesaam Moosa discussed her recent research project examining the Rohingya refugee experience in Malaysia. As part of the project, Moosa and her research partner, Habibah Abass, were awarded a grant from Northwestern's Office of Undergraduate Research to travel to Malaysia and interview refugees.  
Their paper Beyond the Crisis is an outcome of those interviews. It analyzes the experience of resettlement and offers insights into the roles of NGOs, community leaders, and international humanitarian organizations concerned with the group. "I learned how to work effectively in a team and how to communicate with vulnerable groups so their stories may be heard," Moosa said, adding that the project cemented her interest in graduate school to help further academic knowledge of various refugee groups. 
Another way students can be involved in research is through working closely with faculty to develop ongoing projects.
Muhammad Humam, a junior in the Communication Program, shared his work with Professors Susan Dun and Amy Kristin Sanders on the paper Assessing and Improving Migrant Workers Access to and Utilization of Health Information and Resources. This project was awarded an Undergraduate Research Experience Program grant from the Qatar National Research Fund. 
As a research assistant on the project, Humam interviewed service workers and used those findings to produce educational messaging targeted to the group. "The entire process – from working under specific deadlines, presenting at conferences, to writing academic papers – gave me a solid foundation in developing professional skills," he said.
Various grant funding options also present an opportunity for students to pursue their interests in more immersive learning environments. Students Abdulla Al-Hor and Sana Hussain benefited from undergraduate language grants that allowed them to attend six-week intensive training courses in Spain and France, respectively. 
"Knowing Spanish gives me access to the biggest league in the football… it's an invaluable skill for a sports journalist," said Al-Hor, a senior in the Communication Program. Hussain, a junior in the Journalism and Strategic Communication Program, echoed the sentiment, saying that she hopes the skill will better prepare her for a potential journalism residency at the United Nations, where French is an established working language. 
In addition to presenting their work at various academic forums, students also showcase their work on-campus at the NU-Q Media and Research Awards and at the annual Undergraduate Research & Arts Exposition on the Evanston campus.