Author: American Muslims are struggling under Trump
In his session at NU-Q, Lawrence Pintak addressed the rise of violence and hate crimes towards American Muslims in recent years.
February 24, 2018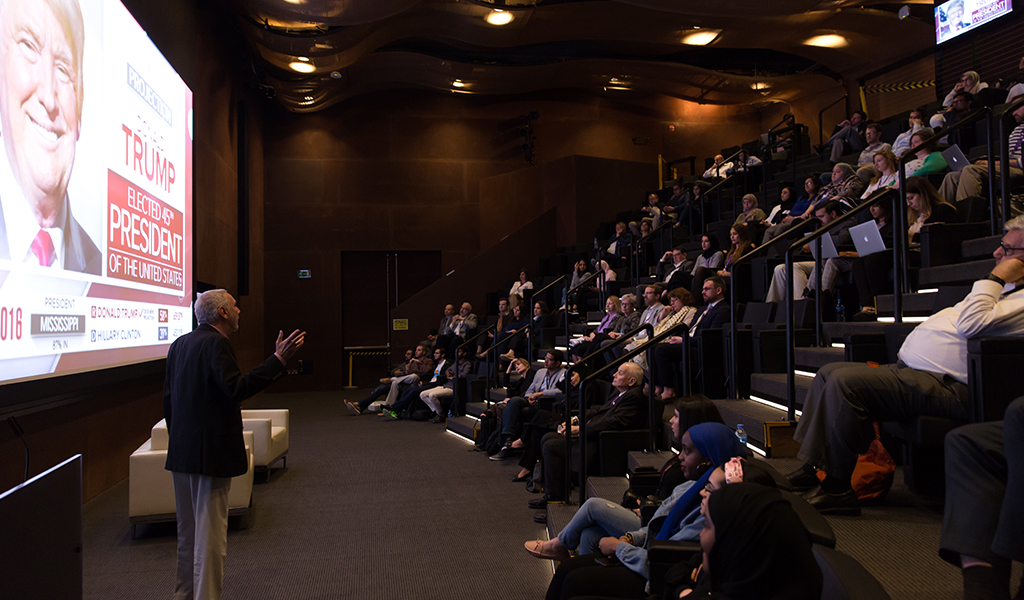 Award-winning journalist and author Lawrence Pintak delivered a lecture at NU-Q on the difficulties endured by American Muslims under the Trump administration. 
Pintak, founding dean and professor of the Edward R. Murrow College of Communication at Washington State University, has written extensively about America's complex relationship with Islam since 1980. 
In his session at NU-Q, he addressed the rise of violence and hate crimes towards American Muslims in recent years, attributing this increase to skewed media coverage, the rise of extremism, and shift to the far-right in American governance.
"American Muslims have pushed back against the negative narrative for many years. They became very active after 9/11, however, the rise of Donald Trump and the rise of ISIS was in many ways the perfect storm," said Pintak. "The idea that ISIS suddenly had roots in the U.S. and American Muslims began to carry out acts of terrorism on American soil undermined the argument that they were different [from Muslims in other countries] because suddenly they weren't and that changed the whole narrative and moved the ground under the American Muslim community."
Pintak explained that American Muslims were not the only minorities affected by the increased hate crime in the U.S. over the last couple of years. "African Americans, Hispanics, Latinos, Indians, Asians and Arabs, were also being targeted after the 2016 elections," said Pintak.
"The good news," he added, "is that people are speaking out about the discrimination they have faced, and as a result there has been a groundswell of support for American Muslims."
While Pintak said that violence towards Muslims was much worse in 2016 than it was in 2011, he also pointed to statistics from a recent study that showed a rise in tolerance among Americans toward Islam as a religion. "In 2017, 70 percent of Americans had a favorable view towards American Muslims," said Pintak.  
Pintak is also a member of the advisory board for The Media Majlis at Northwestern University in Qatar, which will be the first museum in the Arab world dedicated to the exploration of content on media, journalism, and communication. The advisory board, which is composed of international media experts and journalists, met recently at NU-Q to discuss the progress of the content curation and development of the museum, which is scheduled to open later this year.
"The Media Majlis aims to be an educational destination at Education City that will attract a continuous flow of visitors who will gain an understanding of media and communications from multiple perspectives," said Everette E. Dennis, dean and CEO. "While run by a professional staff, it will significantly involve students and faculty in the creation and presentation of its various exhibitions and collateral programs."
The Media Majlis, which is located in the heart of NU-Q's new state-of-the-art building, will operate as a non-profit educational entity, and will be the only university museum in Education City.