A recent regional survey, conducted by Northwestern University in Qatar (NU-Q), found that Arab nationals are more likely to find criticism of government acceptable than they are to find criticism of religion acceptable.
NU-Q's Media Use in the Middle East survey is a longitudinal study that explores patterns of news use, perceptions of news bias, and attitudes toward free speech in seven Arab countries: Egypt, Jordan, Lebanon, Qatar, Saudi Arabia, Tunisia, and United Arab Emirates.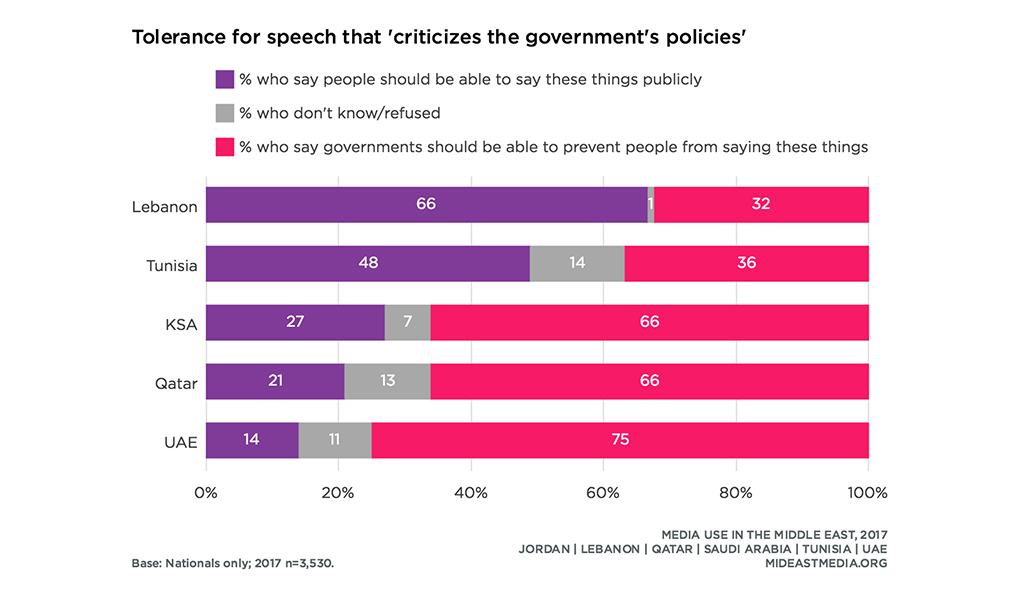 In 2017, nearly six years since the uprisings of the Arab Spring, people's opinions about free speech online—what they should be able to say versus what they can safely say—varied widely across the region, with higher levels of tolerance for public criticism of governments in countries such as Lebanon and Egypt. Meanwhile, less than half of nationals in Jordan, Qatar, Saudi Arabia, and the United Arab Emirates tolerate government criticism.
"We've found significant differences between how nationals perceive free speech and open criticism of governments across the region," said Everette E. Dennis, dean and CEO. "One example is that although two-thirds of Lebanese nationals support the right to publicly criticize government policies, nationals in Qatar, Saudi Arabia, and especially the UAE represent the opposite end of the spectrum, with nearly one-quarter of Qataris and Saudis and only 14 percent of Emiratis believing people should have the freedom to criticize government policies." 
Other patterns that emerged included differences based on education and age. Those with the lowest education (primary or less) are the least likely to agree that people should be able to express unpopular ideas, criticize government, or speak their minds about politics online—nearly 20 percent less than those with higher levels of education.
"The older generation of nationals, meanwhile," Dennis added, "were more reluctant to agree with the freedom to express unpopular ideas or criticize their government. Another area where a pattern emerged was with those who identified themselves as progressive rather than conservatives and who were more inclined to supported free speech."
In Qatar, the survey found that citizens are much less likely than other Arab nationals to say people should be able to criticize government online – only 19 percent of Qataris were supportive, as opposed to 48 percent of other Arab nationals supporting criticism of their government online.
View the full report and explore the findings directly using an interactive tool.