Al Jazeera's new immersive media studio – Contrast VR – engaged students, faculty, and staff at NU-Q during a talk and demonstration about the future of storytelling using cutting-edge technology and techniques. 
Contrast VR is a startup by Al Jazeera that is creating news stories using immersive media content. "Our mission is to take viewers directly to the front lines of real, pressing news stories through the development of immersive media content and 3D technology," said Zahra Rasool, editorial lead for Contrast VR.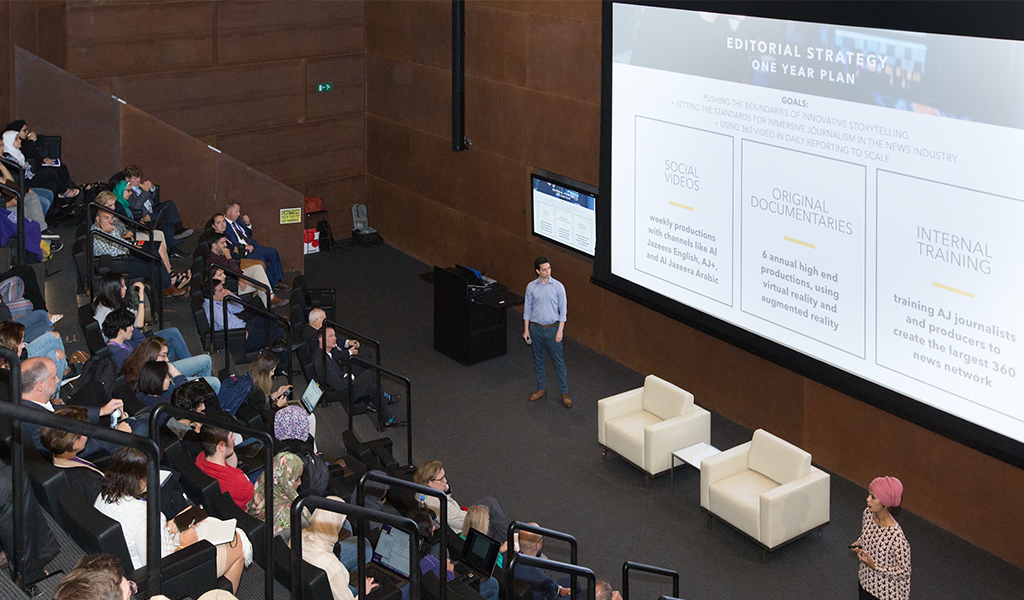 NU-Q and Al Jazeera have a partnership agreement, which includes hosting an Al Jazeera Speaker Series. Rasool and her colleague, Ousama Itani, project lead for Contrast VR, outlined the new initiative and provided a demonstration on virtual reality technology at this semester's session.
"Our partnership with Al Jazeera for the past six years has provided our students with insight on the latest innovations being used to cover the news," said Everette E. Dennis. "As Al Jazeera navigates through the complex world of digital communication, our students, faculty, and staff have front row seats to their latest programming."
"The world of virtual and augmented reality is challenging," said Itani. "Knowing how to make a decision between what platform or medium your story should be told on is very important. This is why we train and educate our journalists and editors on the new technology and make sure they are skilled enough to be able to use different platforms to tell their stories," Itani added.
Contrast VR produces a variety of content for multimedia purposes including social videos, original experience videos using VR, and 360-degree documentary videos for headset viewing. They also provide training for journalists and producers, which is helping Al Jazeera create the largest 360 news network in the world.
During their presentation at NU-Q, Rasool and Itani presented their most recent projects, which included a 360-degree documentary, I am Rohingya. The documentary was filmed in a refugee camp in Bangladesh, focusing on a day in the life of a refugee. In addition to the 360-degree footage, the Contrast VR team also added animation that recreated the recollections of the refugee's experiences in Myanmar.
"Using VR creatively will allow audiences to engage in the story and experience 360-degree reporting in a way that will stick with them and leave them curious and eager for more innovative ways of storytelling," said Rasool.
Students attending the community session were also invited to experience VR storytelling through live demonstrations using Google headsets. "The immersive content really brings a story to life and increases the effect it has on the viewer," said Amal Barakat, an NU-Q student. "It's great to see such innovation in storytelling and news coverage – I really hope to be a part of this movement after graduation."
Contrast VR is transitioning from a startup project into a larger more established entity with a full team and a network of trained producers around the world who can contribute regular content. As a support system for the network, they will continue to create pieces for Al Jazeera while trying to grow their team and digital outlets.