As part of International Women's Day, two NU-Q faculty members spoke at events marking the day.
At the "Women in the News" UNESCO and the Al Jazeera Media Network event held at the Al Jazeera Café, Christina Paschyn, assistant professor, spoke alongside other female media professionals on their experiences working in the industry. Paschyn's remarks focused on how women are portrayed in media in general.
"There are shows and movies and news programs out there that do women justice. But not enough," Paschyn said. She spoke on how representation in the media affects social existence and importance. "Despite what career dreams and ambitions they might initially hold, young girls might choose to forgo these aspirations because they do not see adequate professional female role models in media." Paschyn also shared findings from her journalistic reporting on Qatari women's overall portrayal in visual media in Qatar. Her research showed a cultural reluctance in letting Qatari women appear in published photos and videos.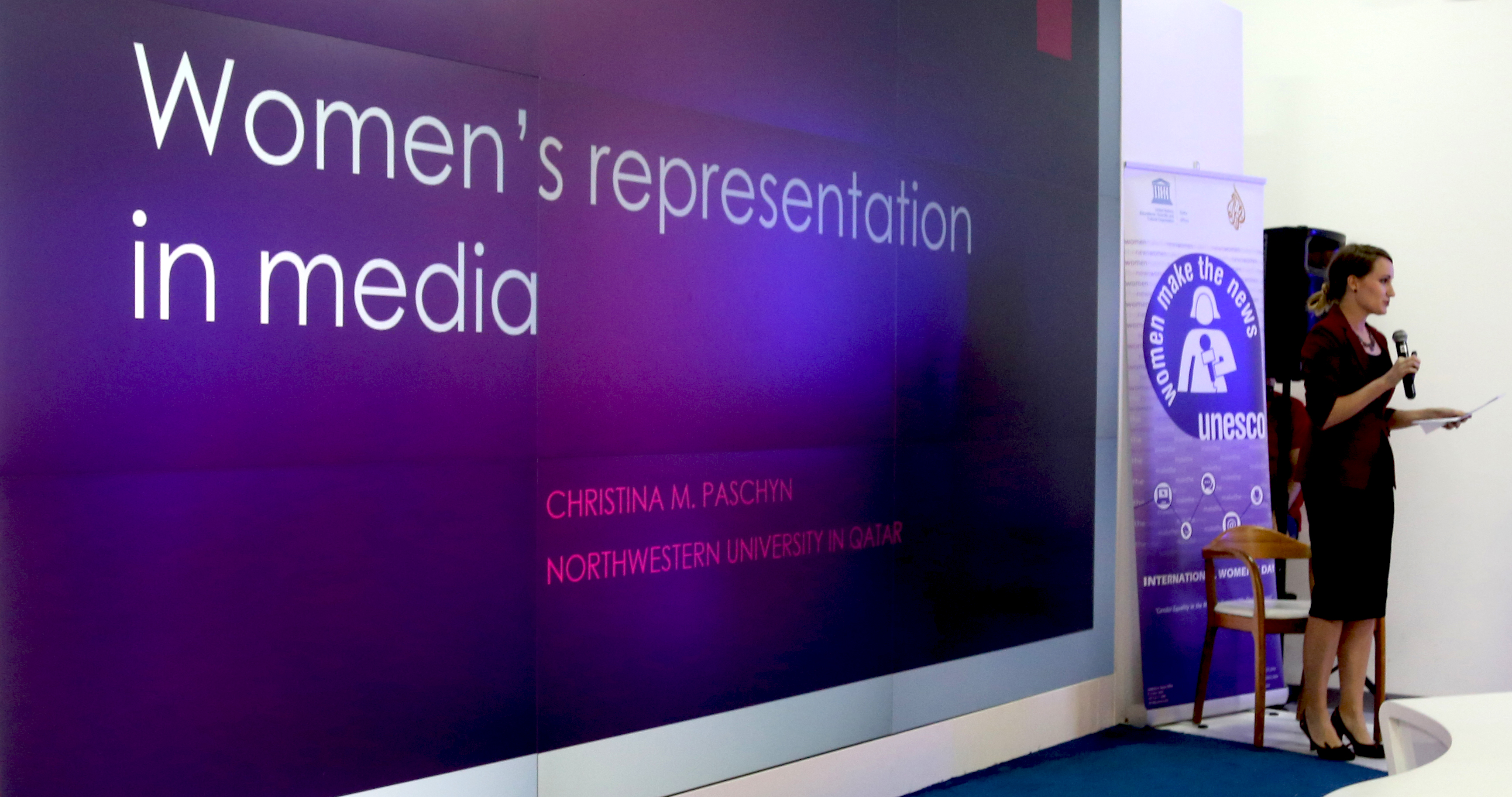 Echoing the need for societal change in a separate meeting at the Hamad Bin Khalifa University Student Center, Jocelyn S. Mitchell, assistant professor of liberal arts, spoke on the implicit bias women face.
In research she conducted, Mitchell found that women's contribution to the country's national development depends on how their roles are perceived. "In my research on Qatar, we've done surveys that ask citizens about their perceptions of the place of women in society. What we see from this research is that both men and women have similar perceptions and biases about what Qatari women can and should do," she said.
A professor of political science, Mitchell also shared recommendations on policy change that would benefit the country. "Childcare and elderly care, paid family and medical leaves, investments in early childhood education, and financial and social support for single parents can help working parents balance their jobs with the needs of their families," she said.
Both professors ended their presentations with a message of hope – reminding women of the changes that have positively improved their lives, and urging them to contribute to change in their governments and the industries in which they work.