Mike Reiss, winner of four Emmy Awards and famed writer for The Simpsons, was the main speaker at an event hosted by NU-Q and the Doha Film Institute (DFI). 
As part of this year's Qumra event, NU-Q and DFI partnered on a program  – Qumra Talks, which brings together leaders from the film, TV, technology, and online worlds to offer new perspectives into areas that are redefining the film and media ecosystem.
Speaking to a packed auditorium at the Museum of Islamic Art, Reiss's talk gave the public an opportunity to engage with the writer and learn about his professional journey. Focusing on his career as a writer for the internationally-renowned animated comedy, "The Simpsons," Reiss highlighted a variety of skills he acquired over the years that helped him understand how to write effective comedy.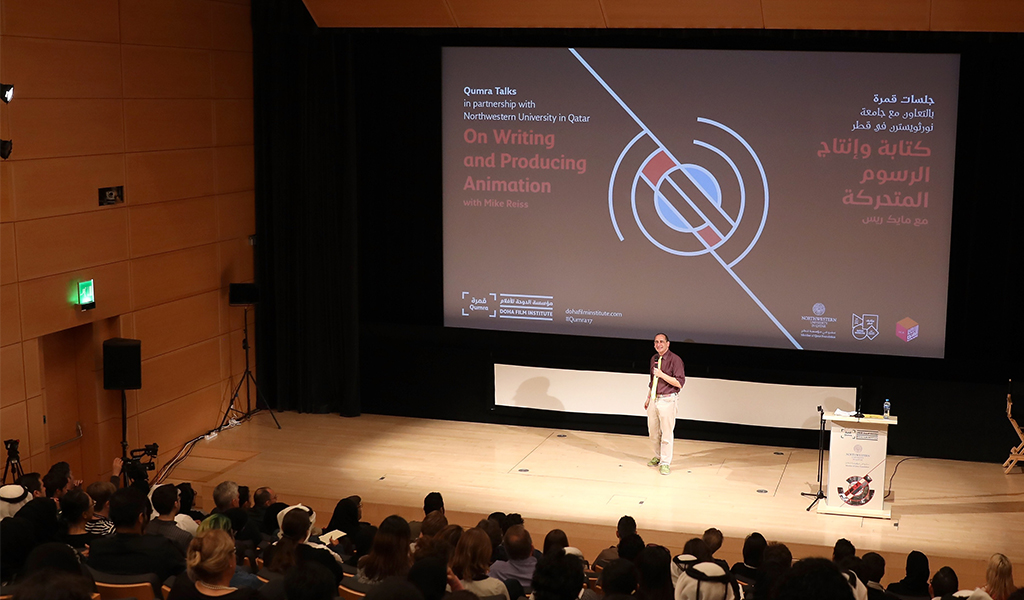 He opened his remarks by reminding the audience that he was not a stand-up comedian, "Please remember, I'm a comedy writer, not a comedian," he said. He did, however, manage to use his humor in describing his favorite scenes from "The Simpsons."
While encouraging attendees that there were plenty of opportunities to achieve success, he also emphasized how competitive the industry is. "In this job, you have to make your own luck, and work on as many ideas and projects as you can," he said. "When I started working with The National Lampoon, I had five other projects on the go." 
He also urged writers and filmmakers to take advantage of every opportunity available to them.
Reiss was offered the role of writer of The Simpsons in 1988, on FOX, a US TV network. He went on to become a showrunner for the series and co-wrote "The Simpsons Movie." 
"You can't teach comedy, or how to craft it. It just comes from observation. You have to watch a lot of good comedy. Watching good work inspires you to do good work," Reiss concluded.
The partnership with Qumra, an industry event by DFI, is the latest in a growing collaboration between the two organizations that frequently work together on projects that support local media students and producers, advance media literacy, and promote Qatar's emerging film and media industries.