Qatar's quest to be a destination for sport media and marketing was touted at a recent Qatar Media Industries Forum, hosted by Northwestern University in Qatar (NU-Q).
The panel discussion, which was moderated by NU-Q professor and sports media expert Craig LaMay, covered several areas in which Qatar has gained unique expertise in recent years. Panelists included Nasser Al-Khater, assistant secretary general, Tournament Affairs, at the Supreme Committee for Delivery and Legacy; Jackie Brock-Doyle OBE, executive director for communications at IAAF and former director of communications and public affairs for London Olympics 2012; and Nigel Rushman, founder of Rushmans.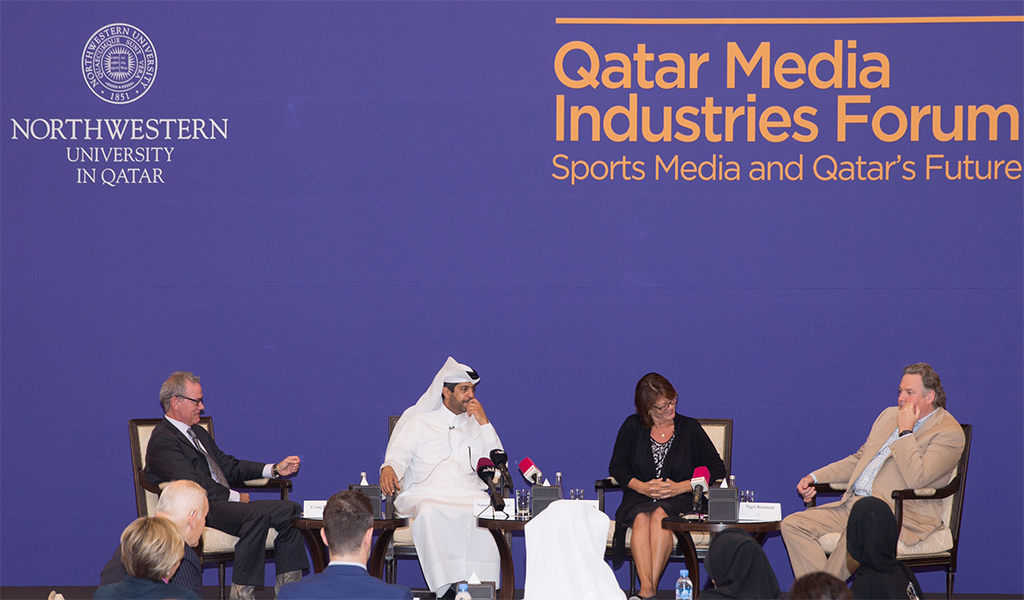 In his opening remarks at the forum, Everette E. Dennis, dean and CEO of NU-Q, said that the forum "brings together individuals and representatives from news organizations, television stations, PR firms, advertising, and other media companies to speak together in one place about the many ways in which the media industry in Qatar has grown and developed. This pace cannot slow now as it gears up to welcome even more visitors, athletes and journalists."
While discussing media strategies deployed by countries hosting mega-events, the Supreme Committee's Al-Khater noted that: "There are several factors and layers to successful media strategies for such events. Crucially though, they must be relevant, authentic and reflect the host country's aspirations for holding the mega-event in the first place. For example, our bid to host the 2022 FIFA World Cup™ highlighted the role that the tournament plays in supporting the Qatar National Vision 2030, particularly in relation to the diversification of the economy."
He added that: "Communications around Qatar's progress in hosting what will be an amazing World Cup are important in raising awareness about the country and the region on the global stage, building our reputation as a welcoming and dynamic place to visit and in which to do business."
In a discussion on the difference between proactive and reactive communication, IAAF's Doyle said that while host countries often focus on reacting to any negative coverage, "it is also essential to proactively reach out to your core stakeholders and anyone in support of a mega-event, as they are your most important ambassadors. Any host country's communication and media strategy should be a balancing act between listening to critiques but also reaching out to supporters, who are able to tell your story in a much more authentic and organic way."
The panel also emphasized the need to embrace the use of emerging new technologies in media strategies to ensure that messages are reaching as wide of an audience as possible, and ensure that organizing committees are as accessible as possible. With panelist Rushman, the founder of Rushmans consultancy, emphasizing the need to have an active and engaged presence on social media in order to ensure that an organization or event plays a role in shaping and controlling the story being told about it online.
In terms of the panel's advice to local media on how to make the most of Qatar's growing profile as a host of several international sporting events, most notably the upcoming 2019 World Athletics Championship and the 2022 World Cup, the panel noted that local media could benefit by expanding their readership potential given the global audiences such events attract. More generally, the panel also highlighted the key role local media play in the social and economic development that go hand in hand with hosting mega-events and ensuring that they leave a lasting and positive legacy.

QMIF, which was established by NU-Q in 2012, is a unique forum that engages decision makers in topics of critical importance to Qatar's emerging media and communications industry. It was established as part of a wider effort to provide thought leadership, educate future media and communications leaders in Qatar and the Middle East, and produce groundbreaking research on industry trends and media consumption in the region.