As part of a five-week intensive advanced online storytelling course, 11 NU-Q students launched a website - http://sites.northwestern.edu/buildingdoha/ - on Doha's architectural development and urban landscape. The class, taught by Christina Paschyn, assistant professor, prepares student for their upcoming journalism residency placements.
"This course simulates an intensive, real-life, newsroom experience," Paschyn said. "Students are required to manage clients and work under a hard deadline with no room for extensions or revisions."
The website designed by the students brings to light stories of Qatar's architectural past, its fast-evolving terrain, and the lives altered in the process of balancing modernity and tradition. As part of the class, specialists from the Qatar Green Building Council (QGBC) met with the students to discuss the significance of Qatar's architectural heritage and also arranged for lectures to the students from other experts in Doha.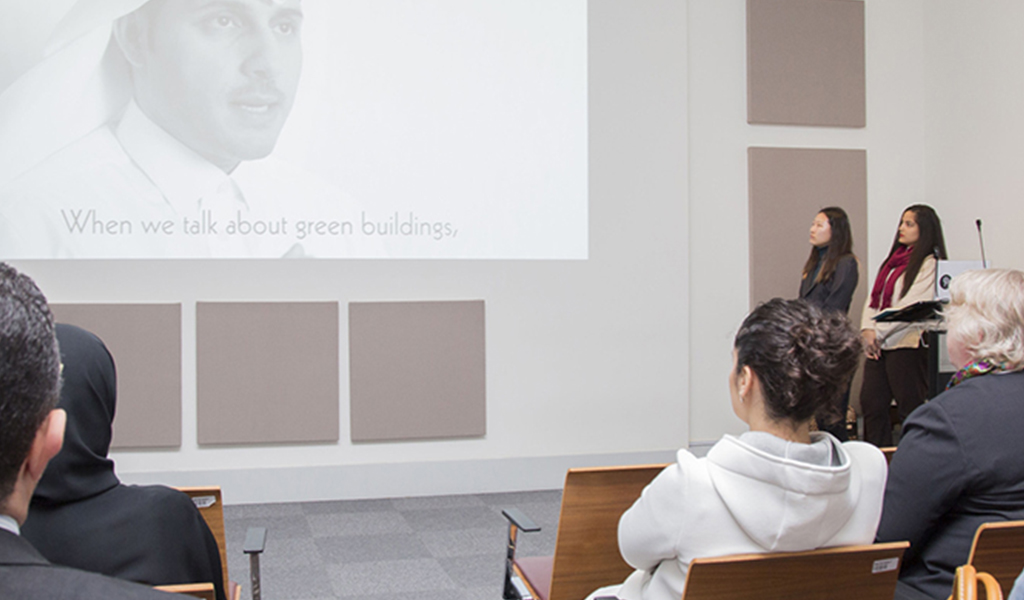 "Qatar has a rich and diverse architectural range that needs to be recorded, especially as some buildings are threatened by redevelopment, said Alex Amato, head of sustainability at QGBC. "The website developed by NU-Q students is one of the best ways to extol the true significance of Qatar's architectural heritage and to communicate this with the wider community and with decision-makers." 
The students presented their work to local experts in architecture and urban planning, the students showcased articles, video packages, micro-content, podcasts, and data-visualization. The topics include the historical and cultural evolution of designs and structures of traditional Qatari houses, their sustainability, and the impact of foreign influence on local buildings. 
The students will be departing next week to participate in the Journalism Residency Program where they will work full-time over a 10-week period in internships in cities from London to New York to Washington, D.C. This year, students will be working in organizations that include The Washington Post, USAToday, Amnesty International, Vice Media, Ogilvy & Mather UK, and Blue Rubicon. 
The residency program is an important learning component for NU-Q journalism and strategic communication students, allowing them to network with professionals in the field, explore career paths, and implement theories and ideas discussed in the classroom to the real world. Media residencies have been a part of Northwestern's Medill School for more than 40 years, a practice that NU-Q has continued with its program in Doha.