Launching residency in its new building, the NU-Q community celebrated at a community-wide luncheon with on January 8.
Speaking at the event, Everette E. Dennis, dean and CEO, thanked staff from facilities, production, health and safety, and IT for the long hours and hard work that made it possible for the university to move into its new building, and he declared that NU-Q was "open for learning and the advancement of knowledge."
Students, faculty, and staff were united in their appreciation for the work that went into creating NU-Q's new home. "This was something we were looking forward to since we were freshmen and now we're finally here, so I'm very happy to be in the new building," said Muhammad Faizan Shakir, senior in the Communication Program.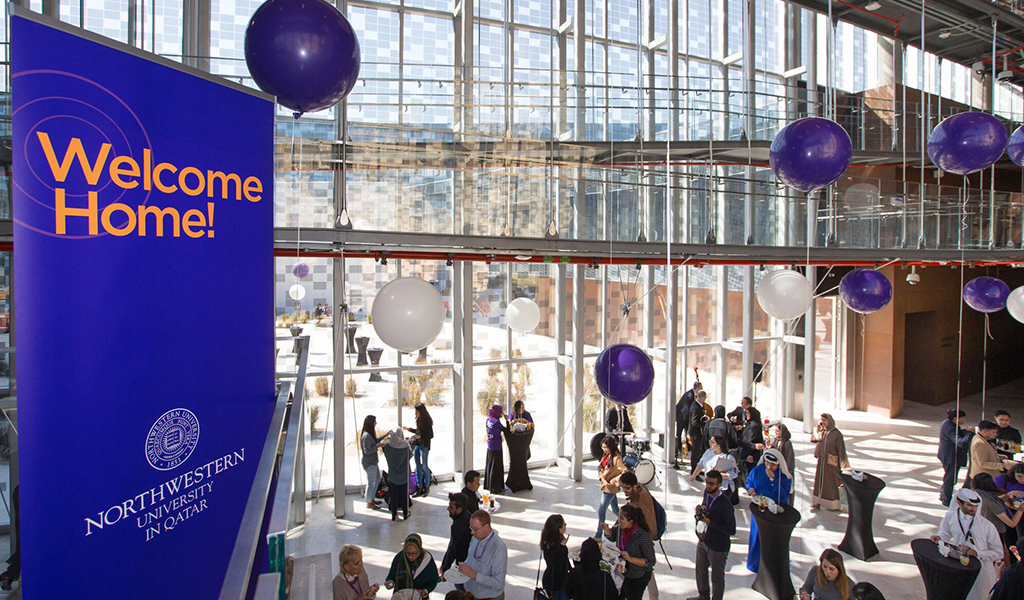 "Welcome home" signs lined the hallways and TV screens throughout the building, greeting members of the community returning from the winter break. 
Indee Thotawattage, student life specialist in student affairs, said that she and her colleagues would be focusing on continuing to strengthen NU-Q's student community in the larger space. "Now that the students are back on campus, we're excited to see how they use the space to enrich their overall experience at Northwestern," she said.
The facilities office played a large role in the smooth transition and while major aspects of the building are under construction with updates to the auditorium, cinema, and other key locations still being carried out, the excitement for NU-Q's new home was evident.
"The sheer feeling of knowing that we are in our own space adds to the excitement normally associated with anything new. It's all quite extraordinary," said Ibrahim N. Abusharif, associate professor in the Journalism Program.