Students attending Northwestern University in Qatar (NU-Q) participated in a popular home campus tradition, Dinner with Twelve, which connects current Northwestern students with the University's alumni who have worked in the students' fields of interest. Alumni host a dinner at their home or a restaurant for 8–12 students at no cost to guests, with the hope that everyone who attends a dinner leaves with 12 new Northwestern friends.
The dinners, held in Doha, were hosted by an alum from the University's law school, and one co-hosted by three alums – two from the Qatar campus and one from the Evanston campus. The dinners offered the students an opportunity to network with their alumni hosts, and also to learn more about the hosts career path and professional experience in a relaxed setting.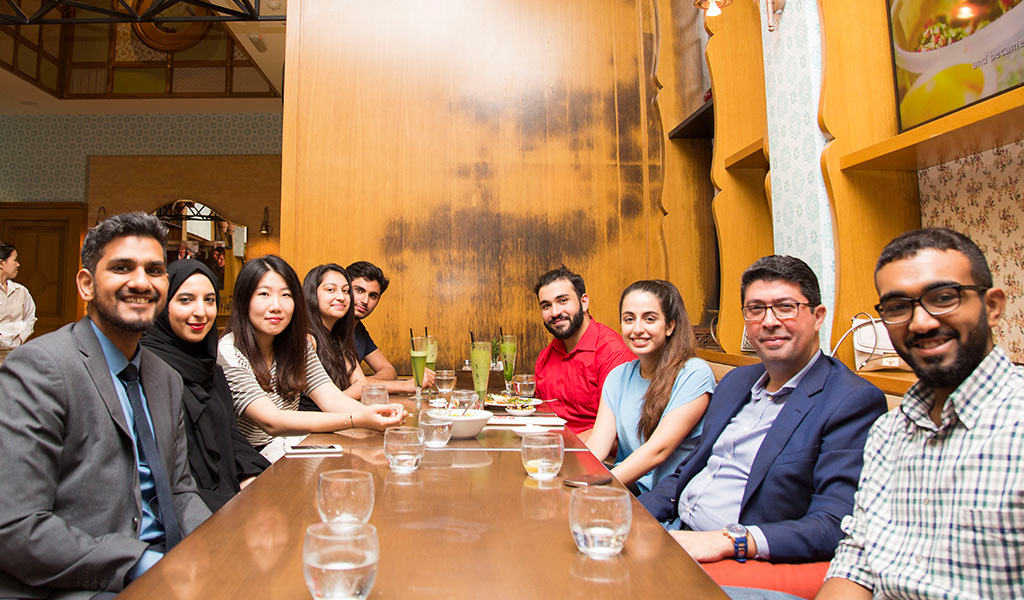 NU-Q, as the 12th school of Northwestern University, offers its students and alumni a vast network of fellow alumni globally. The Evanston campus works with Northwestern staff and alumni in Qatar to make those connections and to provide the students attending Northwestern on its Qatar campus with the unique opportunity to network and meet successful professionals from a range of careers. In 2015, the school hosted an alumni event in Dubai with Northwestern alumni from the University's business school – The Kellogg School of Management. It plans to continue to offer similar opportunities for both students and alumni to connect and engage with fellow Northwestern alumni.
"The Dinner with Twelve gatherings," said Everette E. Dennis, dean and CEO at NU-Q, "create environments for NU-Q students to engage in conversations with alumni, both from our Evanston and Doha campuses, who can share their success stories and provide our students with career guidance. These events create strong networks and professional relationships that help our students determine the course of their careers, as well as providing opportunities to meet professionals already engaged in their fields of interest."
Imad Chemaly, Northwestern University Pritzker School of Law alum, hosted a dinner for NU-Q students who are interested in attending law school. Chemaly, who is the legal counsel for the International Bank of Qatar, has lived in Qatar for the past eight years. After hearing about Northwestern's Qatar campus, he became interested in hosting a dinner to connect with undergraduates, who he said, "share a special bond with fellow Northwestern graduates."
"The dinner with NU-Q students was a great experience. I was very impressed by their enthusiasm, curiosity, and shared interest in pursuing a law degree. Many students explained that their media law course has motivated them to consider law school after graduation, and that was very interesting to me-- I really enjoyed sharing my experiences from the law school with them," Chemlay said.
The second dinner was hosted by Alli Divine, a recent graduate from Northwestern University's Evanston campus, along with two NU-Q alums. For Divine, who is currently serving as a special advisor in the Dean's Office, it was also a unique opportunity for her. "This was a way for me to engage with current students and alumni, and to learn about what drives and inspires them, as well as get to know my co-hosts. I would most certainly love to take part again," she said.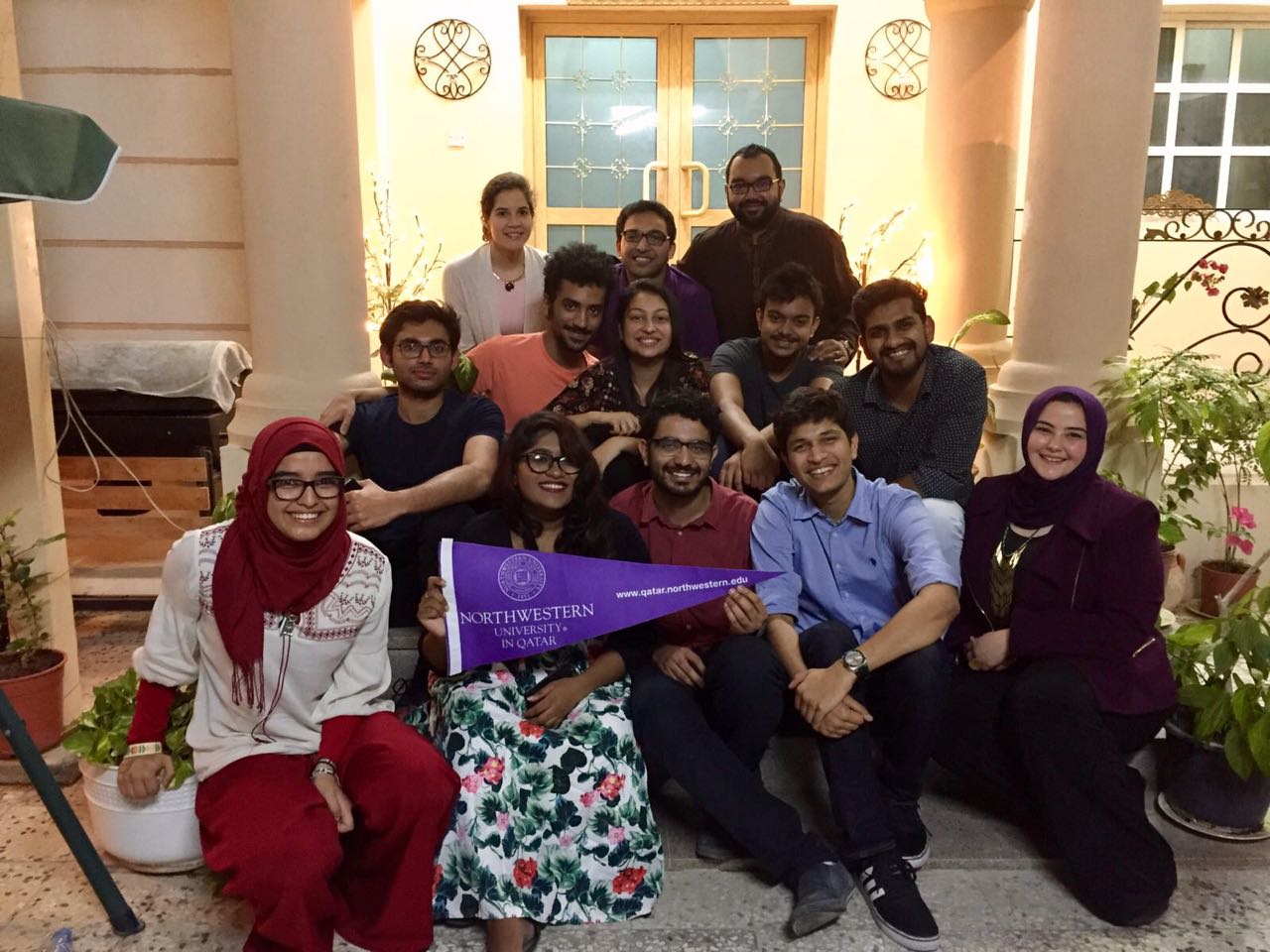 "My Northwestern pride is boundless," she added, "and I have had the good fortune of being part of the Northwestern community in Evanston and Qatar. This Dinner with Twelve was a perfect summation of what ties us together: inquisitive, driven individuals passionate about making the world a better place in whatever field they choose to pursue."
Huda Barakat, a student at NU-Q said that having Chemaly host the dinner was helpful and she found the discussion on graduate schools very informative. "I thoroughly enjoyed attending the dinner and connecting with alumni from the Evanston campus, which is usually more difficult to do here in Qatar. It was very insightful, especially regarding graduate studies that we can consider as communications professionals," she said.
Rezwan Al-Islam who co-hosted the dinner with Divine and Florent D'Souza, is a 2012 NU-Q graduate and attended Harvard University for graduate school. "The love Wildcats have for one another is beyond words. Gather a bunch under one roof and magic happens. That's exactly how I would describe the dinner. It was a celebration of purple love, purple pride, and all things Northwestern," he said.
Their co-host, D'Souza, who received his undergraduate degree from NU-Q and attended graduate school on the Evanston campus agreed. "I had such a great time learning and sharing with the students. They were passionate, driven, and ambitious - everything that epitomizes a Wildcat," said D'Souza.