As an award-winning filmmaker, Professor in Residence Marco Williams told a community meeting at NU-Q that he is "eager to listen to other viewpoints that I may not necessarily share and then think of different ways to invite the audience to think about those perspectives "
The filmmaker has documented issues of race, gun violence, social injustice, and immigration through his work and said that he "always looks for characters that have a strong experience or a situation that elicits a certain reaction."
During the fall semester, Williams, a professor of film production at NYU's Tisch School of the Arts, taught classes in screenwriting and directing.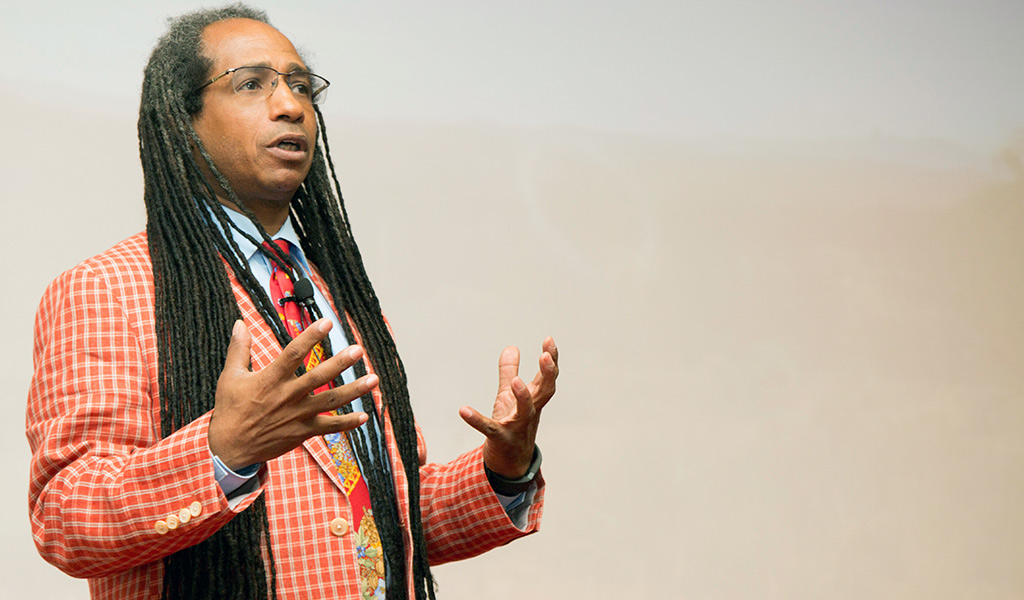 At the community meeting, he screened scenes from his most recent film, The Undocumented, which was broadcast on PBS. The film traces the causes and effect of the rising number of migrant deaths between 1981 and 2016 near the Arizona-Mexico border.
He also shared some of his earlier work, including Freedom Summer, a documentary that was broadcast on the History Channel. The series, Ten Days that Unexpectedly Changed America, received an Emmy Award. The documentary followed how the murder of three civil rights activists in Mississippi galvanized and altered the Civil Rights Movement. Williams also presented ancillary narrative platforms related to the film—an interactive website and The Migrant Trail, an on-line game.  Both can be accessed at theundocumented.com.
His films have been screened at the Sundance Film Festival. The Pan African Film Festival, and the Miami International Film Festival among others. His credits include Inside the New Black Panthers, Banished, I Sit Where I Want: the Legacy of Brown v. Board of Education, MLK Boulevard: The Concrete Dream, Two Towns of Jasper, Making Peace: Rebuilding Our Communities, Declarations: The Spiritual Deficit and The American Dream, Without a Pass, In Search of Our Fathers, and From Harlem to Harvard.
In addition to the Emmy Award for Freedom Summer, Williams has also received the Knight Grand Jury Prize, the George Foster Peabody Award, the Columbia-DuPont Silver Baton, and the Silver Award for Best International Documentary. 
Williams is a graduate of Harvard University and UCLA.