Each year, a group of students from Northwestern's home campus spend a semester at its campus in Qatar attending classes and experiencing life in the Middle East.
"As Northwestern University's only overseas campus, hosting students from our home campus allows them to gain firsthand familiarity with a region and its people, as well as to acquire a different perspective on a region that they have only read about in the news. It is an experience that will not only enrich their undergraduate experience, but also enrich their fellow students in Doha," said Everette E. Dennis, dean and CEO.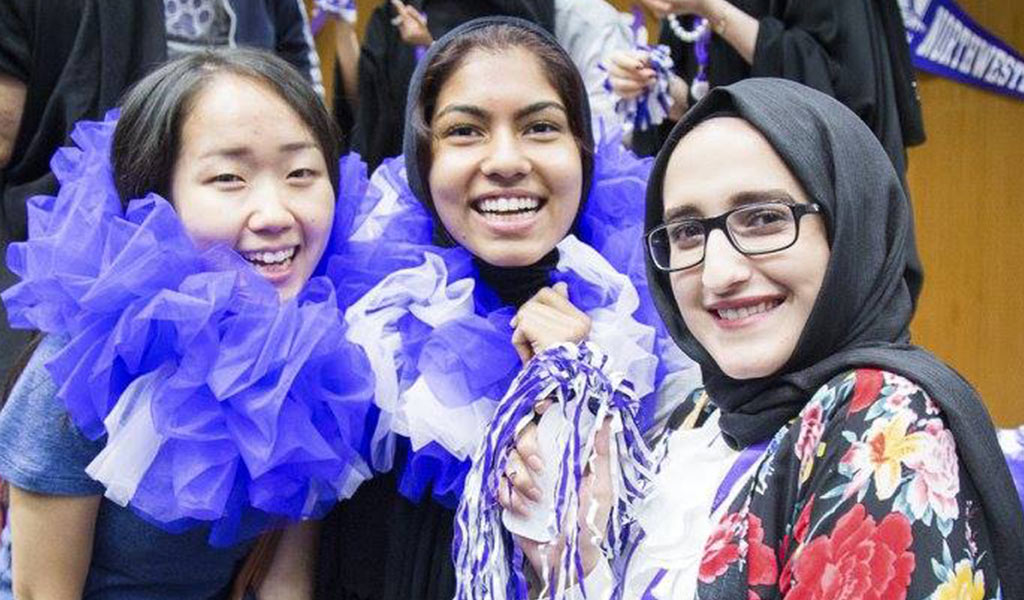 This year's students are Aneesa Abdul-Fattaah Johnson, majoring in radio, television, film and international studies; Amal Ahmed and Jiajun Lu, majoring in journalism; Madeline Ewbank, majoring in radio, television, film and Middle East & North African studies; Hangda Zhang majoring in journalism and economics; and Julian Yi Chao majoring in journalism and art history.
Zhang, a junior, came to the Qatar campus after attending several showcases of NU-Q's student work in Evanston. "A lot of students hear about NU-Q's welcoming and open community and its unique classes through word-of-mouth, but what really convinced me was that I could get a Northwestern-quality education and still have an international experience," Zhang said.
The students attend an honors-level class called Doha Seminar that covers topics on contemporary Arab thought and ideology, Islam in the Western world, and storytelling practices among indigenous groups to gain an understanding of the region. The course is taught by NU-Q faculty from several disciplines and includes guest lecturers from the region.
The semester of academic studies is complemented by a post-semester regional trip. In past years, students have traveled to Oman, where they spent three days exploring its culture and customs by engaging with locals and camping in its desert.
Students interested in Middle East and North African studies, including those seeking more experience studying Arabic, find that they have ample opportunity to pursue their interests with the specialized courses available at NU-Q.
Jiajung Lu, a junior in the journalism program, has been studying Arabic for two years and is hoping to continue her understanding of the language by practicing it with native speakers. "The best way to master a language is by using it with people who speak it every day," she said.
A junior in the journalism program, she has had the opportunity to communicate with Arabic-speaking classmates from the region as well as vendors at traditional shopping markets like Souq Waqif since arriving in Doha. "We hear so much about the Middle East in current events and politics, and I really wanted to see it for myself. Qatar is a very safe environment with people from all across the region so it's a great cultural experience," she added.
The career service's department also arranges for students to take advantage of Doha's media institutions such as Al Jazeera Media Network, Doha Film Institute, Doha News, and other local news outlets. This year Zhang will be working at Al Jazeera English's headquarters.
Semester in Qatar has been taking place since 2014 and is one of many joint programs between Northwestern's Evanston and Doha campuses – including the Spring Break in Qatar trip, the Evanston Ambassador Trip, Engage Chicago, and the communication program's Exchange Program.