Northwestern University in Qatar (NU-Q) and Qatar Computing Research Institute (QCRI), a national research institute within Hamad bin Khalifa University, today announced a landmark agreement to collaborate on producing and disseminating both theoretical and practical knowledge of media, communication and technology, through research and intellectual exchange.
Both institutions will gain research capacity through the new Memorandum of Understanding (MOU) by complementing each other's expertise. The agreement is designed to reach larger audiences and constituencies for their work and create possibilities for intellectual knowledge-transfer and work experience opportunities.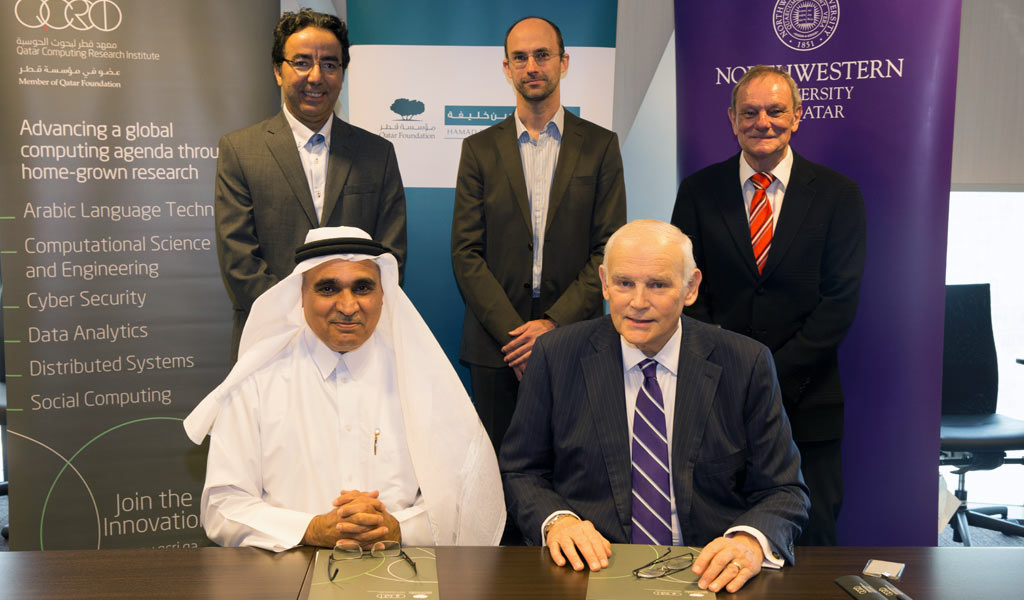 "Workshops, research collaborations, events, professional development activities, internships and employment opportunities for students are all part of this new agreement with QCRI," said Everette E. Dennis, dean and CEO of NU-Q. "NU-Q's research program is a major pillar of the school's mission and strengthening its connections to Qatar, the Qatar Foundation, Education City universities, and the larger Northwestern community will be beneficial. Through research, we are nurturing the idea that knowledge is precious by creating, rather than simply processing and applying it."
QCRI's executive director, Dr. Ahmed Elmagarmid, echoed similar sentiments saying, "We are honored to have the opportunity to join forces with Northwestern University Qatar in order to address important research problems affecting Qatar and the region. Strengthening ties between QCRI's computer scientists and the University's communication and journalism scholars will lend support to our tackling these issues in the most impactful way possible."
The robust research at NU-Q complements the established scholarly studies across three major programs: journalism, communication and liberal arts. The school has three key strands of research, including an institutional research program, a wide range of scholarly studies by individual faculty members, and a systematic approach to making research more useful and attractive for Qatar's students.
QCRI is a national research institute focused on tackling large-scale computing challenges that address national priorities for growth and development. The Institute's cutting-edge research is done in the areas of Arabic language technologies, data analytics, distributed systems, cyber security, computational science and engineering, and social computing.
More specifically, QCRI's social computing group concentrates a portion of its research in the area of digital media and will play an important role in the new MOU agreement with NU-Q.
The research undertaken works in sync with Qatar's National Research Strategy's (QNRS) vision of becoming a leading center for research and development excellence and innovation.