Northwestern University's Tal Axelrod and Brandon Wilson are in Qatar embarking on a residency with Al Jazeera English.
Tal Axelrod and Brandon Wilson – both journalism students at Northwestern University's Medill School – are benefiting from a residency agreement between Northwestern University in Qatar and its home campus in Illinois, USA. Over the course of the next several months, Axelrod and Wilson will be interning with Al Jazeera English (AJE).
Their work is rotational and includes weeks spent at AJE's online department, Al Jazeera World, "Inside Story," and "The Review."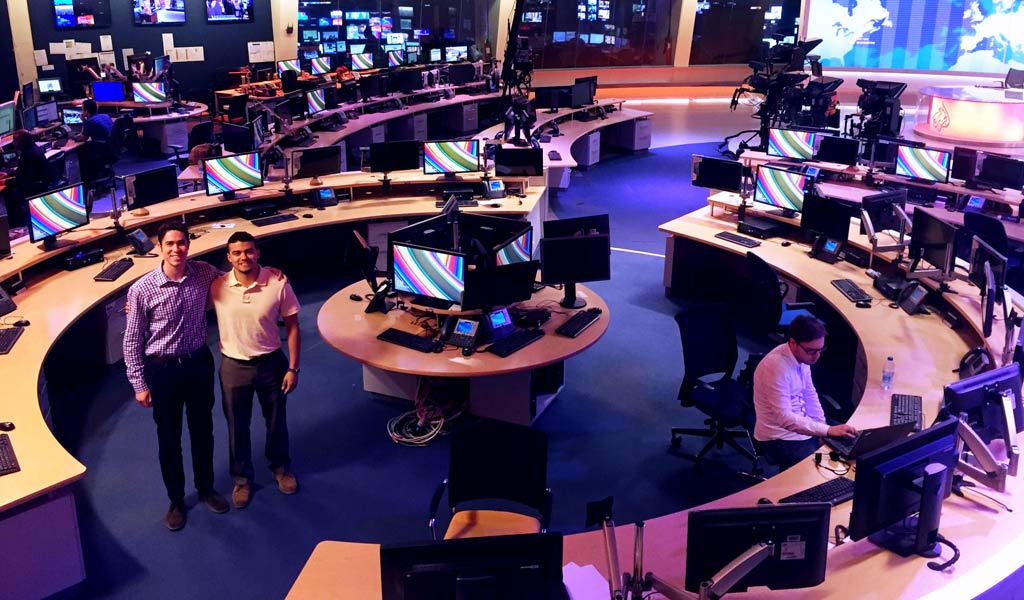 "THE STUDY-ABROAD THAT NEVER WAS"
Though Axelrod says he had the option of working in other parts of the world, including the U.S. and South Africa, he opted for Doha because it complemented his area of study. "I'm fascinated by the Middle East. It's such a dynamic region with so many different players, and I love trying to keep track of it," he said. "And for me, Al Jazeera English just seemed like a natural fit."
A broadcast journalism and MENA double major, he has been involved in other immersion programs in the Middle East, including a month-long internship/residency in Jordan, which he says left him "feeling like he wanted more."
"It just wasn't enough," he said. "A month's time in Jordan was what got the ball rolling for me."
Outside of work, he is heavily involved in the Northwestern News Network and the Youth Project, an Evanston-based online publication. His past experiences included a summer-long internship at ABC News and MSNBC.
NEW-FOUND APPRECIATION
Despite being a conservative country, Wilson says he has a special appreciation for how welcome he feels with his fellow students at NU-Q. "I've made friends who have invited me to their film sets, and I've seen some really impressive work," he said.
"Many students here have even had film festival successes and had pieces picked up by major news organizations. It's an ambitious place, a beautiful campus, and most importantly it has the most welcoming and warmest of students. They've made the transition so smooth, and I'm grateful to all of them."
Wilson's area of study – journalism – leaves him with constant curiosity about 'other' people: "Journalism was a great major for me because of my passion for storytelling and exploring the lives of others," he said.
A residency program such as this allows students like Axelrod and Wilson to get the best of two worlds – a superb education and an opportunity to experience another culture.
"We're getting hands-on industry experience while earning school credit to graduate," he said. "It's the very definition of a global education."
Reach out to Tal or see some of his sample works here: http://talaxel.wix.com/talaxelrodjournalism
Visit Brandon's YouTube channel here: https://www.youtube.com/channel/UC5pDbqt0BfQr5DiwIV6T9vg