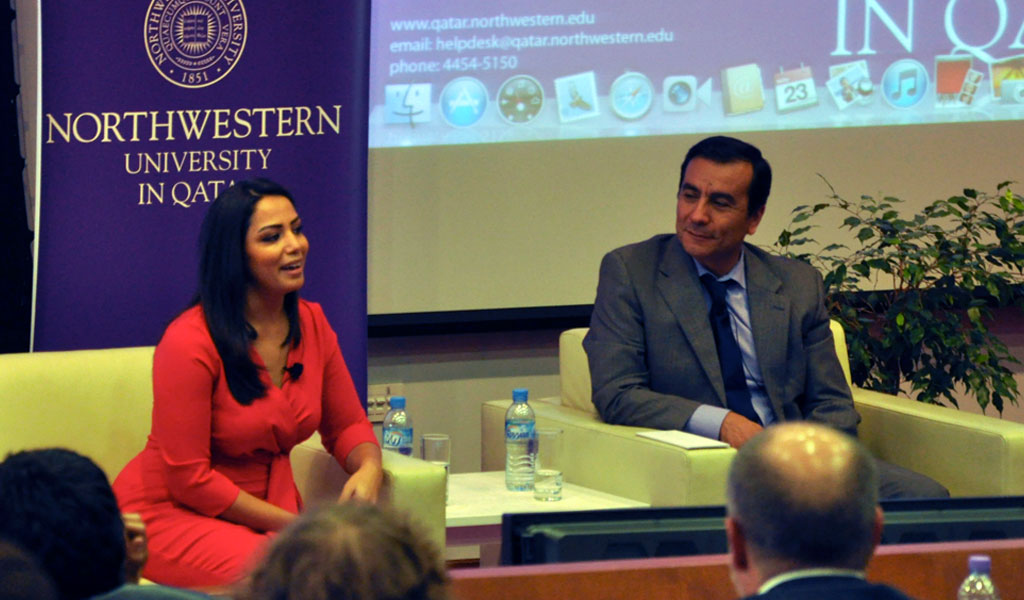 Claiming that it is not the camera that changes people, but people themselves, Al Jazeera news presenter Rawaa Augé told a group of students and faculty at Northwestern University in Qatar recently that since becoming a news presenter she has learned that a news presenter can still be journalist.
Augé began her journalism career at France 24 Arabic in Paris in 2010, where she quickly rose through the ranks to become a presenter. In acknowledging that she worried making the move would put barriers between her and the stories she wanted to cover, she admitted that she had been prejudiced against on-screen talent. "I thought that people on-screen had big egos," she said. "But I came to realize that my perceptions of presenters were incorrect. It's not the camera that changes people; it's the people themselves."

In 2014, Augé made the move to Al Jazeera from the more liberal France 24, which she said has presented her with challenges in balancing news, opinion and cultural mores. She gave as an example, France 24's policy to broadcast protestors who were topless, which she argued distracted viewers from the protesters' message. The station eventually agreed with her and blurred the women who were topless. In Qatar, the legalization of gay marriage in the US posed another quandary, with much internal debate at Al Jazeera about potentially offending the audience, she argued that it was international news and had to be reported. Ultimately, the channel covered the story.

Al Jazeera in particular is a lightening rod in the region, a reputation that Augé said is undeserved. "Al Jazeera got blamed for all the issues in the Arab World," she said in reference to the channel's alleged role in the Arab Spring uprisings. "People were fighting before Al Jazeera, and if they turn off the television, people will still fight."

Augé, who earned a bachelor's degree from Lebanese University and master's degrees from Balamand University Lebanon and University of Paris 8, noted that though much of her learning came on the job, her education gave her the foundational skills for her career. "The editorial skills came from university, while the editing knowledge came from the job," she said. "You can see the difference between journalists with an academic background and those without. When you have an idea of how to make a good report, that is the base."

That understanding of editorial responsibilities and journalistic practices is even more important as social media and "citizen journalists" become more prominent, she said. "The job of journalists is becoming harder, since anyone can make a video and put it on social media," she said. "This is when real journalists have to step in and monitor to make sure people aren't just saying anything."

Augé's presentation was part of NU-Q's Al Jazeera Speaker Series.