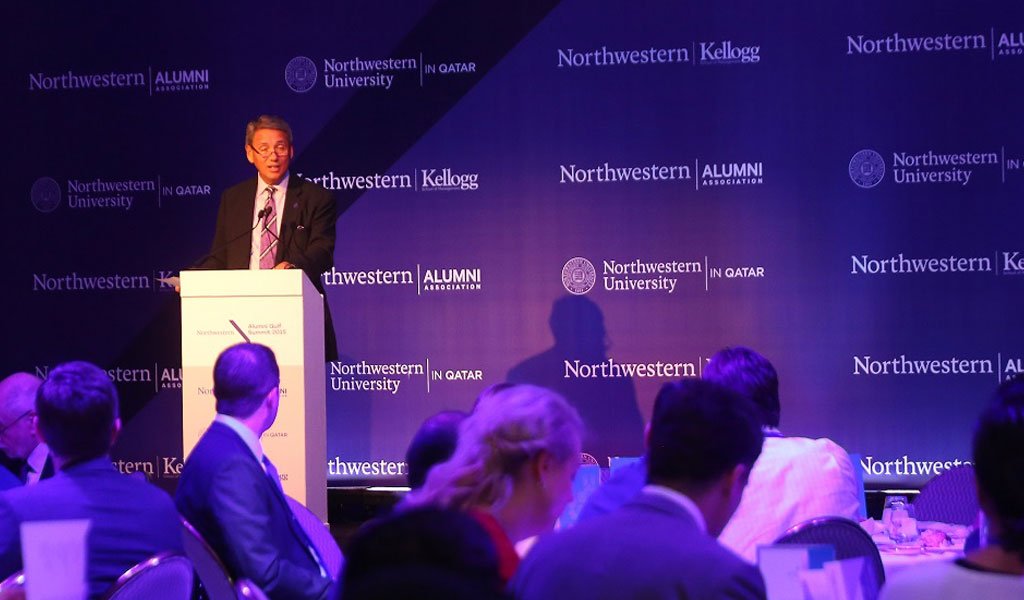 Northwestern University in Qatar (NU-Q) hosted several days of academic and celebratory activities for prospective students, alumni and media leaders from the United Arab Emirates (UAE) and the Gulf Cooperation Council (GCC). Through the series of events, the university highlighted its unique academic programs and student experiences that are available at its campus in Education City in Doha.
The events were aimed at promoting an understanding of NU-Q as the region's premiere media school, according to the school's dean. "We organized a special program to listen and learn about educators needs of future media and communication students," said Everette E. Dennis, dean and CEO of NU-Q. "NU-Q has excellent theoretical and practical courses, as well as a strong view of the Arab world and its global communication sector," the dean continued. "We also have some of the finest facilities in the region and the world, with an exceptional faculty and diverse student."
 
The weekend included a media leadership dinner that served to brief media leaders and secure future research partners, internships and residences, while showcasing NU-Q's robust research program. Attendees from leading media entities including Al Arabiya, MBC Group, The New York Times, Gulf News, Financial Times, Bayt.com, and LinkedIn among others attended the event.
 
Professional development workshops were also hosted by faculty for teachers and high school students. The Educator's Professional Development Workshops were delivered by Christina Paschyn, lecturer in journalism, and Mary Dedinsky, director of the NU-Q journalism program. The workshops – "Bringing Multimedia Storytelling" into the Classroom" and "Creating Better Writers" – were designed to promote media understanding in the region. Students were also able to learn from NU-Q students and alumni. In addition, NU-Q graduate Jamiee Haddad and current NU-Q student Ralph Martins, conducted a weekend workshop on podcasts for UAE high school students.
 
In collaboration with the Northwestern Alumni Association, these were the first NU-Q organized opportunities for Northwestern alumni from the across the GCC. More than 50 alumni took part in the event including NU-Q alum Sharifa Ahen who shared her academic and student experience with alums from the Northwestern schools, including the Kellogg School of Management. Bringing alumni from the Gulf region together is part of an initiative to build relationships and a greater community between all Northwestern graduates in the Gulf.
 
Greg Bergida, NU-Q director of student affairs, pointed out that the university's alumni are finding positions in "leading media and PR entities, locally and internationally, as well as across businesses where strategic communication is becoming increasingly more important."
 
"The track record of our university, contributes mightily to building a media and communication talent pool," the dean added. "NU-Q students are also motivated to attend the world's best graduate schools as well."
 
Founded more than 150 years ago, Northwestern University is ranked #12 by U.S. News & World Report and has more than 200,000 living alumni across its three campuses in the U.S and Qatar, including countless public figures, statespersons, and societal leaders.  NU-Q graduates have found success at major institutions such as: Al Jazeera, Al Arabiya, Qatar Media Corporation, Amiri Diwan, Doha Film Institute, Qatar Museums, Hamad Hospital, Ministry of Foreign Affairs, Supreme Committee for Delivery and Legacy (Qatar World Cup 2022), Qatar Airways, Qatar Foundation, Ras Gas and Total Energy and Petroleum.