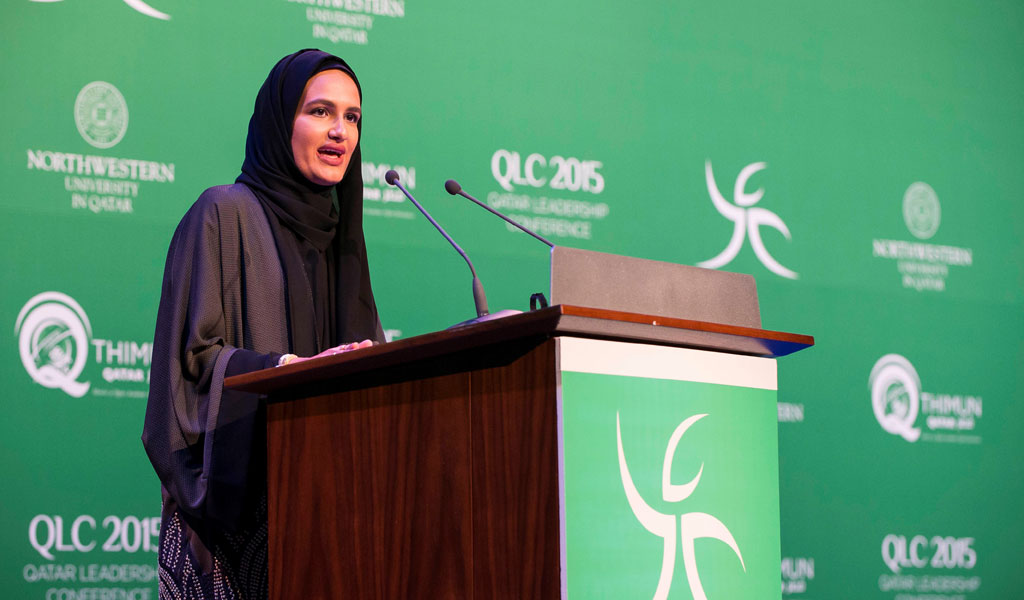 High school students and educators from across the world gathered in Doha to develop their leadership skills at the fourth annual Qatar Model United Nations and Media Leadership Conference (QLC).
The event took place on October 15th-17th, 2015 at Qatar National Convention Centre, and was hosted jointly by Northwestern University in Qatar and The Hague International Model United Nations Qatar (THIMUN Qatar).

Students participated in 130 workshops and speeches designed to inspire their leadership instincts and provide them with the skills and knowledge to run their own Model United Nations (MUN). Topics ranged from practical instruction in areas such as organization, research, and speechwriting, to wider discussions of relevant issues in diplomacy, media, and business.

The conference is one of the largest annual professional development events in the Middle East, with more than 700 students, teachers and mentors in attendance this year - a 40 percent increase on last year's highly successful event. Perhaps uniquely for an event of this size, students are the driving organizational force behind the conference, guiding event planning and delivering around half of the training workshops themselves.

"QLC is now established an important signature event, not only in Qatar's dynamic educational events calendar, but that of the wider world," said Dr. Everette E. Dennis, Dean and CEO of NU-Q. "The conference's consistent growth and popularity reflect the fact it is largely run by students, for students - meaning the content is always relevant and engaging for the next generation of leaders. QLC is a primary part of NU-Q's commitment to work with our local and international partners, and ultimate goal to deliver high-quality media and communications training for Qatar and the GCC region."

The annual conference is an important opportunity for MUN and media leaders from around the world to meet or reconnect with their colleagues, exchanging ideas and forming new partnerships. Teachers and mentors who attended were also able to take part in the Director's Training Institute, which provides instruction on supporting students' MUN and media studies activities.

In addition to their own presentations and insights from education, politics, media and business leaders, students also heard from several distinguished international presenters. These included Oliver Percovich, founder of the Skateistan development-through-sport project; Ali Abu Awwad, a Palestinian activist and pacifist; Daniel Moses, Director of Education Programs at Seeds of Peace in Jerusalem; Father Joseph H. Maier, an American priest who has worked with Bangkok's poorest families for more than 40 years; Rebekka Windus, Middle Eastern Project Manager at NGO Memory of the Future; and Peter Dalgleish, a Canadian humanitarian and founder of the Street Kids International and Trails Youth Initiative charities.

Lisa Martin, Director of THIMUN Qatar commented: "The QLC has been the source of inspiration for a number of student-led initiatives, including the THIMUN Qatar Afghanistan Initiative, services projects in Nepal, and outreach into the community to promote and democratize the offerings of our MUN program. This event has a way of bringing out the best in its participants, students and teachers alike."

Martin continued: "The best way to learn leadership is to practice leadership. This conference gives young people innumerable opportunities to polish those skills, network with likeminded individuals, and turn their dreams into plans of action.