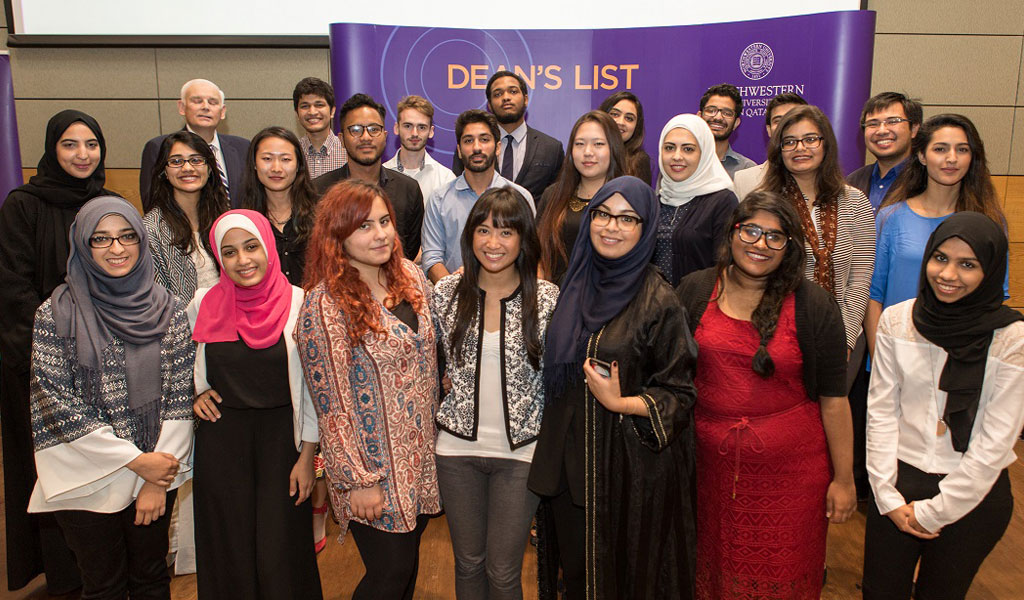 Northwestern University in Qatar has announced its Dean's List for spring 2015, recognizing the school's top students.
Recipients of the award were honored at a special luncheon at the HBKU Student Center, where they received their certificates.
 
NU-Q recognized 56 students who earned the academic distinction, including 27 communication majors who achieved a 3.75 grade point average (GPA) out of 4.0 on three graded courses, and 29 journalism majors who achieved a 3.7 GPA on three graded courses or, if on residency, completed two graded courses in addition to their residency.
 
"These exceptional and highly motivated students are poised to be educated citizens who can pursue careers in communication, the media industries and other fields of endeavor." said Dean and CEO of NU-Q Everette E. Dennis. "The communication and journalism major here which is immersed in the liberal arts is one of the most rigorous and versatile educational pathways available anywhere."
 
The list is comprised of 12 sophomores, 10 juniors, 20 seniors and 14 graduates.
 
Communication program students: Aisha Haytham Abduljawad, Shaikha Rashid Al-Noaimi, Ibrahim Sultan AlHashmi, Nissryne Rifaa Dib, Farida Amgad Ahmed Aly Zahran, Layan Amin AbdulShkoor, Yazan Abu Ghaidah, Amna Jassim Al-Khayat, Muneera Faleh Al-Thani, Syed Owais Ali, Amal Zeyad Ali, Malak S Alomari, Hend Mohammed AlThawadi, Urooj Kamran Azmi, Huda Barakat, Omaima Es-samaali, James Copplestone Farmer, Abdullah Gamil, Vibhav Gautam, Mayar Hamdan, Mohamad Zaki Mohamed Hussain, Aisha Ambreen Javaid, Jemina Marcos Legaspi, Ibtesaam Mohamed Moosa, Eun Ah Rhee, Shahnawaz Zali and Shuhan Zhang.
 
Journalism program students: Aamena Ahmed, Maha Reyad Al-Ansari, Amna Abdulla Al-Saadi, Abir Bouguerra, Gena Bassam El Aker, James Zachary Hollo, Angel Alicia Polacco, Marium Wael Saeed, Reem Nassr Zubaidi, Habibah Abass, Nayla Rashid Al Thani, Rouda Hamad Al-Attiyah, Manar Ahmad Al-Jamal, Noor A A Khalifa Al-Tamimi, Noor Jassim Al-Thani, Alanood Hamad Ali A Al-Thani, Tamador Mohammed AlSulaiti, Muhammad Shakeeb Asrar, Chantelle Philomena D'mello, Paulo Andre Fugen, Aamer Elsayed Hassan, Qingjia Jiang, Xiran Liu, Nayab Malik, Wajeeha Malik, Ralph Jacob Martins, Malak Ahmed Monir, Neha Ara Rashid, and Silma Suba.